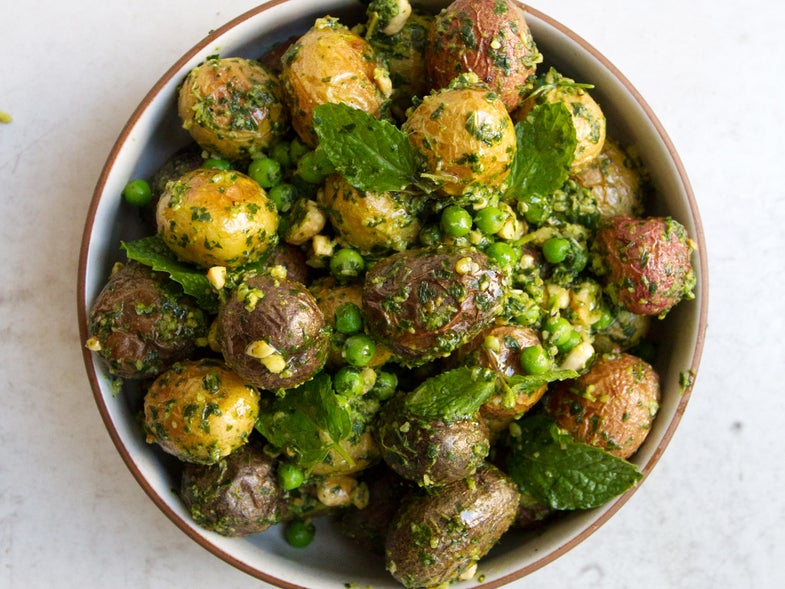 Serve this simple and bright potato salad warm or cold alongside grilled or roasted meats and seafood, such as blue catfish, or pack up for a summer picnic.
Pesto Pea and Potato Salad
Roasting new potatoes deepens their earthy flavor, which is then highlighted with a bright three-herb pesto in this easy side dish recipe.
Time: 40 minutes
Ingredients
2 lb. multi-color new potatoes
5 tbsp. olive oil
Kosher salt and freshly ground black pepper, to taste
1 cup mint leaves, roughly chopped, plus more for garnish
1⁄4 cup basil leaves
1⁄4 cup parsley leaves
1⁄4 cup toasted hazelnuts, roughly chopped, plus more for garnish
2 tbsp. parmesan cheese
1 clove garlic
1 lemon, zest and juice
1⁄2 cup fresh or frozen peas, thawed and blanched
Instructions
Heat oven to 400°. Toss potatoes with 3 tbsp. oil, salt, and pepper; transfer to a baking sheet and roast until tender, 30-35 minutes. Meanwhile, place remaining oil, the herbs, hazelnuts, parmesan, garlic, zest and juice, salt, and pepper in a food processor and blend until smooth. Toss potatoes with pesto, mint leaves, hazelnuts, and peas.