Recipes
Pizza with Snow Crab, Ricotta, Shishito Peppers, and Wasabi Aïoli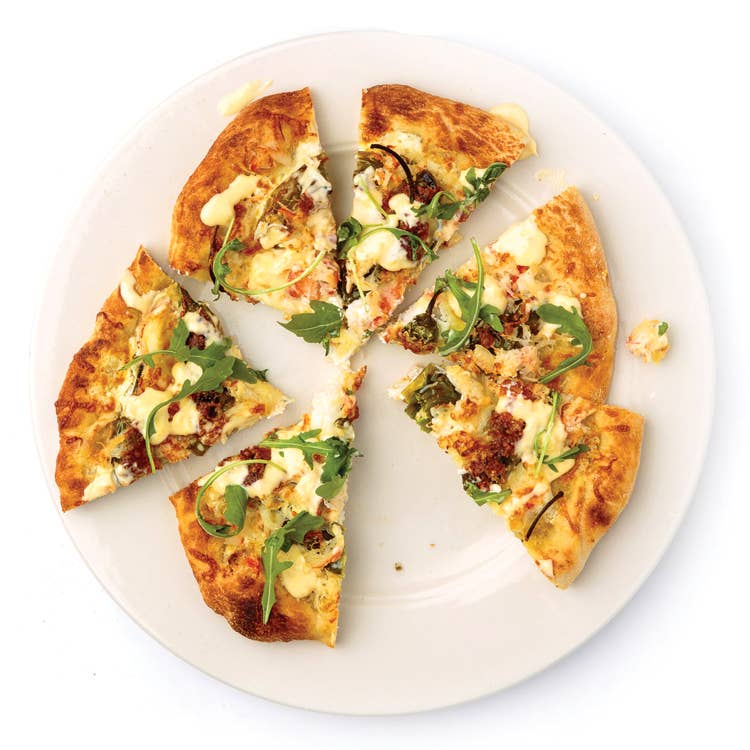 Eastern-style toppings—shredded snow crab, spicy shishito peppers, ginger-wasabi aïoli—adorn a Western-style pizza at Park Hyatt Tokyo's New York Bar. This recipe first appeared in our May 2014 issue with the story Happy Hour: Bar Snacks.
Ingredients
⅓ cups Kewpie mayonnaise
1 tsp. fresh lime juice
¼ tsp. wasabi powder
1 clove garlic, mashed into a paste
1 (½") piece ginger, peeled and mashed into a paste
Kosher salt, to taste
Canola oil, for frying
12 shishito peppers
½ lb. homemade or store-bought pizza dough
Fine semolina, for dusting
2 tbsp. olive oil
½ cups ricotta, drained overnight
3 oz. snow crab meat
¼ cups finely grated mozzarella
2 tbsp. grated parmesan
⅓ cups baby arugula
Instructions
Step 1
Stir mayonnaise, lime juice, wasabi powder, garlic, ginger, and salt in a bowl; set aïoli aside. Heat 2" canola oil in a 4-qt. saucepan until a deep-fry thermometer reads 350°. Working in batches, fry peppers until golden, 1–2 minutes. Using a slotted spoon, transfer peppers to paper towels to drain; set aside.
Step 2
Place a pizza stone under the broiler; heat for 30 minutes. Dust dough with semolina. Using your fingertips, press dough into a 7" circle about ¼" thick, leaving a 1" crust around the edges. Hold dough straight up, and with fingertips circling crust, slide fingers around crust in a circular motion as you would turn a steering wheel until dough in the center is stretched to about ⅛" thick; transfer to a semolina-dusted pizza peel. Drizzle olive oil over dough; spread with ricotta and sprinkle with reserved peppers, the crab, mozzarella, and parmesan. Slide pizza onto stone; broil until cheese melts and crust is puffed and charred in spots, 3–4 minutes. Transfer to a serving dish; sprinkle with arugula and drizzle with reserved aïoli. Serve hot.