Recipes
Seafood Gumbo
Whole blue crab and plenty of meaty shrimp are the stars of this festive Cajun stew from Lafayette, Louisiana.
Serves

6–8

Cook

2 hours 30 minutes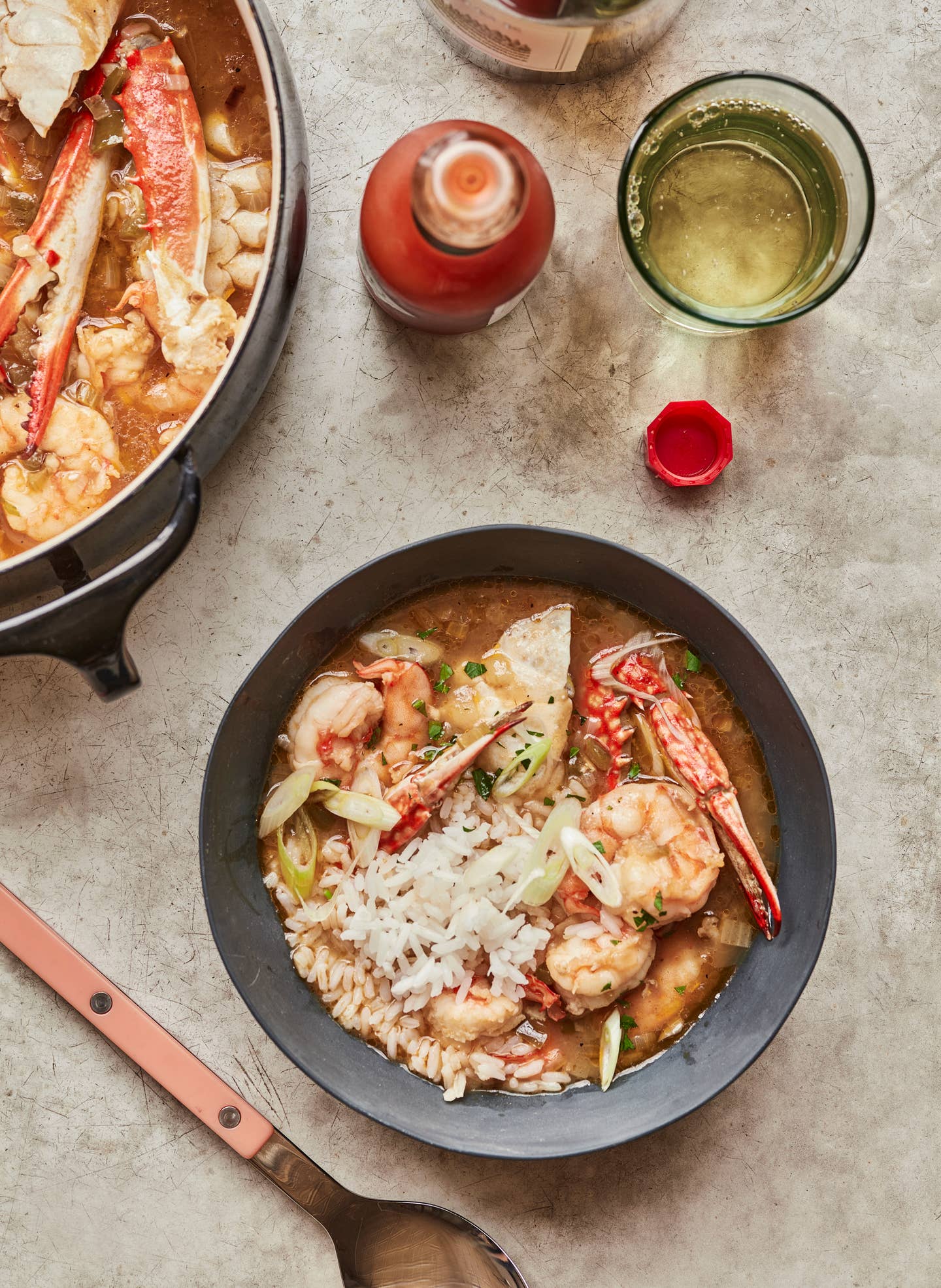 Louisiana native and cookbook author Janice "Boo" Macomber, who taught Cajun-style cooking at the now-closed Accidental Chef Cooking School in Lafayette, Louisiana, gave us the recipe for this subtly spicy seafood gumbo, which stands out even in a region renowned for its many variations on the dish. Into the pot go blue crabs, shrimp, and delicious chunks of lump crabmeat, resulting in a dish that brings to mind the bayous of Southern Louisiana. No matter where you live, be sure to use the freshest seafood available.
Ingredients
6 live blue crabs
½ cup canola oil
½ cup all-purpose flour
6 garlic cloves, finely chopped
4 celery stalks, chopped
1½ large yellow onions, chopped
1 medium green bell pepper, cored, seeded, and chopped
8 cups seafood stock
1 Tbsp. Worcestershire sauce
2 bay leaves
½ tsp. cayenne pepper
Kosher salt and freshly ground black pepper
2 lb. medium shrimp, peeled and deveined, tails removed
1 lb. jumbo lump crabmeat
⅓ cup finely chopped parsley
¼ cup fresh lemon juice
scallions, chopped
Cooked white rice, for serving
Instructions
Step 1
Clean the crabs: Working with one crab at a time, discard the legs; remove and reserve the claws. Discard the triangular apron on the underside of the crab, pull the body away from the top shell, and discard the shell. Remove the gills and organs; rinse the body under running water. Transfer the crabs to a bowl; refrigerate until ready to use.
Step 2
In a large pot set over high heat, heat the canola oil, then sprinkle in the flour and stir continuously until it forms a smooth mixture, 1–2 minutes. Turn down the heat to medium-low and cook, whisking continuously and scraping the edges of the pan, until the roux turns a rich dark color, about 30-40 minutes. Stir in the garlic, celery, onions, and bell pepper; cook until the vegetables are soft, 10–12 minutes. Add the reserved crabs, the stock, Worcestershire sauce, bay leaves, cayenne, salt, and black pepper; bring to a boil. Turn down the heat to medium; cook, stirring occasionally, until the soup has slightly thickened, 25–30 minutes. Add the shrimp and crabmeat; cook until the shrimp are pink, 3–5 minutes. Stir in the parsley, lemon juice, and scallions. Serve seafood gumbo with rice.