Smoked Turkey and Andouille Gumbo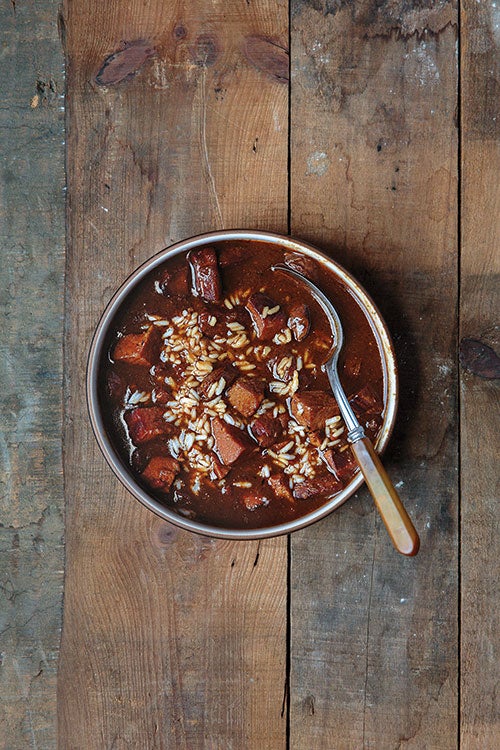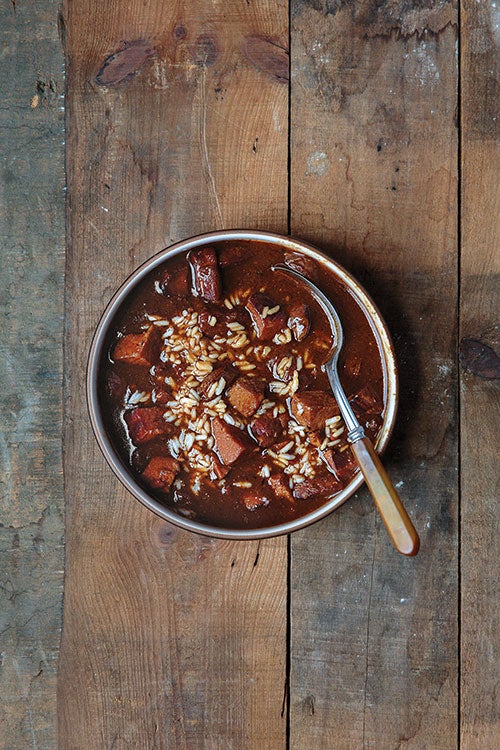 Located in a Lafayette, Louisiana farmhouse from the 1830s that has served as both a Confederate Army headquarters and a singles bar, Café Vermilionville smokes the turkey wings for this luxurious gumbo right out back in a makeshift smoker. With a dark roux as the base, the resulting dish is a medley of rich, smoky, and roasted flavors. If you don't have the equipment or inclination to smoke the turkey yourself, you can order a pre-smoked version or substitute regular wings.
See how to make a stovetop smoker »
Smoked Turkey and Andouille Gumbo
At Café Vermilionville in Lafayette, Louisiana, a stock of mirepoix and smoked turkey wings enriches this dark, piquant gumbo.
FOR THE STOCK
3 lb. smoked turkey wings
6 scallions, roughly chopped
4 sprigs parsley
4 stalks celery, chopped
3 carrots, chopped
1 large white onion, chopped
FOR THE GUMBO
3⁄4 canola oil
1 1⁄2 lb. andouille, roughly chopped
1 cup flour
3 cloves garlic, minced
1 small red onion, minced
1 small white onion, minced
1 green bell pepper, minced
1 red bell pepper, minced
1 tbsp. granulated garlic
1 tbsp. granulated onion
2 tsp. mesquite seasoning
1 tsp. cayenne
1 tsp. ground white pepper
1⁄2 tsp. crushed red chile flakes
1 1⁄2 lb. smoked turkey breast, cut into 3/4″ pieces
3 tbsp. Worcestershire sauce
Kosher salt, to taste
Cooked white rice, for serving
Instructions
Make the stock: Bring ingredients and 1 gallon water to a boil in a large stockpot. Reduce heat to medium; simmer 4 hours, then strain stock and keep warm.
Make the gumbo: Heat 2 tbsp. oil in an 8-qt. Dutch oven over medium-high. Cook andouille until fat renders, 8-10 minutes; transfer to a plate. Add remaining oil and sprinkle in flour; make a dark roux. Add garlic, onions, and bell peppers; cook until soft, 10-12 minutes. Stir in granulated garlic and onion, mesquite seasoning, cayenne, white pepper, and chile flakes; cook 1 minute. Add reserved stock and andouille, the turkey breast, Worcestershire sauce, and salt; boil. Reduce heat to medium; cook, stirring occasionally, until gumbo is thickened, about 1 hour. Serve with rice.