Recipes
Vichyssoise
The retro chilled soup is easy to recreate at home.
Serves

8

Cook

3 hours 40 minutes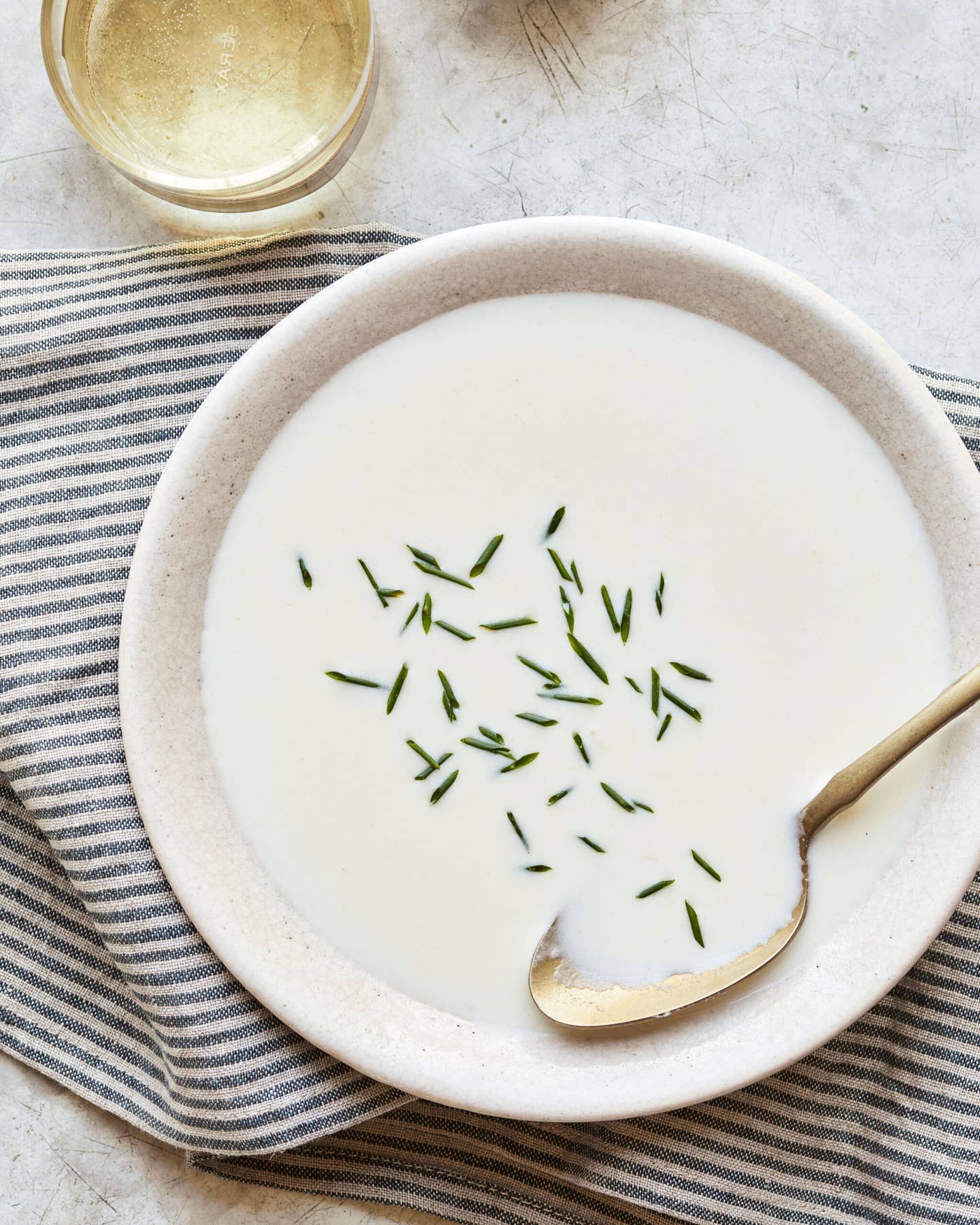 Credited with the invention of this famous chilled potato leek soup, Chef Louis Diat of New York City's original Ritz-Carlton Hotel once prepared eight portions of the dish to be delivered to the Manhattan townhouse of Sara Delano Roosevelt, Franklin D.'s mother—and enclosed this vichyssoise recipe. The best potatoes to use for something like vichyssoise are low-starch varieties, such as Yukon Golds, which will retain their creamy flavor and velvety texture even after a long cooking and double-straining process.
Ingredients
4 Tbsp. (2 oz.) unsalted butter
4 leeks, white and light green parts only, thinly sliced
1 medium onion, thinly sliced
5 medium potatoes (about 2¼ lbs.), peeled and thinly sliced
Kosher salt
2 cups whole milk
2 cups light cream
1 cup heavy cream
2 Tbsp. finely chopped chives
Instructions
Step 1
In a large pot over medium-low heat, melt the butter. Add the leeks and onion and cook, stirring occasionally, until soft but not browned, about 20 minutes. Add the potatoes, 4 cups water, and salt to taste, and turn up the heat to high to bring it to a boil. Turn down the heat to medium-low, and continue cooking, stirring occasionally, until the potatoes are soft, 50–60 minutes.
Step 2
Set a fine sieve over a medium bowl and strain the soup, pressing and scraping the solids with a spoon. Wipe the pot clean and return the strained soup to it. Whisk in the milk and light cream, bring the soup to a boil over high heat, then remove from heat and let cool.
Step 3
Set the sieve over a medium bowl and strain the soup again, pressing and scraping with the spoon. Discard any solids that remain in the sieve. Stir the heavy cream into soup, then cover and refrigerate until chilled, for at least 2 and up to 24 hours. Season soup with salt to taste just before serving.
Step 4
To serve, divide the vichyssoise among soup bowls and garnish with chives.