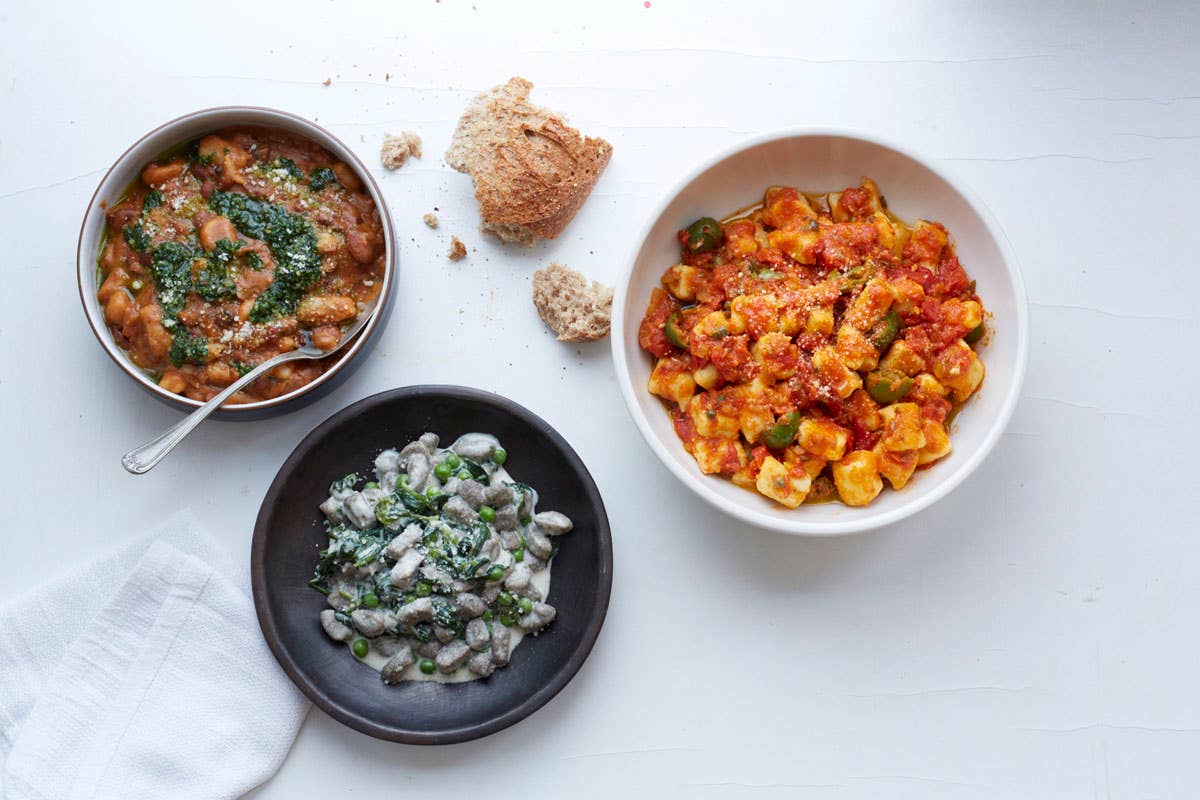 Techniques
Make Better Gnocchi
From our kitchen to yours, our tips on how to make perfect, pillowy gnocchi.
When Jenn Louis says that most Americans don't think of gnocchi as anything other than potato dumplings in "All the Gnocchi," Andrew Sessa's feature on the dish, she's right. We didn't know that adding farro flour to your dough makes for a denser dumpling, or that spinach spatzli is part of the gnocchi family. But, after rolling out 59 yards of dough while testing the recipes that ran with the story, we learned a few tips on how to mix, roll, and boil the pillowy pasta.
1. On a lightly floured surface, roll gnocchi dough by hand into a ½"-thick rope. Cut dough crosswise into ½" pieces.
2. Working with one piece of dough at a time, press down on the piece with the side of your thumb, then quickly roll it and flick it away.
Tips From the Test Kitchen
For potato gnocchi, what's the best potato to use and why?
Yukon gold! They're not as starchy as some potatoes, but they have a great sweet flavor and can stand up well to boiling.
Any special tips on cooking the potato?
Don't peel—boil them whole. This way the potato won't absorb too much water, and it takes just about as long to boil (about 20–25 minutes) were you to have peeled them.
What's the best potato ricer? And why are potato ricers important?
Oxo's potato ricer is the best. With a potato ricer, you don't need to peel your potato. The skin will stay in the ricer while the flesh will go through the holes into your bowl, leaving you with incredibly smooth mashed potatoes. Using a potato ricer will help with not overworking your potatoes, which will become too starchy if you overwork them.
Any tips for boiling gnocchi? Should the water be salty like regular pasta water?
Yes, use salted water. Also, simmer gnocchi instead of boiling them, so they hold their shape and don't absorb too much water.
If you want to make it way ahead, can you freeze the dough? If so, what's the best strategy for making a BUNCH and freezing some/most of it?
Yes! Of course you can freeze your dough. You can freeze it whole, or you can roll out your gnocchi and lay them on parchment paper-lined baking sheets to freeze. Then, transfer to Ziploc bags. They'll stay good for up to three months. When you're ready to prepare them, boil from frozen—they'll float when they're cooked.