Recipes
Chinese BBQ Pork Banh Mi Sandwiches
Serves

makes 6 Sandwiches

Cook

2 hours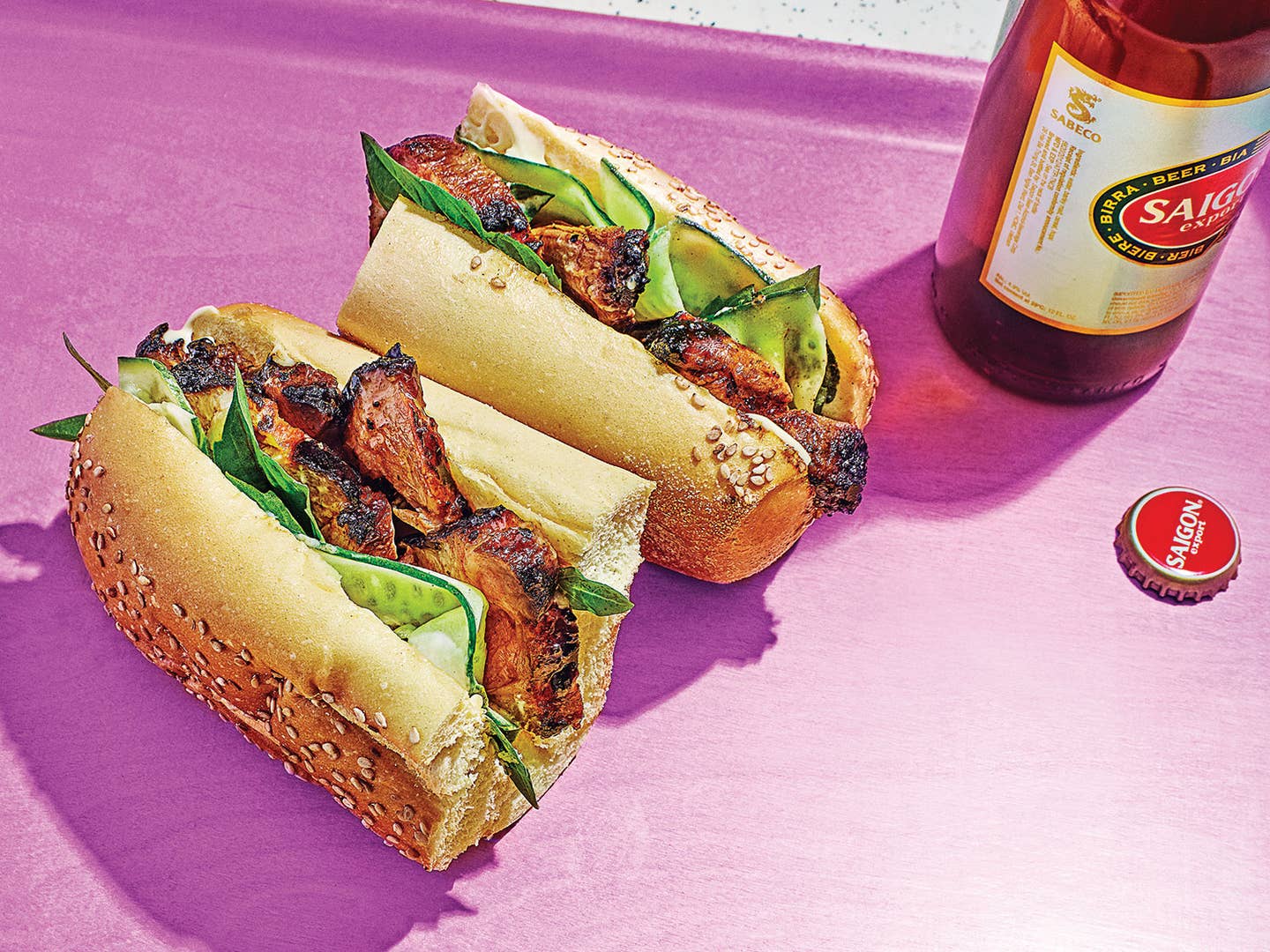 Banh mi filled with Chinese-style barbecued pork (char siu in Cantonese, or thit xa xiu in Vietnamese) is a classic. Fiery sriracha mayo is available in Vietnamese stores, but you can mix your own or use Kewpie-brand mayo instead. Instead of pickled vegetables and cilantro, this sandwich uses fresh cucumber and aromatic basil.
Ingredients
For the Pork
2 medium garlic cloves, finely minced (1 tsp.)
½ tsp. Chinese five-spice powder
½ tsp. sugar
3 Tbsp. hoisin sauce
2 Tbsp. honey
2 Tbsp. ketchup
2 Tbsp. plus ½ tsp. soy sauce
2 tsp. toasted sesame oil
1½ lb. boneless pork shoulder, cut into strips approximately 2 inches thick and 6 inches long
Canola oil, for grilling
For the Sandwiches
6 nine-inch hero rolls, split lengthwise, connected on one side like a hinge
1½ cups sriracha mayonnaise, or substitute Kewpie brand 1 Tbsp. Maggi Seasoning or soy sauce
1 English cucumber, peeled into ¼-inch strips or sliced into rounds (about 42 pieces)
1½ cups torn basil leaves
Instructions
Step 1
In a large bowl, add the garlic, five-spice powder, sugar, hoisin, honey, ketchup, soy sauce, and sesame oil, and stir well to dissolve the sugar. Set aside 3 tablespoons of the marinade, then add the pork to the bowl with the remaining marinade, tossing well to coat. Cover and set aside to marinate at room temperature for about 1 hour, turning the meat 2 or 3 times. For a deeper flavor, refrigerate up to 24 hours, then let rest at room temperature for 45 minutes before cooking.
Step 2
About 45 minutes before you are ready to serve the sandwiches, grill the pork: Prepare a grill to medium heat or a grill pan to high heat. Add the pork and cook, turning frequently with tongs, until the meat is evenly seared on all sides, 18–20 minutes. Brush all over with the reserved marinade and continue cooking, turning as needed, until the pieces look glazed, are slightly charred all over, and have an internal temperature of at least 145°F, about 5 minutes more.
Step 3
Transfer the pork to a platter and let rest for 10 minutes. Slice the meat against the grain into ⅓-inch-thick pieces.
Step 4
Make the sandwiches: Spread the inside of one roll with ¼ cup of the mayonnaise and ½ teaspoon of Maggi Seasoning or soy sauce. Add ½ cup (3 oz.) of the sliced pork, followed by about 7 slices of cucumber and ¼ cup of torn basil leaves. ­Continue assembling the rest of the ­sandwiches in this manner, then serve.