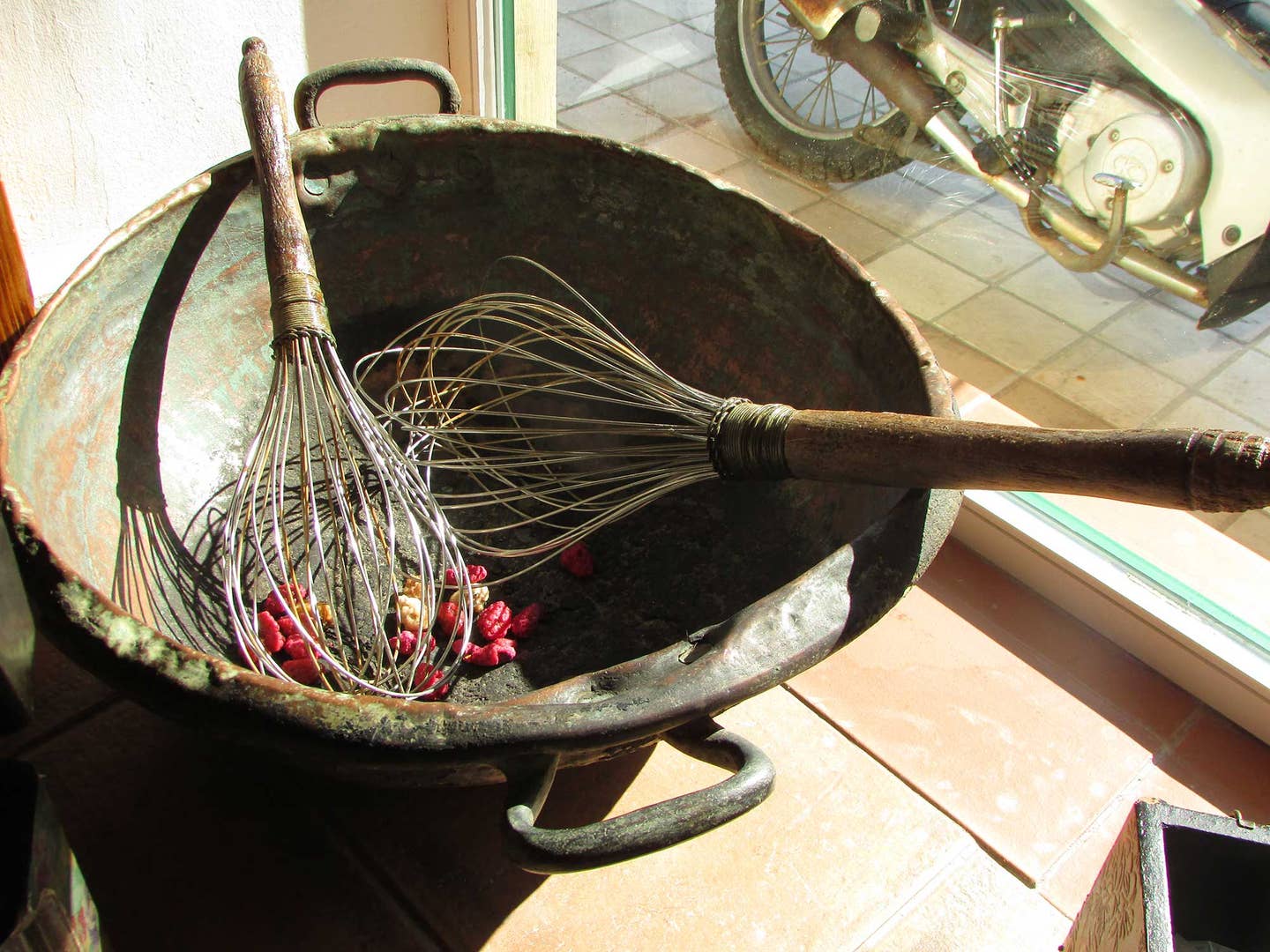 Recipes
Don't Leave This Greek Island Without Trying The World's Best Candied Almonds
On the isle of Kefalonia, mandoles aren't just a local speciality—they're something to obsess about
"You don't know what the almond wants unless the almond says," Evelina Kappatos tells me as we peer into the vast copper basin that has long churned out the iconic bite of Kefalonia: mandoles.
Take an almond, roast it perfectly, and then slowly enrobe it in layers of stunning, crimson hard-crack caramel. The result is the rough-and-ready cousin of the more refined Jordan almond, something you'd imagine the Olympian gods feasted on if they traded ambrosia for divine Cracker Jack.
All around this Greek island, in every bakery, confectionary, grocery, and convenience store, and sometimes as a nobbly garnish on a restaurant's dessert plate, you'll find red mandoles (as well as the more subdued golden brown versions often made with honey or lemon). For a tasting tour, wander the main pedestrian drag, Lithostroto, in Kefalonia's capital, Argostoli. At the fourth-generation family-run Mavroidis cafe, sip an espresso with your mandoles under the Ionian blue sky.
Or slip down a side street where, at Sesoulas, you might catch traditional Kefalonian kantades being sung outside while you pop in for bags of mandoles (and while you're at it, honey-sesame pasteli, tidy slabs of quince paste, or traditional Greek pastries). Or visit the Voskopoula workshop where Evelina and her father, Dionisis, tell me the secret to making the best mandoles.
Start by roasting in a copper basin, Evelina explains, which gives the almonds their taste. "If you try to make it in a different kind of basin," she warns, "you'll fail."
It takes practice to know when to add the sugar. "A lot of people just put in the almonds, start roasting them, and then add all of the sugar" at once, says Evelina. But "you need to give the almonds time to absorb the sugar as well as the heat. You look for the signals. There's no other way to produce mandoles."
And as you add the sugar, you must find the confectionary equivalent of an Aristotelian sophrosyne, or the perfect medium between extremes. When "sugar is one euro for a kilo but you can't get good quality almonds for less than seven or eight euros for a kilo," says Dionisis, some producers are tempted to cut corners and overpower the subtle nuttiness with too much sweet. Even though the Kappatos family has been making mandoles for over a century, when it comes to the perfect balance of flavors and textures, he says, "I'm still working on it."
Even though mandoles are perhaps the most famous local food on the island, I found it difficult to uncover their backstory. Like Tantalus, as soon as I thought I had gotten to the meat of the matter, it would disappear again. What we know for sure is that up until only four years ago, the island's almonds blushed with a plentiful local product: seaweed, sun-dried and finely ground. It's the same used to dye those famous claret-coloured Greek Orthodox Easter eggs at home. However, with the progress of time came the push for regulation, hence the shift to the more consistent, traceable, and commercial coloring of today.
But the origins of the mandole remain elusive. As a Renaissance scholar, I expected to find them in the 15th century, when Venice ruled Kefalonia and also served as a gateway for the European sugar trade. But there was surprisingly little to corroborate the Italian connection beyond mandole as a truncation of the Italian word for almond, mandorla.
Then Diana Farr Louis, co-author of Prospero's Kitchen: Island Cooking of Greece, pointed out a similarity between mandoles and the French rose praline. Could mandoles have been an import during the complicated, if short, Napoleonic occupation of Kefalonia as the 18th century became the 19th? As I went from expert to expert, no one was quite sure of the full story and several wondered why it had never been told.
When Kefalonian food writer Irene Theotokatou took up the challenge, she discovered most stories lead to somewhere in the 19th century. "They were originally made in the homes of wealthy hostesses and offered as 'kerasma' (treats) to visitors," she said. It was a time when almonds were plentiful and sugar was a luxury, I was repeatedly told, but now producers live with the reverse problem. As food historian and author of Cuisine and Empire, Rachel Laudan, reminded me, over the course of the 19th century European sugar supplies became more plentiful and the price dropped. Which explains something of why what was once a luxury is now the number one edible takeway of Kefalonia. How exactly that happened remains unclear, though. If only the almond really could say perhaps it would tell us.
Where to Get Your Own Mandoles
Voskopoula
3 Lithostroto Street, Argostoli, Kefalonia (storefront)
41 Lithostroto Street, Argostoli, Kefalonia (workshop)
They ship mandoles to most countries. Email voskopoula1910@voskopoula.gr.
Mavroidis
Lithostroto Street 16, Argostoli, Kefalonia
OR Lixouri Square, Lixouri, Kefalonia
Sesoula
11 Sotiros, Argostoli, Kefalonia (just off Lithostroto Street)