The 13 Best Mezcals to Transport You to Oaxaca (and Beyond)
From classic espadin to sustainably-sourced wild agave, it's easy to see why mezcal is the national spirit of Mexico.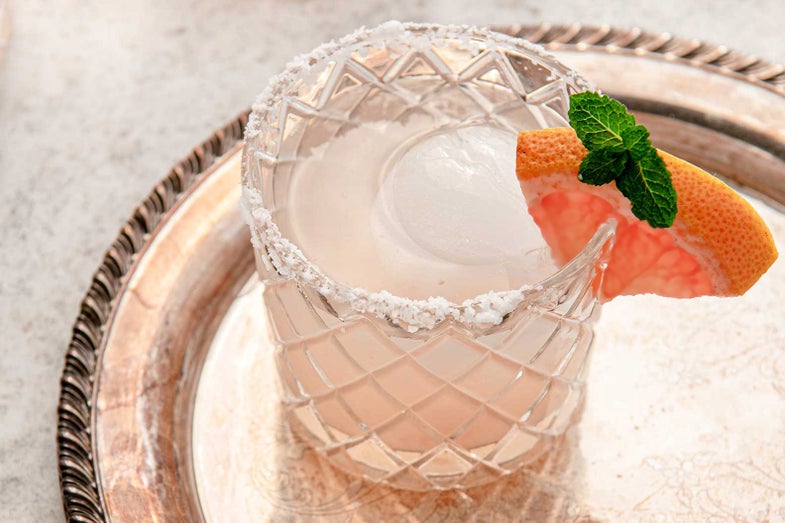 We may earn revenue from the products available on this page and participate in affiliate programs.
Often referred to as the national spirit of Mexico, mezcal has been produced in the country since pre-Colombian times. In just the past decade, however, the agave spirit has seen a huge surge in popularity: Between 2015 and 2019, the category grew 500% in sales. A terroir-driven spirit whose romantic time-honored production methods have captured the hearts of bartenders and craft cocktail evangelists, mezcal is now one of fastest-growing spirits in America.
Despite mezcal's popularity, it's often overshadowed by its agave-based cousin tequila. Mezcal is often referred to as "smoky tequila," a perhaps useful but reductive characterization that belies its vast diversity. It all starts with the agave, also known as maguey. While tequila must be made specifically from 100 percent blue Weber agave, mezcal can be made from more than 100 different varieties, each with its own aromatics, flavors and textures that manifest in the final liquid. Still, many entry-level consumers can understand mezcal best by juxtaposing it against tequila.
"Though tequila is mezcal, not all mezcal is tequila," says Raul Pool, the bar director and general manager of Los Angeles' Airliner, citing a common explanation. "In the same way that beer includes both ales and lagers, the agave family tree splits into two primary distilled spirits: tequila and mezcal. Since mezcal can be made from an array of species, choosing a mezcal is subjective. It's important to do some research on each species, location and distillery to truly discover your favorite mezcal." (It's worth noting that while mezcal technically is an umbrella term for agave spirits, it was given an official Denomination of Origin for Mezcal (DOM) that distinguished it from tequila back in 1994.)
Today, scale is another major differentiating factor between the two spirits. Some modern tequila producers have traded copper stills for more efficient column stills and introduced sugars and commercial yeasts to yield a smoother product. By contrast, the majority of mezcaleros have maintained centuries-old practices of handcrafting the stuff, including using donkey-pulled stone wheels to crush their agave. So while even some of the best tequilas are mass-produced, the finest mezcals take longer to make, especially those that employ rare and wild agave species that require more time to mature and develop.
"Mezcal is one of the few spirits that's still a natural product that hasn't been industrialized," says Dr. Iván Saldaña Oyarzábal, a distiller of Montelobos mezcal and co-author of "The Anatomy of Mezcal." "With mezcal, we still ferment in the natural form." Employing these methods isn't tradition for tradition's sake, of course; the process defines what makes mezcal so exciting to drink. "When [the agave's] simple sugars are in contact with the air, they are transformed into alcohol—the sensorial complexity comes from not only one organism but a group working together to create a herbaceousness, smokiness and caramel-like sweetness."
Ready to get started? Whether you're shaking up one of our best mezcal cocktail recipes or sipping the stuff neat, these are our picks of the best mezcal brands and bottles to try in 2022.
Our Top Picks
For more than two decades, Alipús has forged relationships with exclusively small-scale artisanal agave producers in remote rural villages, or pueblos, in Oaxaca, many accessible only by dirt road. Each of the brand's mezcals is sourced from and named for a single village. This expression, from the town of San Luis Del Rio, uses espadín planted in rocky, sandy soil some 4,000 feet above sea level. This terroir manifests in tropical aromas of candied lemon and coconut, which unfurl gently into more citrusy and piney notes. A pleasant spice and salinity joins in with subtle smoke for an elegant balance that many other mezcals can only covet.
Del Maguey is perhaps the best-known purveyor of mezcal in the States, and its wide range of offerings—there's one for any type of drinker—can be found at bars across the country. Their beginner offering, Vida, is a single-village espadín mezcal launched in 2010. At around $35, it has become bartenders' trusty go-to for mixing. "Vida is such a versatile and cost-effective mezcal for cocktails, imparting tropical fruits and smoke," says New York City bartender Eryn Reece.
If you have the budget, get to know the wilder side of mezcal. El Jolgorio ("the revelry" in Spanish) is a line of single-batch, single-vintage and single-producer mezcals made exclusively from wild and semi-wild agaves representing a variety of species. Embodying the highly varied nature of agave, no two bottlings are the same (so check the bottle for more information). This expression spotlights a 2014 harvest of madrecuixe, a variety of karwinskii agaves, sourced from the village of Río Seco. Available in limited quantities for around $150, the supremely complex mezcal offsets earthy notes and high minerality with whispers of melon and cherry.
A collaboration between Saldaña Oyarzábal and Casa Montelobos—a Oaxaca-Mexico City-based company that works with families who've produced mezcal for generations—this award-winning joven is the essential bottling for the newcomer. Distinctly smoky and peppery, with almost a savory quality, Montelobos really captures the best of what the category has to offer—and at a touch higher-proof, too. Coming in at $50, it's also a relatively affordable mezcal whose price tag makes mixing with it a little more reasonable.
Best for Margaritas: Madre
Madre is produced by mezcalero José García Morales and his family at their namesake ranch in Oaxaca. Inspired by a traditional Zapotec recipe, the spirit uses espadín and cuixe agaves that have been fermented with indigenous yeast and distilled in an heirloom copper pot still. The use of cuixe, part of the wild karwinskii family, imbues the resulting liquid with powerful savory kick, minerality, and spice. At $50, it's a bang-for-your-buck bottle touting sweet, herbaceous aromas of roasted agave and honey that give way to savory, almost salty undertones. Though it's great for sipping neat, it's also our pick for a solid mezcal margarita.
Nielsen data ranks El Silencio as the top-selling mezcal by volume sales, and it's easy to see why. This is an everyday easy-sipping mezcal that works well in citrusy cocktails, particularly palomas. Designed with mixology in mind, the handmade espadín mezcal offers herbaceous notes of grapefruit, mild smoke and even some subtle fig. The bottle likewise looks stunning in a home bar: The all-black design is inspired by barro negro ("black clay" in Spanish) pottery.
Best for Wintry Cocktails: Vago Elote
The world of mezcal is filled with romantic tales. An expat living in Oaxaca, founder Judah Emanuel Kuper, fell victim to an ear infection that placed him in the care of a nurse named Valentina. As it turned out, her father, Aquilino García López, came from a long line of mezcaleros who'd been producing the stuff for more than 300 years. López infuses this joven expression with roasted corn that comes from his own farm. Ideal for offsetting spicy and wintry flavors, the mezcal's typical smoke is layered here with a honeyed fruit sweetness and the distinct scent of roasted corn. Try it in a fall and winter mezcal cocktail.
Produced in the eponymous state of San Luis Potosí, this mezcal is made from wild-growing salmiana agave that has been steam-roasted in an above-ground brick oven, rather than the usual pit-roasting. "You won't notice as much of the usual 'smoky' taste," says Timo Torner, the cocktail influencer behind the account @drinksandbars. "Instead, notes of eucalyptus and bell pepper create a unique flavor profile. This unusual mix makes an interesting ingredient for cocktails." The salmiana variety is not very common, taking four times the amount of time to reach maturity compared to espadín.
A marriage of Oaxaca espadín and wild Pueblan tobalá, this bright, fresh mezcal offers the best parts of that signature smoke without obscuring the desired bright, fresh flavors of agave. Produced in Tlacolula De Matamoros, the mezcal balances fruitier qualities, including green apple and citrus, with savory accents of mesquite that make for pairing with wood-fired meats and bold cheeses. The handy flip-cap bottle, inspired by the classic amphora silhouette, can be reused after the mezcal is consumed.
Launched just this year, this first-of-its-kind mezcal starts with Sombra's crisp joven mezcal, which is aged in ex-Bordeaux wine barrels for six months to create a new type of reposado, which the brand calls "reposé," or rested. Sourced from the historic Château Léoville Poyferré, a second growth wine estate in Saint-Julien, France, the Limousin oak barrels offer the mezcal some fresh and fruity notes, with blackberry and orange on the nose. Sombra is notable as one of the most transparently sustainable brands, employing fair-trade agave sourcing and solar panels at its palenque, which also turns spent agave fibers into bricks for the local people.
To get a sense of terroir in mezcal, look to Mezcal de Leyendas, one of the most notable producers showcasing the wealth of diversity within the category. "They were really one of the first brands to show that mezcal can come from outside Oaxaca and from different agaves than espadín," says Ivy Mix of Leyenda in Brooklyn, New York. The brand's sole offering from Guerrero, a mountainous state of the Sierra Madre, this bottling showcases notes of verdant green plantain and papaya, accented by black pepper.
The name of this mezcal brand translates to "king of the countryside." Rightfully so: located in the highland town of Candelaria Yegolé, Rey Campero boasts an array of wild agaves including jabalí and tepextate. Led by Romulo Sanchez Parada, the family-owned distillery has embraced sustainable practices for its nurseries, allowing a number of those slow-growing agaves to grow and spread their seed. This memorable expression is a masterful showcase of floral aromas, strong minerality, and heady spice. Sip it neat, please.
It would be unacceptable to write a list of the best mezcal brands and not include Del Maguey's beloved Chichicapa, named for the semitropical valleys of the Oaxacan town of San Baltazar Chichicapam, where it's produced. An insider favorite of mezcal aficionados, the espadín-based spirit offers an inimitable palate of sweet roasted agave mixed with nutty almond and finished with mint. It's incredibly smooth-sipping for a 92-proof spirit. "I typically describe Chichicapa to guests as sipping on a slightly sweet, smoky campfire," says Brett Esler of Mezcaleria Tobalá at Whisler's in Austin. "On a good night, I can easily go through two full bottles of it strictly pouring it neat."
Types of Agave
There are more than 200 species of agave, approximately 40 of which may be officially used in mezcal. And within those species, there are even more varieties. Taking just eight to 12 years to mature, espadín (Agave angustifolia) is the most common variety of agave used in mezcal—a fact that belies its exceeding elegance. "Espadín offers an earthy aroma, carries a rich smokiness and delivers a floral, fruity and charred finish," says Carlos Ochoa, COO of El Silencio. To get a sense of the mezcal category, it's good to start with a baseline unaged, or joven ("young" in Spanish), espadín.
Beyond espadín, the possibilities are endless. ​​Tobalá (Agave potatorum) is perhaps one of the most popular wild species used in mezcal. The small and stout agave thrives on hills and cliffs but is unable to reproduce asexually, meaning it relies on the help of pollinators, namely bats (see the note on sustainability below). Then there's tepextate (Agave marmorata), a slow-growing wild agave that can take up to 25 years to mature. Mezcaleros typically ferment wild agaves with local mountain yeasts.
Finally, there's Agave Karwinskii, a long and tall species native to Oaxaca, as well as Puebla and Veracruz. Karwinskii subvarieties include the formidable madrecuixe, which can exceed 200 pounds in the right environment. It's also able to cross-pollinate other related varieties within the Karwinskii family, which include cuixe, tripón, verde, barril, and tobaziche.
Categories of Mezcal
Beyond the agave used, the official governing body of mezcal, or Consejo Regulador del Mezcal (CRM), further categorizes mezcals by their production method. From most to least "modern," these labels are: mezcal, mezcal artesanal and mezcal ancestral. It's exactly what it sounds like: While "mezcal" may be made via continuous column copper still, "mezcal ancestral" must employ open-fire clay pots. These differences are largely semantic, but do play a role in the final product.
Distilling Process
While production methods differ between mezcals, the universal elements found across the category include the roast, the tahona, and the fermentation and distillation. It's through a slow roast that mezcal develops its quintessential smoky quality, before the tahona (or stone wheel) crushes the agaves to extract the juice that's then fermented and distilled. Ochoa explains the following process at El Silencio:
Roast: "Once the piñas arrive at the distillery, or palenque, a large fire is built in an underground pit using mesquite and encino native to the area. The fire heats large volcanic rocks that line the pit and act as the heat source for this underground 'oven.' The piñas are roasted for four to six days."
Tahona: "The roasted piñas are then put into a circular stone pit and crushed using a heavy stone wheel, or tahona."
Fermentation and distillation: "The agave pulp is then placed into barrel-like vats for the open-air fermentation process, transforming the sugars into alcohol. Fibers and liquid are then double-distilled to produce our artisanal mezcal."
Aging
Most mezcal is unaged, or joven, since the addition of wood can clash with the complex, wild, and funky qualities of agave. Those lighter flavors can often be compromised when wood is added. However, there are several standout aged mezcals, which, like tequilas, are typically referred to as "reposado." Unlike with a whiskey, which can more or less be placed in a barrel for many years, aging agave spirits—the multitude of them—requires more hands-on attention and discipline. Aged mezcal brands include Ilegal reposado, perhaps the best exemplar of a well-balanced reposado mezcal that still showcases its strong agave essence. But innovation also continues in this area: Sombra, a project by winemaker Richard Betts, recently launched a lovely rose-tinted mezcal aged in ex-Bordeaux barrels.
Sustainability
Though mezcal is lauded for its commitment to tradition, there are ways that mezcal has, and should, continue to innovate, particularly when it comes to sustainability. "Today, mezcal is the fastest-growing spirits category, which directly impacts the spirit's native communities whose livelihoods rely on agave agriculture and mezcal production," says Ochoa. "On one hand, the popularity has driven the rise of mezcal tourism in places like Oaxaca, resulting in an influx of visitors, economic growth and a spotlight on the vibrant culture. However, it's also led to unethical practices that exploit this region and its people."
Along with other pioneering brands like Montelobos, Sombra and Mezcales de Leyenda, El Silencio has gone to great lengths to ensure sustainability, both for the environment and local community. Across the mezcal industry, these measures include replacing donkeys with solar-powered tahonas, and upcycling of spent agave fibers, or bagasse, into anything from fertilizer (El Silencio) to bricks (Sombra). Ochoa says everything at El Silencio's distillery is built at waist-height to literally lighten the load of workers: "Traditional mezcal production is extremely hard on a mezcalero's body, but it doesn't have to be."
Then there's of course the agave itself. The boom of mezcal has resulted in waves of agave shortages and ongoing disruptions of pollinating bat populations. And demand for rare mezcals has led to overharvesting of wild agave varieties. When possible, seek out a "bat-friendly" label, which means the brand allows at least 5 percent of its agaves to flower and thus spread their seeds.
Ask the Experts
Q: What's the best way to enjoy mezcal?
Despite its stereotypically "strong" flavor, mezcal is exceedingly versatile, ideal for both sipping and shaking. It typically comes down to price: Affordable mezcals made with the more common espadín agave can easily be subbed in for tequila in margaritas and gin in negronis. Meanwhile, some of the pricier spirits made from slow-growing wild agaves could beat the finest scotches in both funk and smoke.
Q: How do you properly sip mezcal?
Like a peated whiskey, many sipping mezcals offer pleasant smoky notes, but these actually become dulled when chilled. So it's best to sip it at room temperature. To bring out its earthy and savory qualities, consider serving your mezcal alongside snacks like dried fruits, cheeses and cured meats.
Q: How long does mezcal last once it has been opened?
Like many other spirits of a high-enough ABV, an unopened bottle of mezcal has no expiration date. Once opened, oxidation and exposure to air can affect mouthfeel and flavor over time. This can also depend on how much liquid is left in the bottle.
Our Take
A romantic affair of smoke and fire, mezcal is the stuff of legends, literally: There are entire Aztec deities dedicated to agave. Get to know the stories behind the bottles, from the multigenerational mezcalero families to the centuries-old production methods. Do your own research to learn about the history of a distillery you're interested in. Chat up your local cocktail bartender to find out their favorite (or try to impress them by ordering some Chichicapa).
Mezcal may well be the most subjective spirit out there. While the category's overwhelming diversity—of ingredients, production methods and terroir—can make it seem intimidating, it's also what makes it so alluring. As you explore, seek out mezcals made from different agaves and compare notes between them. After all, it's the individualities and specificities across the mezcal that make this category so great.