The 5 Best Mezcals to Make You Fall in Love With Smoke
Tequila's feistier, smokier sister spirit deserves your attention—here are the bottles that have ours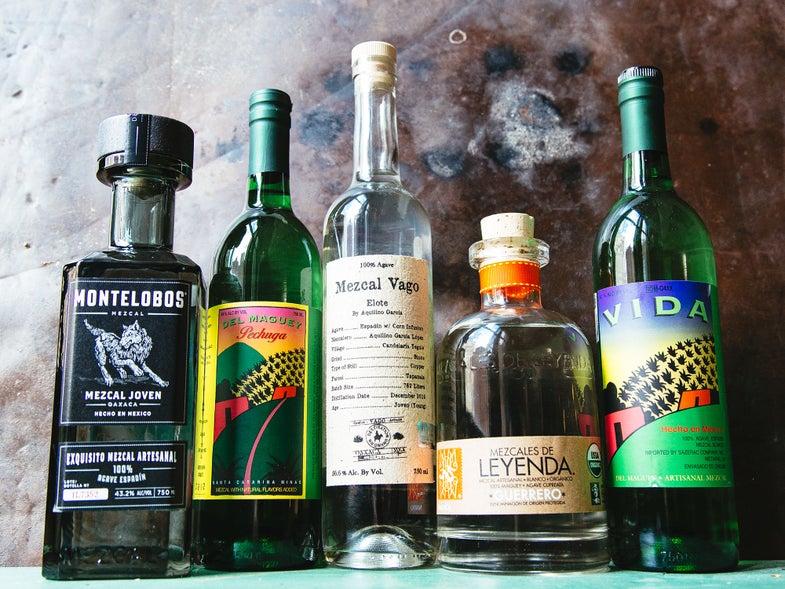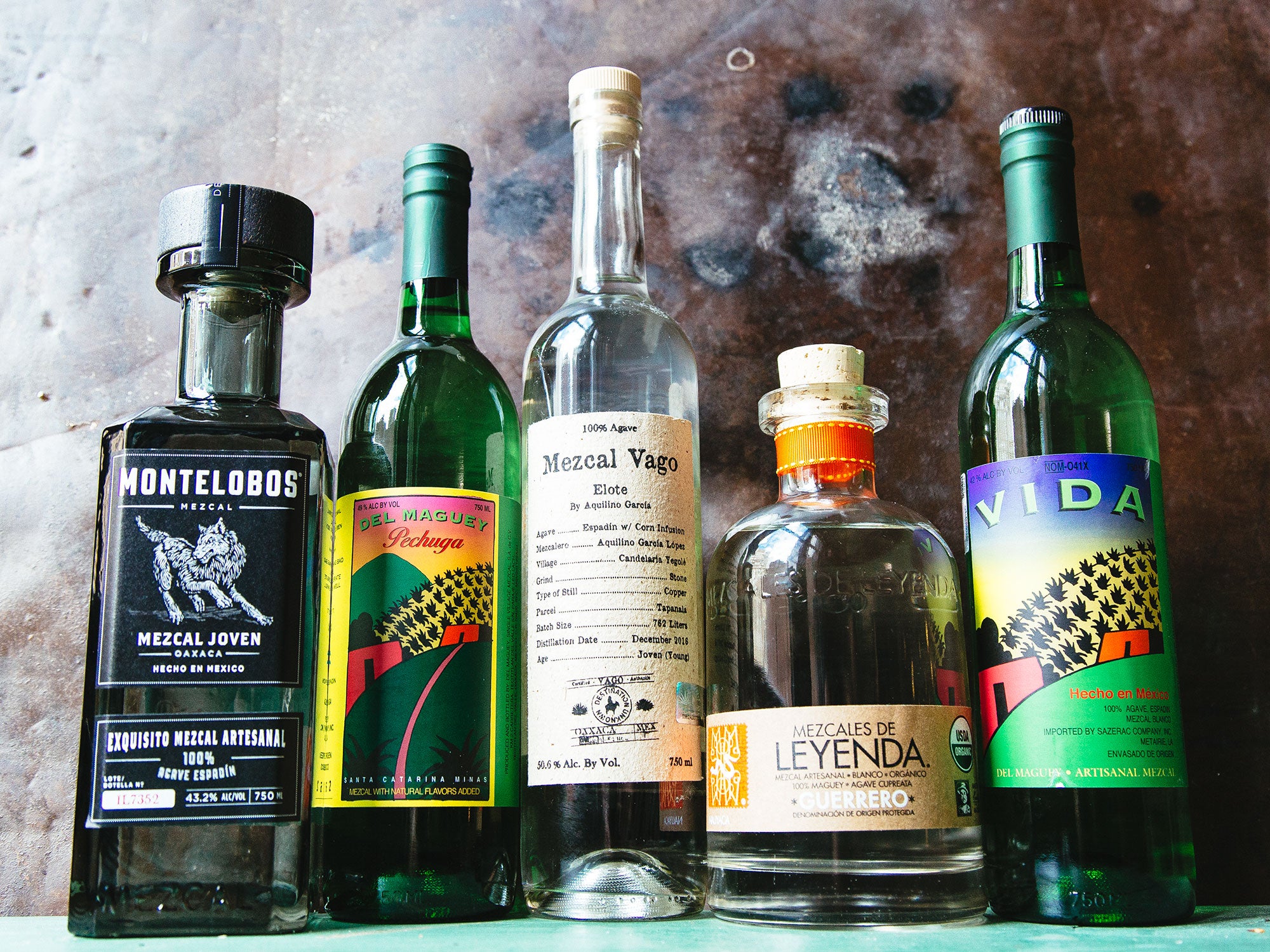 While we love a good tequila, it's important to remember that its smokier, wilder sibling mezcal is the real national spirit of Mexico. A terroir-driven spirit whose age-old methods of production make it inherently "craft," mezcal has seen a huge surge in popularity in the past decade, particularly amongst bartenders looking for the next big booze to experiment with. But despite that interest behind the bar, plenty of drinkers are still confused about what exactly mezcal is, and how it compares with tequila.
Brett Esler, bartender at the obviously mezcal-focused Mezcalería Tobalá in Austin, Texas, explains that while drinkers are interested in trying mezcal, they don't often understand what it is. "A majority of guests coming through the door aren't totally sure of the differences between tequila and mezcal, so I end up saying the same sort of thing for a good six hours."
So what exactly is the difference between tequila and mezcal? The simplest trick is to remember that all tequilas are mezcals, but not all mezcals are tequilas. Legally, tequilas must be at least 51% blue agave, but mezcal can be made from any of the other dozens of varieties of the succulent, the most common being espadin. Tequila is also largely confined to the western state of Jalisco, while mezcal is concentrated in the southern state of Oaxaca (although it can be found all across Mexico). And while a decent chunk of tequila purveyors have adopted for modernized, mechanized approaches—trading copper stills for more efficient column stills; introducing sugars and commercial yeasts to yield a smoother product—the majority of mezcaleros have stayed true to their centuries-old practices of handcrafting the stuff, with all its smoky complexity.
"Mezcal is one of the few spirits that's still a natural product that hasn't been industrialized," explains Dr. Iván Saldaña Oyarzábal, distiller of Montelobos mezcal and co-author of the Anatomy of Mezcal. "With mezcal, we still ferment in the natural form." Employing these methods isn't tradition for tradition's sake, of course; the process defines what makes mezcal so exciting to drink. "When [the agave's] simple sugars are in contact with the air, they are transformed into alcohol—the sensorial complexity comes from not only one organism, but a group working together to create a herbaceousness, smokiness, and caramel-like sweetness."
Ready to get started? For newcomers, Saldaña Oyarzábal suggests starting with an unaged, or joven, espadin mezcal to get a sense of the category: "It's a very elegant agave that balances sweetness and herbaceousness." His own product, Montelobos, is a fantastic exemplar of the style, produced in collaboration with a family that's been making the stuff forever (more on that below). After that, the possibilities are endless: we've been loving mezcal de pechuga (pechuga translating to "breast" in Spanish), which are those where the finished mezcal is distilled a second time with a raw chicken breast hung over the still and cooking in the vapors.
Whether you're shaking up one of our best mezcal cocktail recipes or sipping the stuff neat, here are our five must-try mezcals to get your hands on right now.
A collaboration between Saldaña Oyarzábal and Casa Montelobos—a Oaxaca-Mexico City-based company that works with families who've produced mezcal for generations—this award-winning joven is the essential bottling for the newcomer. Distinctly smoky, peppery, with almost a savory quality, Montelobos really captures the best of what the category has to offer—and at a touch higher-proof. Coming in at around $50, it's also a relatively affordable mezcal whose price tag makes mixing with it a little more reasonable (many are often too expensive to be used in cocktails).
To get a sense of terroir in mezcal, look to Mezcales de Leyenda, one of the most notable producers showcasing the wealth of diversity within the category. "They were really one of the first brands to show that mezcal can come from outside Oaxaca and from different agaves than espadin," says Ivy Mix of Leyenda in Brooklyn, New York, who offers a the Guerrero as part of her "Mezcales Afuera de Oacaxa" flight (editor's note: there is no relation between the bar and mezcal; the name, which means "legend" in Spanish, is a coincidence). "The Durango and Guerrero in particular are my favorites and really show the different styles of these other regions. If you want to educate yourself about different mezcal productions, Leyendas is a great place to start."
Hailing from Guerrero, a mountainous state of the Sierra Madre, this bottling showcases the rubbery-leathery aroma that appears in many mezcals, accented by herbaceous fresh agave, bell pepper, and olive on the palate. While perfect for the smoke lover, the Guerrero's rounded out by delightfully complex hints of chocolate and chile and is soothed with a lingering sweetness.
The world of mezcal is filled with romantic tales, none so captivating as the story of Mezcal Vago. An expat living in Oaxaca, the company's founder, Judah Emanuel Kuper, fell victim to an ear infection that placed him in the care of a nurse named Valentina. Her gun-toting father, Aquilino, came from a long line of mezcaleros who'd been producing the stuff for over 300 years. As he fell in love with Valentina, so did he fall in love with mezcal.
First recommended to me by Bobby Heugel of Anvil Bar & Refuge in Houston, Texas, Mezcal Vago only produces and sources joven mezcals, believing that aging in wood adds flavors that would not naturally be present. While many of their offerings are sips that Kuper has found while drinking his way through Oaxaca, their espadin and elote come from his now father-in-law Aquilino (yes, the story had a happy ending). For the elote, or corn-whispered bottling, Aquilino infuses the batch with roasted corn that comes from his own farm. The smokiness of the mezcal is layered with a honeyed fruit sweetness and the distinct scent of roasted corn.
Del Maguey is perhaps the best-known purveyor of mezcal in the States, and its wide range of offerings—there's one for any type of drinker—can be found at bars across the country. Their entry-level offering, the Vida, is a single-village mezcal launched in 2010 that bartenders love to mix with. "Vida is such a versatile and cost-effective mezcal for cocktails, imparting tropical fruits and smoke," says Eryn Reece of The Wooly Public in New York, New York.
Another favorite behind the bar is the Del Maguey Chichicapa (not pictured), which is an excellent starter for those looking to sip mezcal neat for the first time. "Up in our mezcaleria, I typically describe Chichicapa to guests as sipping on a slightly sweet, smoky campfire," says Brett Esler at Mezcaleria Tobala at Whisler's in Austin, Texas. "It's a 92 proof spirit that is incredibly well balanced and sips beautifully. And on a good night, I can easily go through 2 full bottles of it strictly pouring it neat in half pours and full pours."
For a truly special sipper, we suggest the pechuga. As mentioned above, mezcal de pechuga refers to a finished that's redistilled with poultry hanging over the still, being steamed in the vapor. Vida's pechuga is their rarest offering, starting with a Minero mezcal that's already been double-distilled: 100 liters of the stuff is joined with 100 kilos of mountain apples, plums, plantain bananas, pineapples, almonds, and uncooked white rice. A whole chicken that has been washed for three hours is hung above the still for the third, 24-hour distillation. The resulting pour resembles a Scotch in its smokiness, but bursts with the flavors of fruit and savory chicken. "The Del Maguey Pechuga is one of my favorite special occasion mezcals," says Reece. "I also love this particular one because when Ron Cooper asked Don Lencho why add the fruit, spices, and such, Don Lencho replied that if he didn't it would just taste like (fucking) chicken! Kind of just love that story."