The Best Mother's Day Gifts for the Food-Loving Mom
Celebrate Mom with everything from great cookbooks and essential knives to better-than-a-bouquet wildflower cheese and a luxe caviar tasting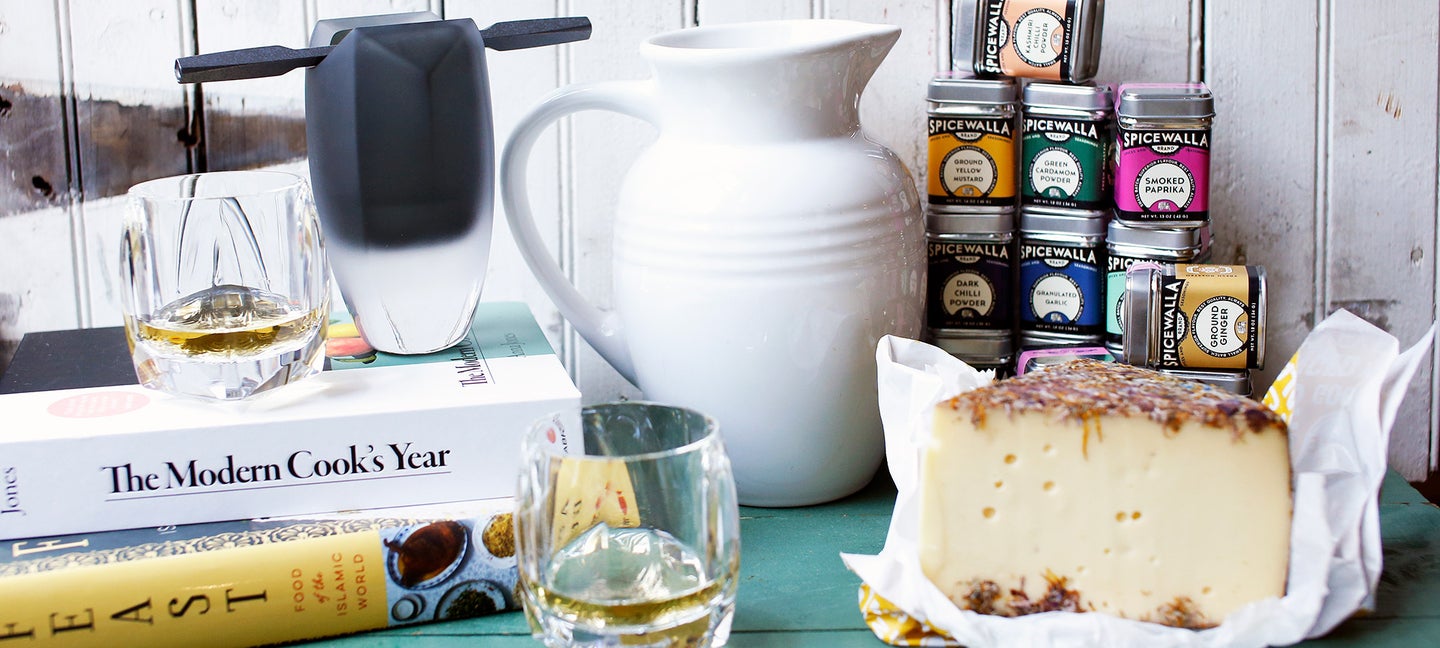 Trying to decide what to get Mom for Mother's Day this year? We've got all kinds of thoughtful gift ideas for the food-loving mom: cookbooks we can't wait to cook through; kitchen equipment worth investing in, from knives to Dutch ovens to pressure cookers; colorful spices to freshen up her kitchen cupboard; and so much more. Is your mom a coffee or tea person? Either way, we've got you covered with a state-of-the-art espresso machine and a brilliantly designed tea kettle. And let's not forget the food: cheese, chocolate, and caviar all fit for celebrating Mom.
This gorgeous Austrian cheese is packed in the same Alpine herbs and wildflowers that fed the cows it came from. Funky and nutty, with notes of oniony sweetness, this cheese is as pretty as a bouquet and so much more delicious. Serve it to your mom with Riesling or malty beer. –Kat Craddock, test kitchen manager
Moms love whiskey too, so treat yours to this luxuriously-designed serving set. The Czech-made crystal carafe comes with its own aluminum pipette, perfect for the careful ritual of adding droplets of water to an elegant glass of single-malt scotch. –K.C.
Does anyone deserve the perfect brew more than Mom? This pint-sized Breville espresso maker can go head-to-head with many machines twice its size, plus Mom can practice her latte art with the built-in steam wand in the comfort of her own pajamas. –K.C.
Get your mom her very own caviar tasting kit (and hope you're the lucky kid she decides to share it with). Just don't forget the bubbles. –K.C.
Is everyone's mom still hanging onto a jar of marjoram from 1988, or is it just mine? A full set of beautifully packaged, extra-fresh spices will make the pantry prettier and instantly upgrade any dish she's inspired to make. –K.C.
Chances are, if Mom loves to cook, she hasn't updated her knife collection in a while. The chef's knife and paring knife from Material are comfortable to hold, well-made, and impossibly sharp: They would make an excellent replacement for whatever set she's currently using. They even come in pink, if that's what she's into. –Alex Testere, senior associate editor
Slow cookers are back in style, and Instant Pot is single-handedly making pressure cooking cool again. The 6-quart combo cooker is the right size for everything from family meals to entertaining, and Mom will love being clued in on what all the kids are talking about these days. –A.T.
If Mom prefers cooking low and slow, the enameled cast-iron "Dutchess" from Great Jones is a stylish, colorful way to get the job done. Wide handles make for good grips, and the pot is deep enough to fit a whole roast chicken and a pile of veggies. Maybe it's time that blackened, dinged-up Dutch oven got an upgrade. –A.T.
This table runner will add some graphic pizzazz to brunch—and all of your mom's dinner parties to come. –Chris Cohen, senior editor
This pitcher will look great on Mom's dining-room table whether it's full of peonies or just iced tea. –C.C.
Handmade in North Carolina, this stoneware bowl is equally at home full of salad at the table as it is full of proofing dough on top of the fridge. –C.C.
There's nothing worse than trying to slather cold, solid butter onto a slice of bread (My mom manages a bakery, so she always comes home with fresh loaves—yes, she's the best). Enter this countertop crock, which keeps butter as fresh as the refrigerator (an airtight water seal prevents spoilage) yet soft and spreadable. –D.J. Costantino, associate digital editor
The husband-and-wife team behind Xocoatl trained with local chocolate makers in Costa Rica before opening their own small-batch, bean-to-bar operation in Atlanta. Perfect for everyday snacking, this trio includes one of their signature single-origin bars, plus two flavored kinds with mix-ins like aromatic blood orange-infused olive oil and crunchy cacao nibs. –D.C.
If Mom's still using tea bags, Mother's Day is the perfect time to make her a loose-leaf convert. This beautifully designed tea kettle is made of heat-resistant glass and features a silicone "egg" that pulls up easily so mom's brew will always be perfectly steeped. –D.C.
A friend recently gifted me this simple, roomy travel tote, and it has made my weekend getaways upstate a breeze. There's room for two days of clothes, plus the occasional cooking tool, cookbook, or my laptop. I'd like to get my mom one, too, hoping that she uses it to come visit or adventure away with me more. –Stacy Adimando, editor-in-chief
The mouthwatering, beautifully styled recipes in British food writer Anna Jones' latest cookbook are sure to inspire Mom to incorporate more vegetables into her meals—and make the most of whatever produce she picks up at the farmers' market. –Frances Kim, digital editor
Chef Anissa Helou has lived and traveled extensively in North Africa, the Mediterranean, and the Middle East, and it shows in this wide-ranging, meticulously researched guide to the cuisines of the Muslim world. Chock-full of enticing recipes and striking photography, with plenty of history woven in between, the book (which just won a James Beard award!) is just as likely to end up on Mom's nightstand as it is on her kitchen counter. –F.K.