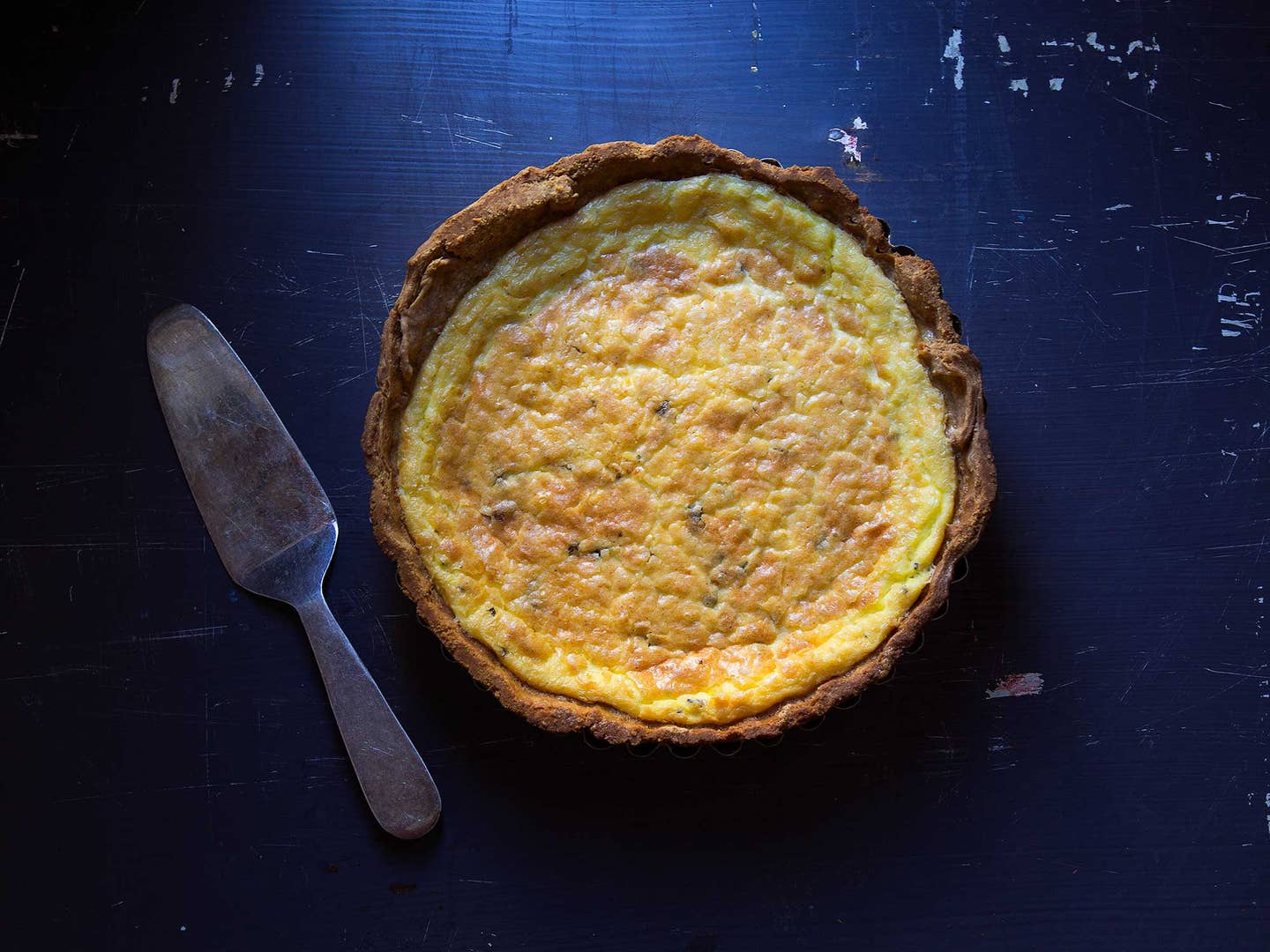 Techniques
5 Secrets to Making the Perfect Quiche
Manresa Bread's Avery Ruzicka bakes a better one than any you've tasted at a '90s brunch; here's how
Pour one out for quiche, that glossy-magazine hero of 25 years ago, that today is treated more like a punchline than a recipe. "I'm making quiche!," someone says. And we all gather around and ask if there will be fig and goat cheese salad with raspberry vinaigrette too, and sundried tomatoes, just in a bowl somewhere, because they have to be on the table. Quiche, you work so hard for us, and we respect you so little.
There is a #brunchgoals tag on Instagram from which quiche is almost wholly absent. Imagine yourself as an alien that has never tasted quiche, and when you asked what it was, you were told it is egg pie, and your survey of the internet from your starship confirmed that Instagram literally thrives on photos of eggs and pies and mash-ups of one food and another food. The discontinuity would strike you as ludicrous. How is quiche not the most brunchy-brunch dish in anyone's repertoire?
It all makes sense, though, when you consider that the average quiche is, quite frankly, worthy of derision: more an ovoid substrate for meat and vegetable fillings in a wishy-washy crust than a custardy, indulgent item of substance. Quiche, our magazine-skimming consciences and Instagram-conversant alien visitors tell us, deserves more.
Enter Avery Ruzicka, the softspoken but brilliant baker behind Manresa Bread, a new extension of David Kinch's iconic Los Gatos, California restaurant. There she makes exquisite crackly croissants and baguettes so beautifully burnished they don't even need butter. But she also makes quiche—a stupendous one, creamy as a panna cotta in a crust so buttery and flavorful it'd bring a tear to a Midwestern grandmother's eye. The custard is full of cheese and the crust is loaded with nutty whole grains and not a square millimeter of the eggy mass is overcooked or weepy. It's a quiche to rival Thomas Keller's at Bouchon.
So when Ruzicka came to visit the SAVEUR test kitchen, all we could ask her was how, and her response, in true understated Ruzicka fashion, was simple: That's how they tasted in France when she traveled there. And that's what she tried to replicate back in California.
The real story, it turns out, is a little more complicated. In showing us how she made her Quiche Cooligan1, she revealed some nuggets of insight beyond the standard French playbook—baking know-how to apply to her recipe or any other quiche. Here are five ways to give quiche the justice it deserves.
High oven heat poses the risk of scrambling eggs. Once you've blind-baked your crust, dial that oven down to just 300 degrees and bake the quiche for a full hour. It'll turn out velvety and smooth rather than chunky-style.
Add a little flour to the custard
For another step of curdling insurance, whisk a little flour into your eggs and dairy. The flour helps absorb moisture and stabilize the entire custard while contributing even more creaminess.
Good quiche stands fine on its own, but part of what makes Ruzicka's so good is the fat crumbles of soft cheese that lie across the bottom of the crust. Brie is nice for simple creaminess, or you can go bold with a more pungent blue, as we do here.
Use better flour for a better crust
Manresa Bread mills its own flour for its breads and pastries. You probably do not, nor should you, but an addition of whole wheat and spelt flours to this crust gives it a big boost of nutty flavor and a more sandy, interesting texture.
And keep your chunks of butter large
Even if you just stick with plain flour for a simple butter crust, Ruzcika insists on keeping the pieces of butter in your crust as large as possible. "Most recipes call for butter chunks the size of a pea, but we actually stop before that," she says. Think butter cubes the size of dice that flatten out into eye-catching slabs. They'll help make your crust as flaky as possible.
Funny story: Ruzicka kept telling her assistant about making quiche cool again, enough times that, when it came to typing up the recipe, the assistant just thought that was supposed to be the dish's name. ↩︎