Recipes
Perfect Blue Cheese Quiche with Whole Grain Crust
Serves

serves 6 to 8

Cook

2 hours 15 minutes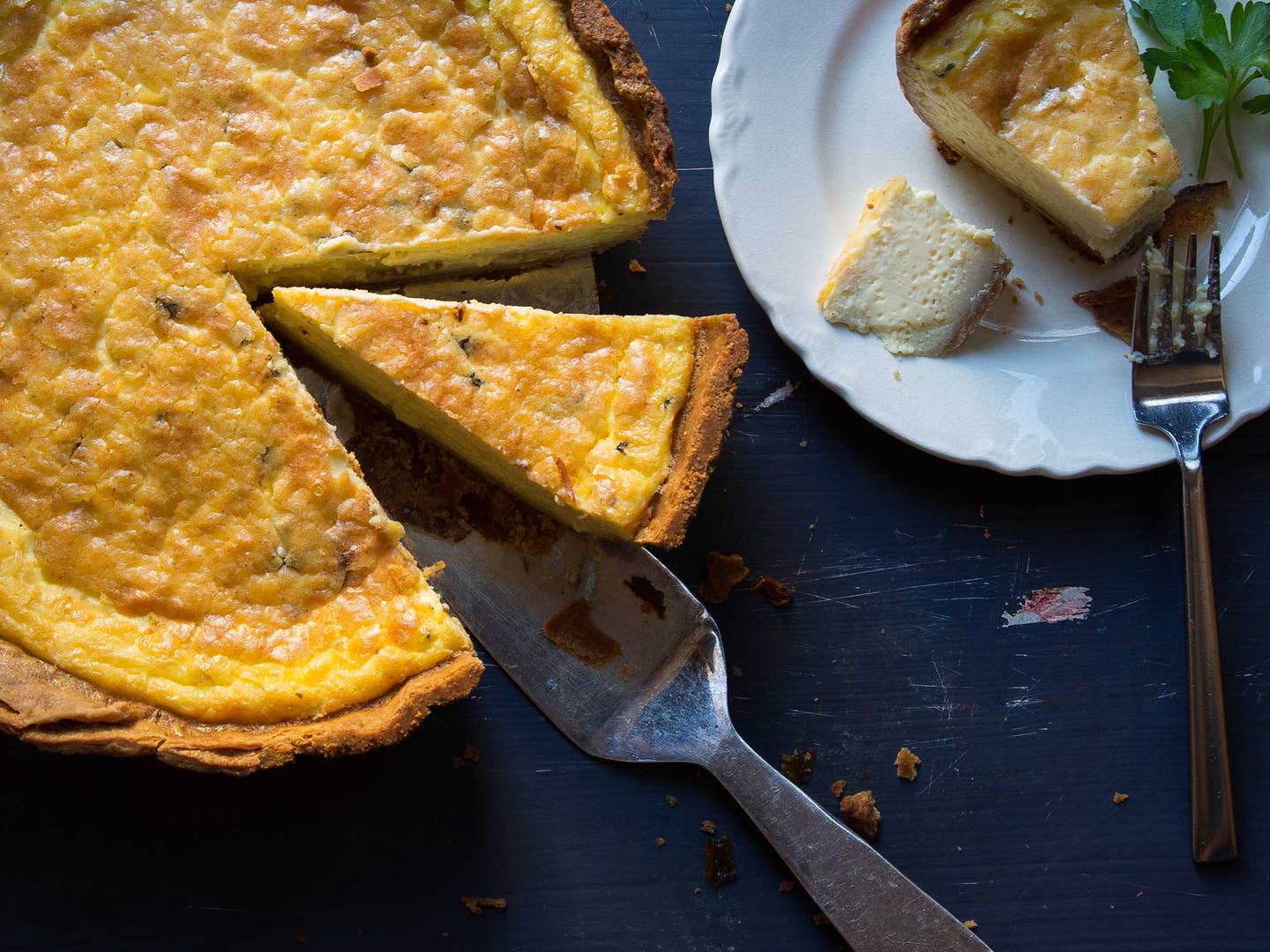 One of the best quiches we've ever tasted comes from Avery Ruzicka, the head baker of Manresa Bread. She gives the filling a velvety texture by adding a touch of flour and baking it long in a relatively cool oven; she also adds in plenty of soft cheese for good measure. For a flavorful, buttery crust, use a mix of whole grain flours and leave your butter in large chunks, not pea-sized pebbles.
Ingredients
For the crust
1 stick plus 7 Tbsp. chilled unsalted butter, cut into 1/2-inch cubes
1 3⁄4 cups plus 1 Tbsp. (8 3/4 oz.) all-purpose flour
1⁄4 cup plus 3 1/2 Tbsp. (2 1/4 oz.) whole wheat flour
1⁄4 cup plus 3 1/2 Tbsp. (2 1/4 oz.) spelt flour
1 1⁄4 tsp. kosher salt
1 1⁄2 tsp. apple cider vinegar
For the filling
2 cups heavy cream
2 cups whole milk
1⁄2 cup (2 1/4 oz.) all-purpose flour
8 large eggs plus 4 egg yolks
1 tbsp. kosher salt
1 tsp. freshly ground white pepper
1 cup crumbled ripe blue cheese or Brie
Instructions
Step 1
Make the crust: In a large bowl, whisk all three flours with the salt. Using your fingers, rub the butter into the flours until it forms pea-size crumbles. Pour in the vinegar and 1⁄4 cup plus 2 tablespoons ice-cold water and stir until the dough comes together. Flatten the dough into a disk, wrap in plastic wrap, and chill for 1 hour.
Step 2
Heat the oven to 400°. On a lightly floured work surface, flatten the dough into a 14-inch round. Fit the round into the bottom and up the side of a 9-inch-wide, 2-inch-deep tart pan with a removable bottom. Trim the edges of the dough and chill for 30 minutes. Using a fork, prick the dough all over. Line the dough with parchment paper, fill with pie weights or dried beans, and bake until lightly browned at the edges, about 15 minutes. Transfer the tart pan to a rack, remove the paper and weights, and let the dough cool.
Step 3
Make the filling: Reduce the oven temperature to 300°. In a blender, combine the cream with the milk, flour, eggs and yolks, salt, and pepper, purée until smooth then pour the custard through a fine sieve set over a bowl. Dot the cooled tart shell with the cheese, pour the custard over the cheese, and bake the quiche until set and lightly browned on top, about 1 1⁄2 hours. Transfer to a rack and let cool to room temperature before serving.