Blueberry Jam and Prosecco Cocktail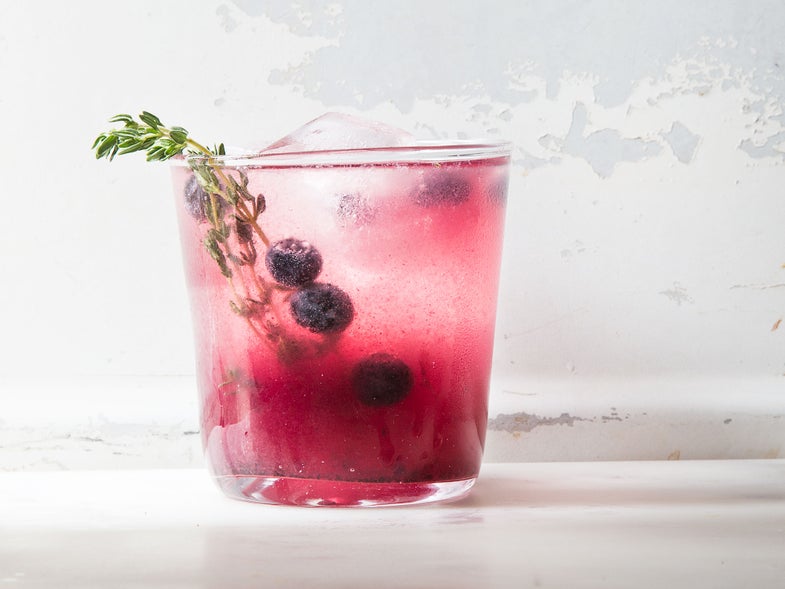 This recipe is inspired by a cocktail I was talked into ordering last year at Fish & Meat, a rustic Italian restaurant in Hong Kong. I initially skipped over the combination of jam, vodka, and prosecco on the drink menu, assuming it would be overly sweet, and perhaps undesirably reminiscent of diner breakfast jelly packets.
But after some coaxing from the restaurant owner, Matt Reid, I jumped on the jam-wagon. "My motto is, 'simplicity is the ultimate sophistication,'" Reid reassured me. "I don't do over-the-top." The cocktail turned out to be sweet, yes, but also quite tart and refreshing. The dry prosecco added both effervescence and acidity, while the Ice Fox vodka, a particularly smooth spirit that's distilled in San Francisco, added a spirited kick. —Allie Wist, Art Associate
Yield: makes 1 drink
Ingredients
1 1⁄2 tbsp. blueberry jam
3⁄4 oz. fresh lemon juice
1 1⁄2 oz. vodka, preferably Ice Fox
3 oz. Prosecco
5 blueberries, to garnish
Sprig of fresh thyme, to garnish
Instructions
In a cocktail shaker, combine the jam, lemon juice, and vodka with ice. Shake vigorously for 15 seconds and then strain into an ice-filled rocks glass. Top with prosecco and garnish with the blueberries and thyme.
Cocktail glass from Il Buco Vita