Recipes
Oatmeal Creme Pies with Vanilla Marshmallow Creme
Serves

makes 24 sandwich cookies

Cook

2 hours 30 minutes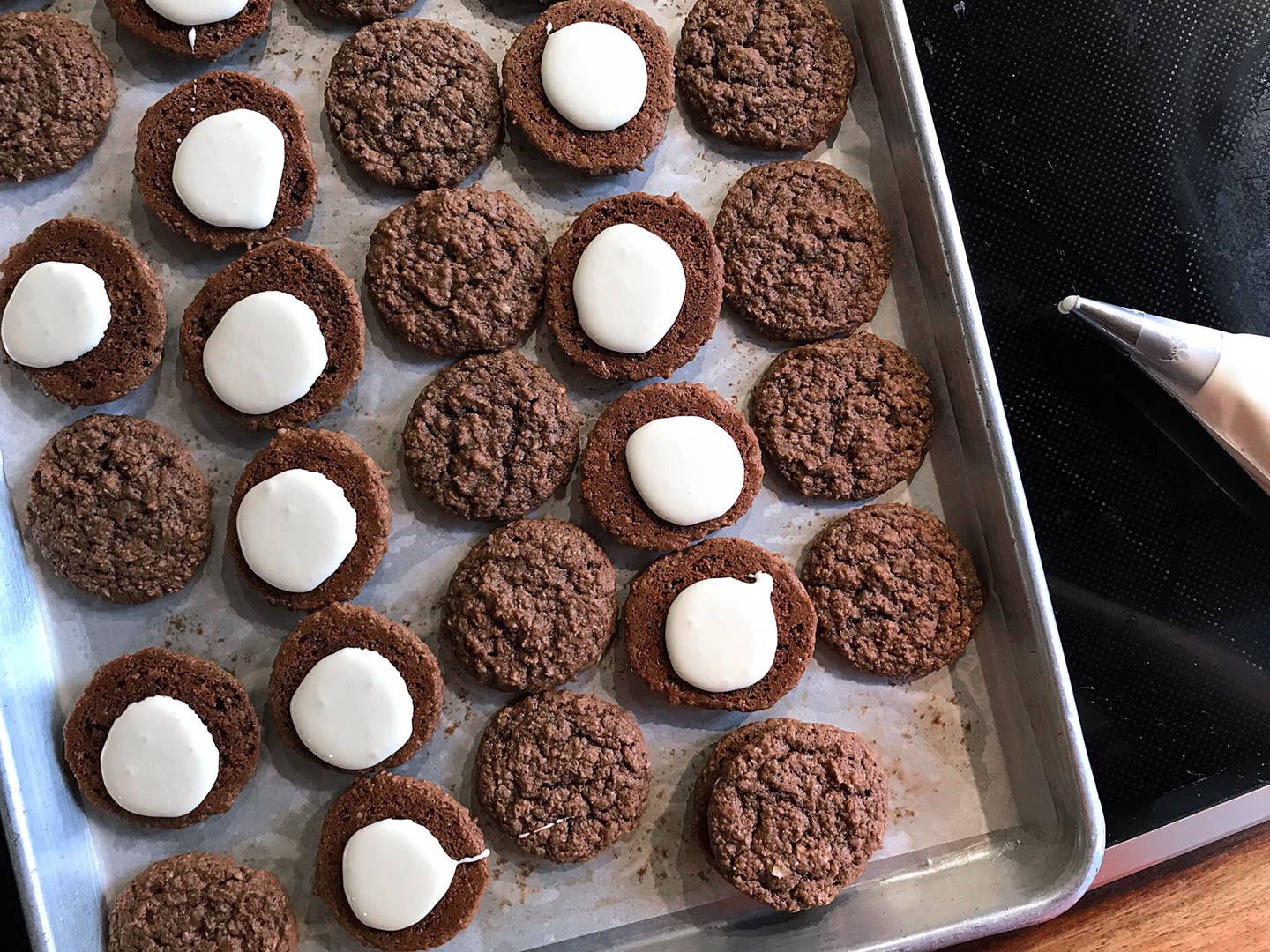 My version of Oatmeal Creme Pies combines the cozy flavors of apple, ginger, and cinnamon with chewy rolled oats and marshmallowy vanilla creme. The filling has a s'mores-like gooeyness perfect for sandwiching into Homemade Oatmeal Creme Pies (the only thing that's missing is a cellophane bag). Whether you start a week or an hour in advance, make the filling first so you can assemble the cookies as soon as they've cooled.
Temperature Note: Most marshmallow mishaps are temperature related. The filling will be thick and rubbery if cooked to above 250°F, soft and runny if not cooled to 212°F, or impossibly thick if the syrup drops below 205°F as it cooks. Avoid these problems with an accurate digital thermometer, which should register 212°F in a pot of boiling water.
Stella Parks' tome on the art, science, and history of American desserts is a must-read for anyone with a sweet-tooth
Ingredients
For the Vanilla Marshmallow Creme
1 1⁄2 tsp. unflavored gelatin powder
2 tbsp. (1 oz.) cool water to bloom the gelatin
1 1⁄2 tsp. vanilla extract and/or 1 vanilla bean
1⁄4 cup (2 oz.) light corn syrup
3⁄4 cup (5 oz.) sugar
1⁄4 plus 1⁄8 tsp. Diamond Crystal kosher salt (half as much if iodized)
1 stick (4 oz.) unsalted butter, creamy and soft—about 68°F
For the Oatmeal Creme Pies
2 cups (9 oz.) all-purpose flour, such as Gold Medal
1 cup (4 oz.) old-fashioned rolled oats (not quick-cooking or instant)
2 tbsp. (1/2 oz.) Dutch-process cocoa powder
2⁄3 cup (2 oz.) plump, moist, dried apples
1⁄2 tsp. Diamond Crystal kosher salt (half as much if iodized)
1⁄2 tsp. grated nutmeg
1⁄4 tsp. ground ginger
1⁄4 tsp. ground cinnamon
1 1⁄4 sticks (5 oz.) unsalted butter, soft but cool—about 65°F
1 cup (8 oz.) light brown sugar
1 1⁄2 tsp. baking soda
1⁄2 tsp. baking powder
1⁄4 cup (3 oz.) golden syrup, sorghum, or unsulfured molasses (not blackstrap)
1 whole large egg, straight from the fridge, well beaten
1⁄4 cup (2 oz.) milk (any percentage will do)
Instructions
Step 1
Make the Vanilla Marshmallow Creme: In a small bowl, mix the gelatin with 2 tablespoons (1 ounce) cool water and vanilla extract, if using. Or split the vanilla bean lengthwise with a paring knife, run the flat of the blade down each half to scrape out the seeds, and add to the gelatin without stirring. (Reserve the pod for another project.)
Step 2
Combine remaining cup (2 ounces) water, corn syrup, sugar, and salt in a 1-quart stainless steel pot over medium heat. Stir with a fork until the mixture is bubbling hard around the edges, about 3 minutes, then increase heat to medium-high. Clip on a digital thermometer and cook, without stirring, until the syrup registers 250°F, about 4 minutes.
Step 3
Transfer thermometer to a large heat-safe bowl and pour in the hot syrup all at once, scraping the pot with a heat-resistant spatula. Cool to exactly 212°F, about 4 minutes. Add gelatin and, with a hand mixer, whip on medium-high until thick, snowy white, and roughly tripled in volume, about 10 minutes.
Step 4
Add the softened butter in 5 or 6 additions, letting each fully incorporate before adding the next. Scrape the bowl with a flexible spatula to ensure the butter is well combined and whip a few seconds more. Transfer to a lightly greased container, cover, and let stand at room temperature until stiff, about 2 hours. The creme can be made up to 1 week ahead; stir the creme well before using.
Step 5
While the filling is resting, make the cookies. First, prepare the dry mix: Sift flour into the bowl of a food processor (if using a cup measure, spoon into the cup and level with a knife before sifting). Add oats, cocoa, dried apples, salt, nutmeg, ginger, and cinnamon, cover with a sheet of plastic to contain the dust, and process until the oats and apple disappear, about 3 minutes. This mix will keep for up to 3 months in an airtight container at room temperature.
Step 6
Adjust oven rack to middle position and preheat to 350°F. Combine butter, brown sugar, baking soda, baking powder, and golden syrup in the bowl of a stand mixer fitted with a paddle attachment. Mix on low speed to moisten, then increase to medium and beat until light and fluffy, about 5 minutes. With the mixer running, add the egg in two additions, mixing until each one is well incorporated. Reduce speed to low and sprinkle in the dry mix, then add the milk, mixing to form a sticky dough. With a flexible spatula, fold the dough once or twice from the bottom up to ensure no unmixed streaks remain.
Step 7
Arrange forty-eight 1-tablespoon (3⁄4-ounce) portions on two parchment-lined and lightly greased aluminum baking sheets, leaving 2 1⁄2 inches between them. Bake until the cookies are puffed and soft but dry around the edges, about 12 minutes. They will look steamy and wet, a side effect of the molten syrup in the dough. If necessary, use the inner edge of a 3-inch round cookie cutter to gently nudge apart any cookies that have grown together. Cool on the baking sheet until their crumb is set, about 20 minutes.
Step 8
Sandwich the cookies: Stir Marshmallow Creme with a flexible spatula, then transfer to a pastry bag fitted with a 1⁄4-inch plain tip. Turn half of the wafers upside down and pipe a shy tablespoon (roughly 1⁄4 ounce) onto the center of each. Top with remaining cookies, pressing gently to join them together.
Step 9
Store in an airtight container, with a piece of wax paper between each layer, for up to 5 days at room temperature, up to a month in the fridge, or 6 months in the freezer. Serve at room temperature.