Recipes
Broccoli and Cauliflower Casserole with Cracked Wheat Topping
Serves

serves 4-6

Cook

2 hours 20 minutes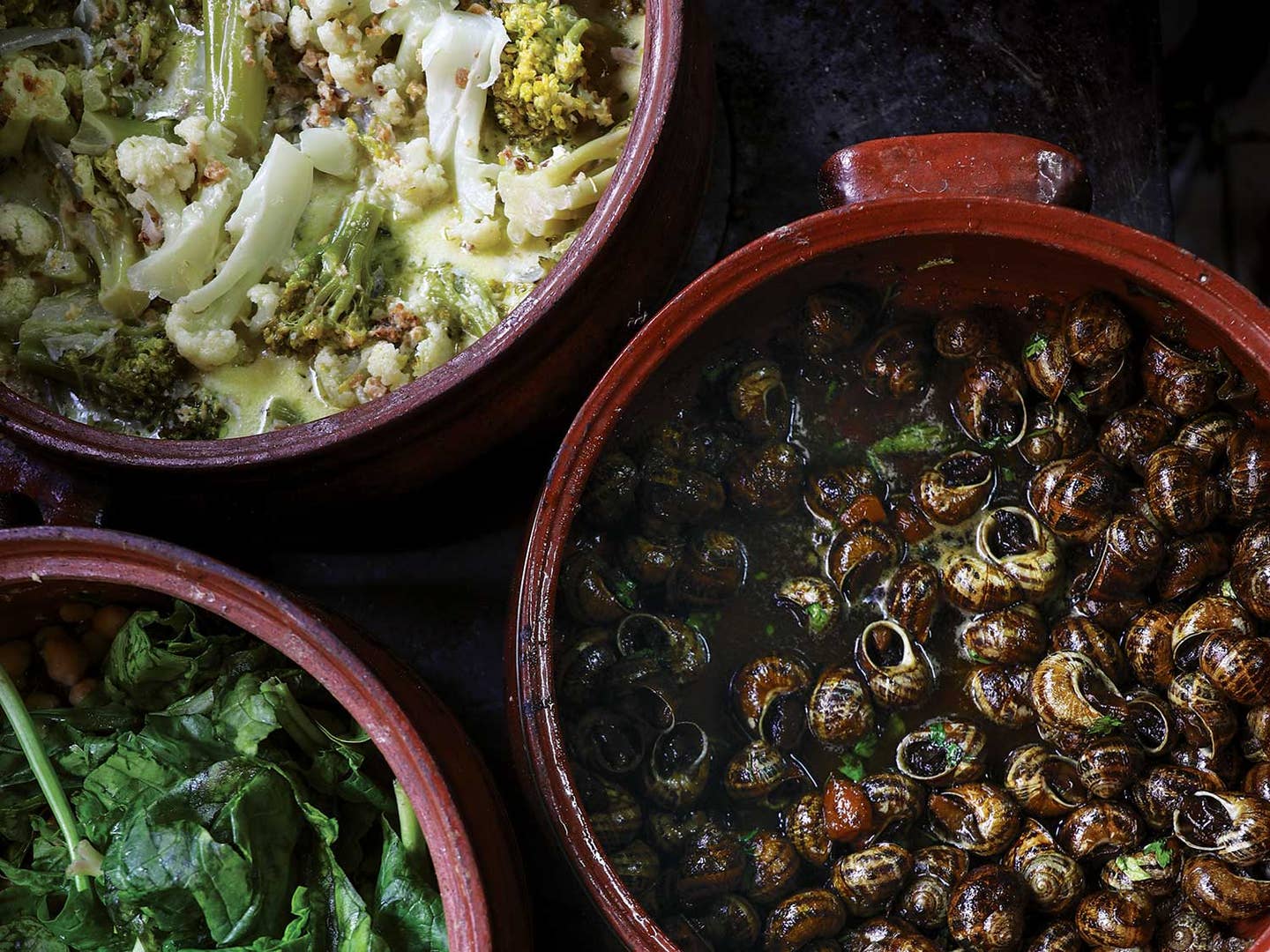 This milky, soft-cooked vegetable casserole is sprinkled with a granola-like wheat topping called ksinohontros, from the Cretan words meaning sour (ksino) and large chunks (hontros). It was traditionally made by cooking cracked wheat in soured milk, then drying and crumbling it. Stelios Trilirakis uses fresh milk from his animals and dries the pieces directly in the sun, but an hour in a low oven does the trick.
Ingredients
For the topping:
1⁄3 cup (2 oz.) cracked wheat (bulgur)
1⁄3 cup whole milk
1⁄2 tsp. kosher salt
For the casserole:
1⁄4 cup extra-virgin olive oil
2 carrots (5 oz.), peeled and sliced ½ inch thick, greens rinsed and reserved
2 garlic cloves, peeled
1 yellow onion (9 oz.), diced
1⁄2 large head cauliflower (1 lb.), cut into florets
1 large broccoli crown (1 lb.), cut into florets
3 cups whole milk
1 tsp. fresh dill, chopped
Kosher salt and freshly ground black pepper
Instructions
Step 1
Make the topping: Preheat the oven to 225°. In a small saucepan, add the cracked wheat, milk, and salt; bring to a boil, then reduce to a simmer. Let cook until all of the liquid has been absorbed and the wheat is tender, 15–20 minutes.
Step 2
On a parchment paper–lined baking sheet, spread the wheat into a thin layer. Bake until crumbly, about 1 hour. Remove and let cool, then crumble the mixture into bite-size pieces. (Topping can be made up to a few days ahead and refrigerated.)
Step 3
Make the casserole: Preheat the oven to 375° and set a rack in the center. In a large, deep, oven-safe skillet over medium-high heat, add the olive oil. Once hot, add the carrot slices, garlic, and onion; season with salt and cook, stirring frequently, until softened and lightly browned, 6–8 minutes. Add the cauliflower and cook, stirring frequently, until well browned, 12–15 minutes. Add the broccoli and season lightly with salt; lower the heat to low and cook, stirring, until browned in places, 4–5 minutes. Stir in the milk and wheat crumbs; season generously with salt and pepper.
Step 4
Transfer the skillet to the oven. Bake until the vegetables are tender when poked with a knife and the liquid is thickened and bubbly, about 35 minutes. Sprinkle with the dill and a few sprigs of the reserved carrot greens, and serve immediately.