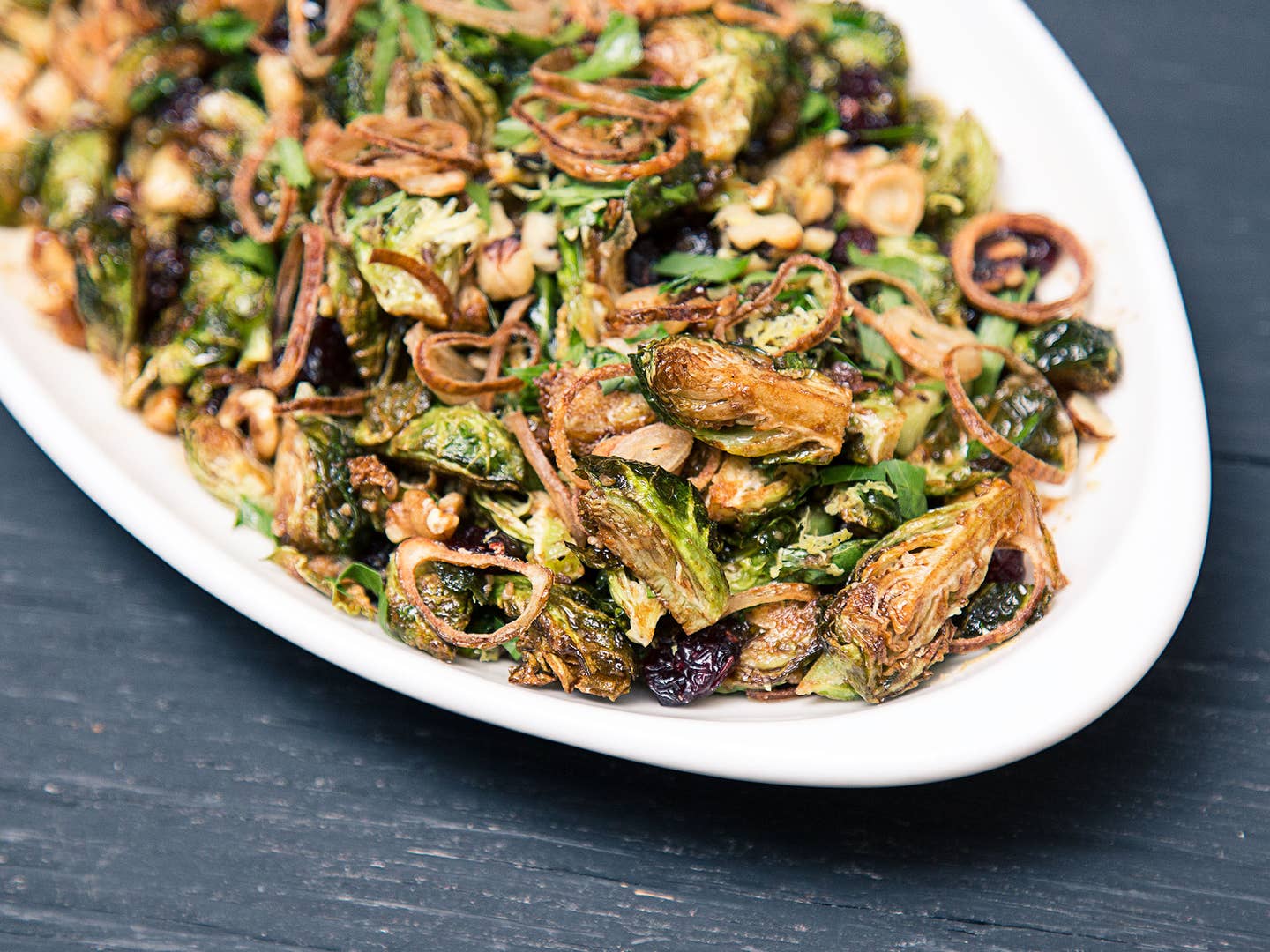 Recipes
A Brussels Sprout Dish for the Haters
How Sara Gore's sweet and sour sprouts won over a family meal
Thanksgiving isn't just a meal, and it's not just one kind of holiday. So every week in November we're sharing Thanksgiving #saveurtraditions from friends of SAVEUR. Next up: Sara Gore, co-host of NBC's New York Live, on her Thanksgiving Brussels sprouts.
Holidays are always a lot of family for me. Our typical Irish-Italian Thanksgiving is 20 people; my grandmother (a great baker) was one of 17. If we go to a family reunion, they need a crane to take a picture of everybody. That's why I look forward to Thanksgiving, because it's a time to sit back and enjoy quality time with your family. That's when everyone gets together. It's the time you don't mind traveling because you're so excited to everyone.
Thanksgiving is the one holiday in my life that's always stayed the same. We always do a classic turkey, my mom's stuffing, and her mashed potatoes. But the Brussels sprouts are always up to me. Mom hates them, so I get to make them however I want. I've always loved Brussels sprouts, even as a kid when I first had them at a restaurant called Shenanigans up where I'm from in the Adirondacks. My kids love Brussels sprouts too. That's part of the reason they made it onto the Thanksgiving menu six years ago.
Early on, everyone had their opinions about Brussels sprouts in my family, and they weren't good ones. So the first time I made them at Thanksgiving I roasted them with bacon and butter. It was a sneak attack—we all know bacon makes everything better—and it worked. Everyone loved them. I've made them in some from every year since.
But Brussels don't need bacon to be good, and this sweet-and-sour recipe is just as good the bacon kind. They're deep-fried for even crispness, then dressed with balsamic vinegar and honey for a double-dose of sweetness and a hint of acidity. I think about textures a lot, so I added nuts and cranberries, and I believe everything deserves a garnish, which is where a dusting of fried shallots come in. I love citrus zest, too, so a little lemon brings the dish together.
I debuted these fried sprouts last year with a little hesitation, but even in my sprout-hating family, they were a wild success, and everyone agreed they had to be done again. They're a rich side, a little decadent, but that makes them perfect to share for Thanksgiving.