Recipes
Fried Brussels Sprouts
Here's how to convert the haters.
Serves

serves 4

Cook

30 minutes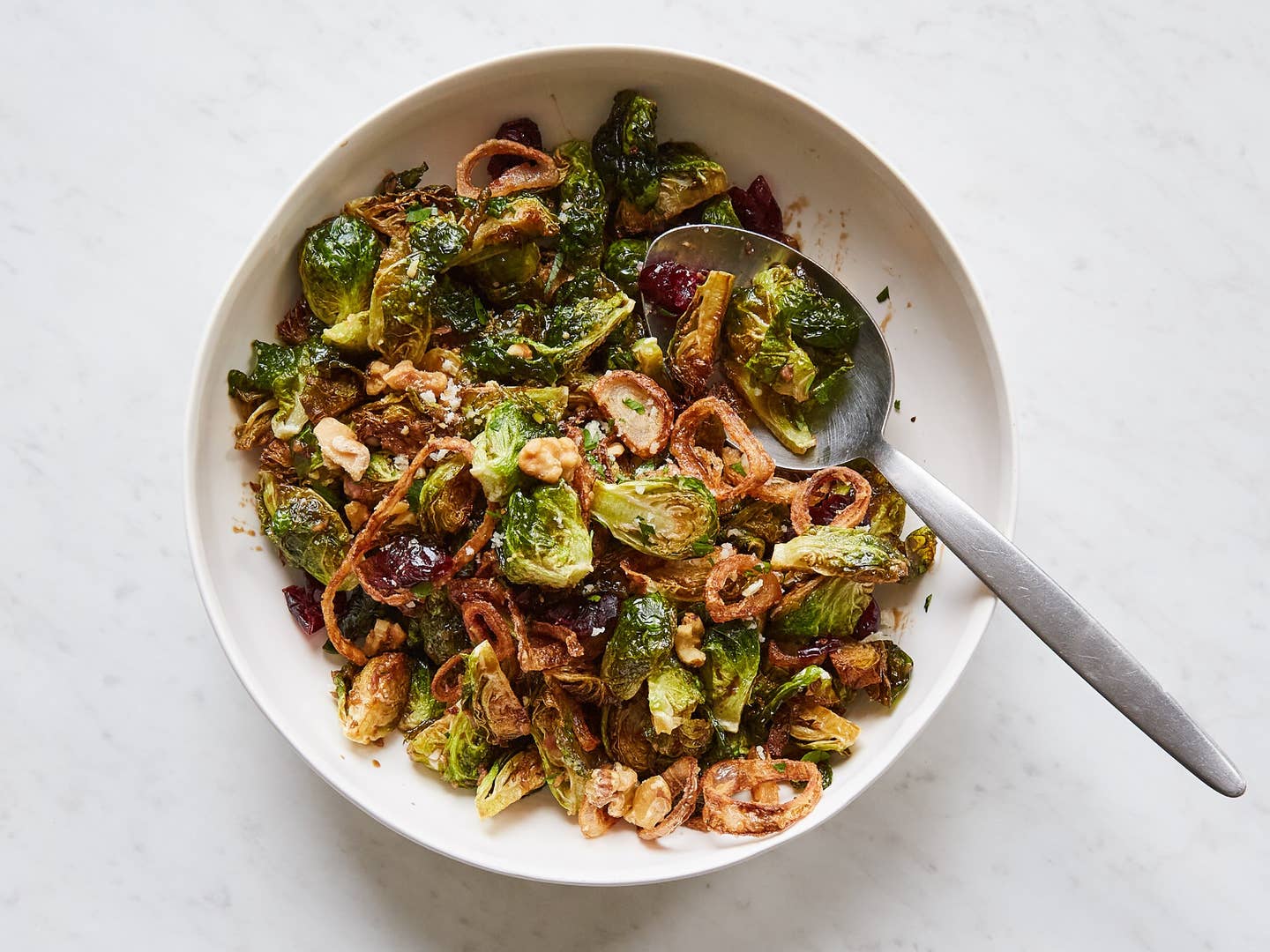 The way to win over Brussels sprout haters? These crispy sprouts from Sara Gore, co-host of NBC's New York Live. Quick-fry the brassicas, then dress them in a sweet-and-sour sauce of honey and balsamic. Fried shallots, walnuts, and Parmigiano-Reggiano bring texture and flavor, and a dose of lemon zest ties it all together.
Ingredients
1⁄4 cup balsamic vinegar
1⁄4 cup olive oil
1 Tbsp. honey
1 tsp. Dijon mustard
4 small shallots, thinly sliced crosswise into rings
Kosher salt and freshly ground black pepper
Vegetable oil, for frying
1 lb. Brussels sprouts, trimmed and quartered
1 Tbsp. all-purpose flour
1⁄4 cup finely chopped flat-leaf parsley
1⁄4 cup dried cranberries
1⁄4 cup freshly grated Parmigiano-Reggiano
1⁄4 cup walnuts, toasted and roughly chopped
Finely grated zest of 1/2 lemon
Instructions
Step 1
In a blender, combine the balsamic vinegar with the olive oil, honey, mustard, and 1 tablespoon of the sliced shallots and blend until smooth. Season the sauce with salt and pepper and scrape into a medium bowl.
Step 2
Pour enough vegetable oil into a 6-qt. saucepan to come 2 inches up the side and heat to 350° on a deep-fry thermometer. Working in batches, fry the Brussels sprouts until golden brown and slightly crisp, 2 to 3 minutes. Using a slotted spoon, transfer the sprouts to paper towels to drain.
Step 3
In a small bowl, toss the remaining sliced shallots, separated into rings, with the flour, then fry until golden and crispy, 1 to 2 minutes. Using a slotted spoon, transfer the shallots to another set of paper towels to drain.
Step 4
In the bowl with the sauce, toss the Brussels sprouts with the sauce, half the parsley, the cranberries, parmigiano, and walnuts. Season the sprouts with salt and pepper and transfer to a platter. Sprinkle the sprouts with the crispy shallots, the remaining parsley, and the lemon zest and serve while hot.