9 Ways to Buffalo Everything
The case for hot sauce + butter + blue cheese on a whole lot more than chicken wings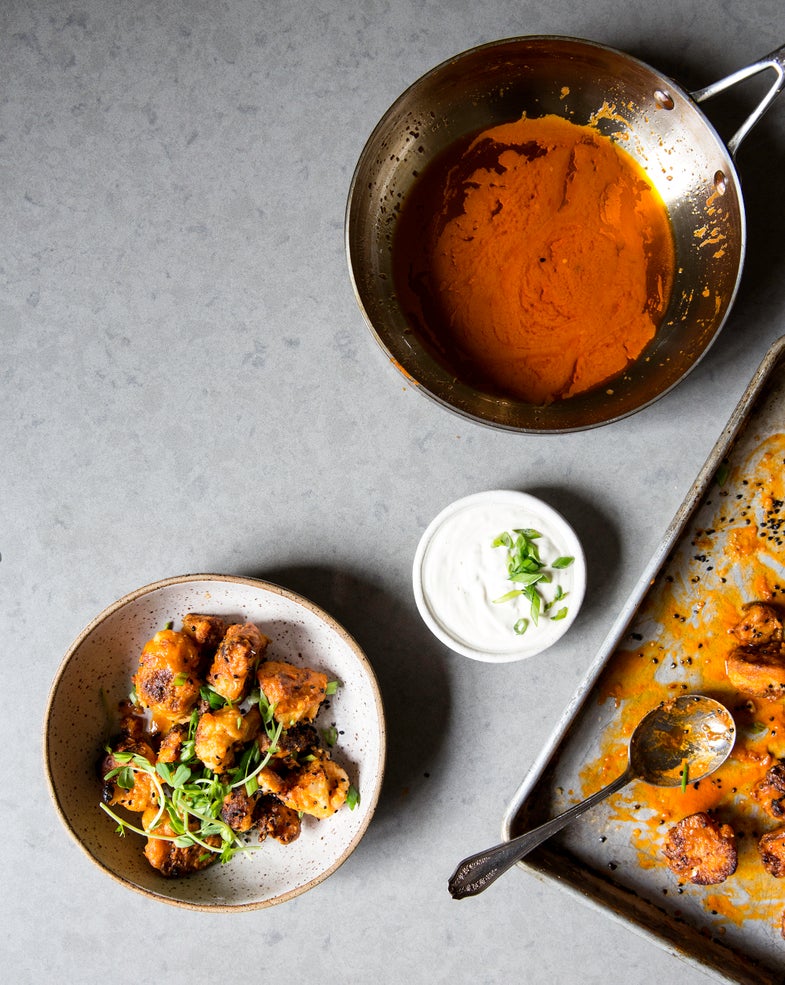 Buffalo sauce isn't just for wings. It's not a condiment—it's a state of mind. With the right attitude, you can fry up anything and slather it in red hot buffalo sauce. Here are 10 recipes to bump up the heat with a bottle of Frank's Red Hot and a bit of butter:
A piping hot oven will crisp up cauliflower into toasty florets with a tender inside. It only needs a good coating of Frank's Red Hot and some butter to make that tender core really shine. Replace the tahini sauce in this Roasted Cauliflower dish with some blue cheese to get the spiciness going.
Crispy breading encases gooey melted mozzarella cheese in this classic appetizer. But what deep-fried mozzarella sticks really need is a slathering in buffalo sauce. Forget the marinara and get a dish of blue cheese. It's all you need for a party, or a night of spicy, cheesy, gooey goodness.
These crisp mini-sandwiches are deep-fried and filled with molten cheese. While the fried mozzarella sandwiches are still hot, toss some buffalo sauce to give that crisp layer a kick of heat. Then pair it with some blue cheese dressing for a melty sandwich and dip.
The classic buffalo chicken pizza, made infinitely easier. This slice has certainly sparked some controversy but a good slice can show you just how good buffalo chicken can be. Instead of rolling out the pizza dough, go for the variation on the easiest pizza ever—Loaf Bread Pizza. Use a loaf of bread for the crust and fill up the pizza with deep fried buffalo chicken. Skip the tomato sauce altogether but if you're really pining for it, all it needs is a sprinkle of cheese on top.
These cheesy rice fritters, often made with leftover risotto, are an addictive snack. Take these Venetian Rice Fritters and swap out the filling for nuggets of blue cheese, then dip in hot sauce mixed with some butter.
Chicken and waffles: great. Buffalo fried chicken on waffles: better. This recipe for Sourdough Whole Wheat Waffles is strong enough to hold its own against buffalo chicken. Sourdough starter mixed into classic waffle batter gives a brightness, airiness, and—who knew?—exterior crunch to waffles that non-yeasted batters can't match.
These hushpuppies—little cornbread fritters you could eat like popcorn—have a dose of zesty pimento cheese for extra richness. Swap out the cheddar for blue, mix in some more hot sauce, then dip in blue cheese dressing for good measure.
This luxurious stove-top creamed spinach is enriched with sour cream and topped with crunchy spiced bread crumbs. Add some blue cheese, poached chicken, and hot sauce for a buffalo version. Get the recipe for Creamed Spinach with Spiced Bread Crumbs »
Brussel sprouts are often overlooked but are the perfect green for a rich buffalo sauce. Get your sprouts crispy all over with a quick trip through a deep fryer, then dress them in Frank's Red Hot and butter instead of the honey-balsamic vinegar sauce in this recipe. Get the recipe for Fried Brussels Sprouts »