Easiest Pizza Ever (Loaf Bread Pizza)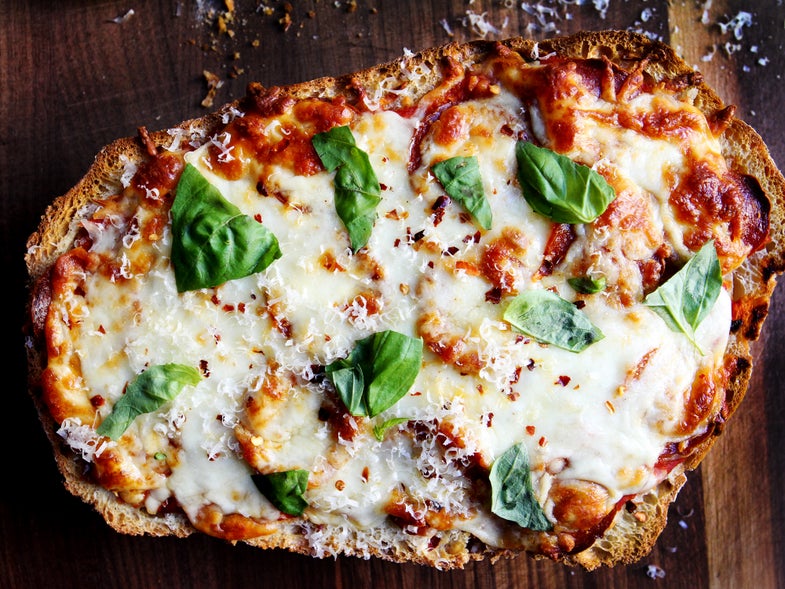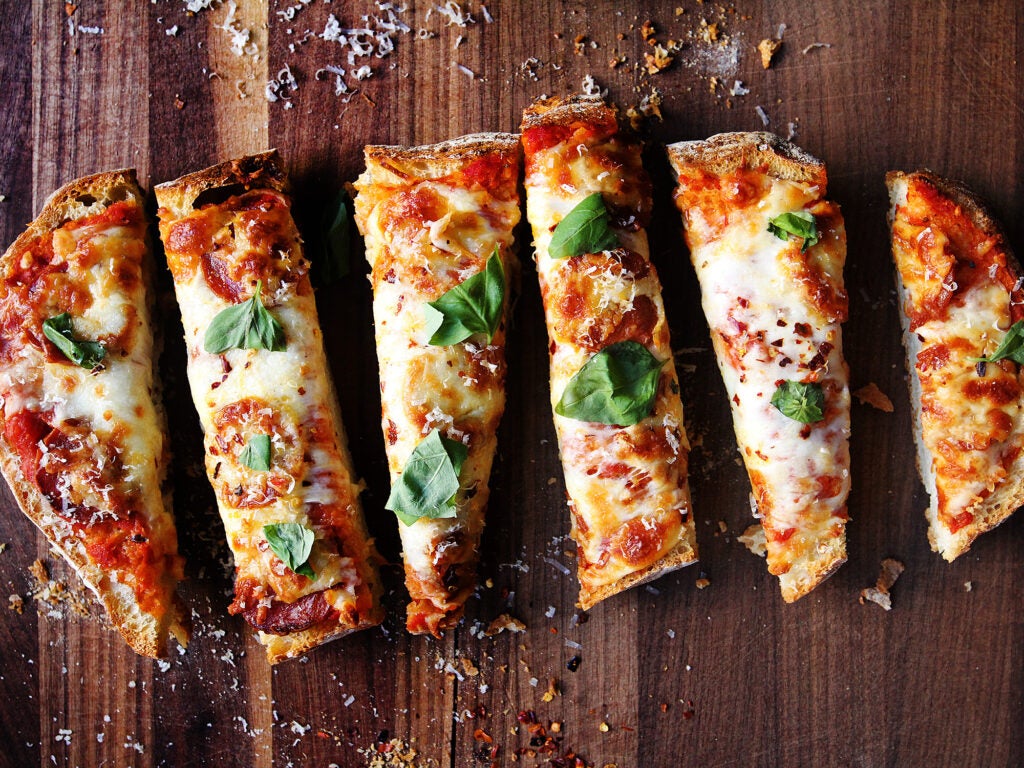 Easiest Pizza Ever (Loaf Bread Pizza)
Easiest pizza ever
No time to make your own dough? Same here. Use a loaf of bread for the crust and have dinner ready in no time.
Featured in: The Fastest Pizza Ever Starts With a Loaf of Bread
Easiest Pizza Ever (Loaf Bread Pizza)
Got no time to make your own dough? Us either. Use bread for the crust and have dinner ready in no time.
30 minutes
Ingredients
2 tbsp. olive oil
1 tbsp. unsalted butter
2 cloves garlic, finely chopped
1 medium yellow onion, finely chopped
1 tbsp. tomato paste
1 (28-ounce) can whole peeled tomatoes, crushed by hand
1 tbsp. sugar
Kosher salt and freshly ground black pepper
1 (12-oz.) ciabatta loaf, halved lengthwise
1 1⁄2 cups grated mozzarella cheese
2 oz. thinly sliced pepperoni
Basil leaves, torn, for serving
Chile flakes, for serving
Grated parmesan cheese, for serving
Instructions
Heat olive oil and butter in a 4-quart saucepan over medium-high; add garlic and onion and cook until soft, about 6 minutes. Add tomato paste and cook 2 minutes more, then add tomatoes, sugar, salt, and pepper; cook until thick, 15-18 minutes, and set pizza sauce aside (alternatively, use store-bought pizza sauce).
Heat oven to 425°. Place ciabatta, cut-side up, on a baking sheet. Bake 10 minutes, until lightly crispy. Remove from oven and spread 1⁄2 cup sauce over each half. Top each with 1⁄4 cup mozzarella cheese and divide the pepperoni over the top. Divide the remaining mozzarella over each half and bake until the cheese is melted and golden, about 15 minutes. Transfer to a cutting board and top with basil, chile flakes, and parmesan cheese.