Recipes
Caramelized Apple Omelette (Omelette Sucrée à la Normande)
Serves

serves 2

Cook

20 minutes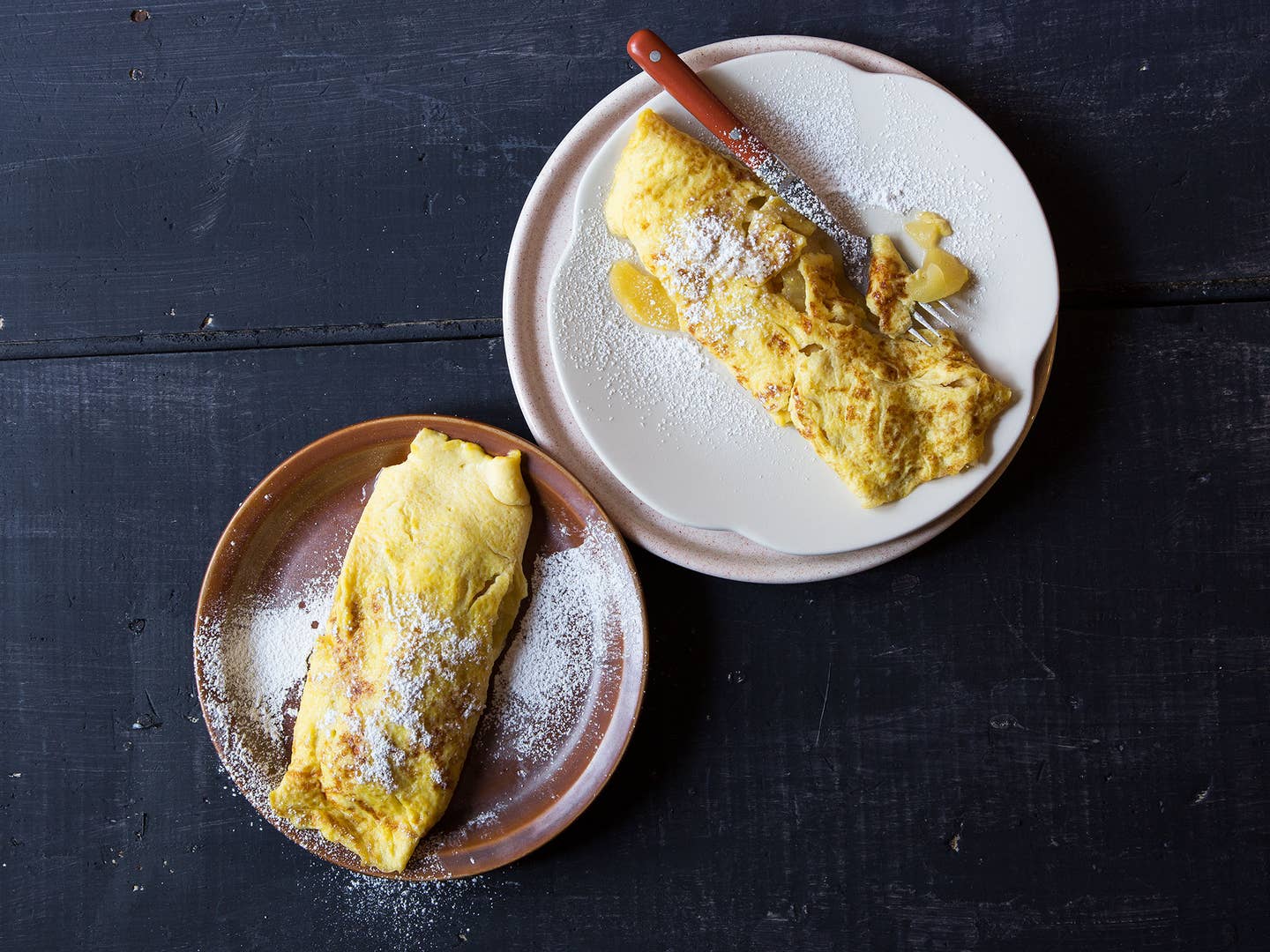 This classic Norman dessert showcases some of the best products of the region: apples, calvados, and milk. Top with a dollop of crème fraîche, if you like.
Ingredients
1⁄2 cup whole milk
3⁄4 tsp. kosher salt
4 large eggs
2 tbsp. unsalted butter
1⁄4 cup granulated sugar
2 tbsp. calvados
3 whole sweet-tart apples, such as Gala, Fuji, or Empire, peeled, cored, and thinly sliced
Confectioner's sugar, for dusting
Instructions
Step 1
In a liquid measuring cup, combine the milk with 1⁄2 teaspoon salt and the eggs, and whisk until smooth.
Step 2
In a 10-inch nonstick skillet, warm 1 tablespoon butter over medium heat. Add the granulated sugar, calvados, and apples, and cook, stirring occasionally, until the apples are tender but not falling apart, about 6 minutes. Stir in the remaining 1⁄4 teaspoon salt then scrape the apples out of the skillet and onto a plate.
Step 3
Return the skillet to medium heat, and melt 1⁄2 tablespoon butter. Pour in half the egg mixture and cook, stirring constantly to create small curds. When no more liquid egg covers the bottom of the pan, stop stirring, to allow the omelet to set. Spoon half the cooked apples down the center of the eggs, then, using a spatula, fold one third of the omelet over the apples. Flip the opposite side of the omelet over the center to complete the letter fold, then invert the skillet and omelet onto a plate, seam side down. Dust with confectioners' sugar and serve immediately. Repeat with the remaining 1⁄2 tablespoon butter, custard, and apples to make another omelet.
Watch how to make a basic omelette