Caramelized Onion and Sunchoke Dip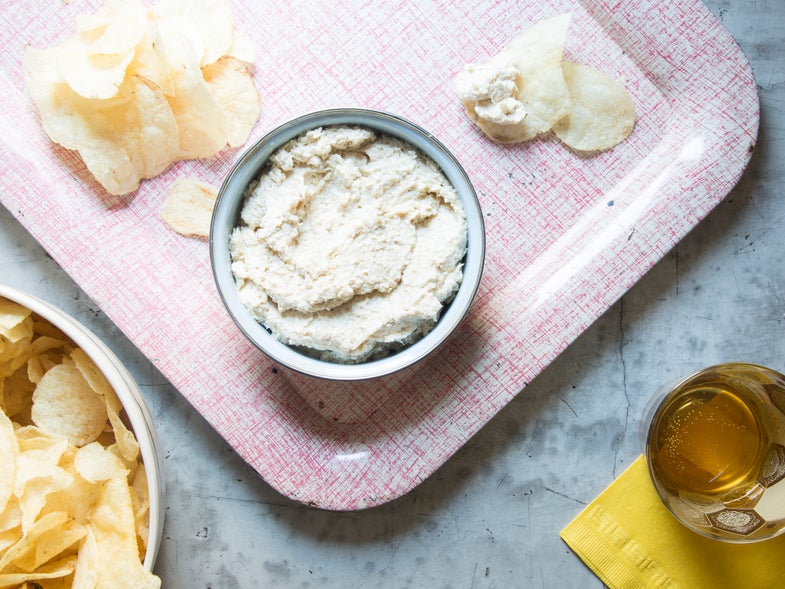 In this exciting take on French onion dip, chef Sara Hauman of San Francisco's Huxley restaurant mixes nutty sautéed sunchokes (a.k.a. Jerusalem artichokes) into caramelized onions. It's a retro classic, modernized for your next dinner party. Note: Allow at least 4 hours for chilling
Featured in: Flip the Dip
Caramelized Onion and Sunchoke Dip
Add depth to the beloved French onion dip by caramelizing the onions and mixing in nutty, sautéed sunchokes.
Time: 1 hour, 25 minutes
Ingredients
2 tbsp. olive oil
2 tbsp. unsalted butter
1 lb. sunchokes, scrubbed clean, peeled, and roughly chopped
3 large sweet onions, roughly chopped
8 oz. cream cheese, softened
1 cup sour cream or plain yogurt
2 tsp. freshly ground black pepper
1⁄2 tsp. onion powder
Instructions
In a 10-inch skillet, heat the olive oil and butter over medium. Add the sunchokes and onions and season with salt. Cover and cook, stirring occasionally, until they caramelize, about 1 hour and 20 minutes.
Transfer the onions and sunchokes to a food processor with the cream cheese, sour cream, pepper, and onion powder, and pulse to combine. Scrape the dip into a bowl and chill for at least 4 hours, or overnight, before serving.