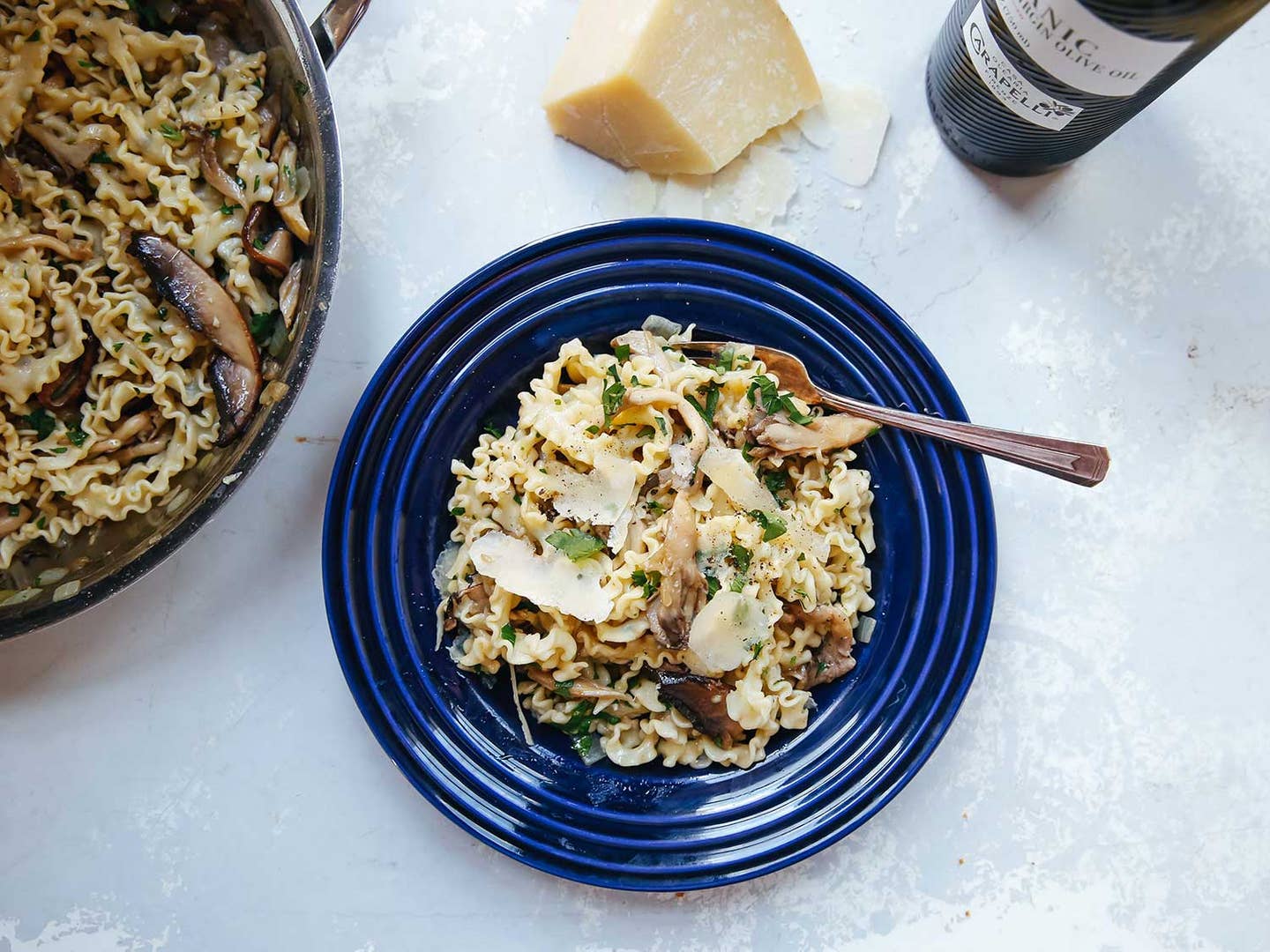 Shopping & Reviews
The Only Sauce You Need on Your Pasta is Olive Oil
Want to take your pasta dinner to the next level? Try a little extra-virgin olive oil
When you're in the mood for pasta, tomato sauce seems like the obvious go-to. Maybe because it's such a classic move—nobody ever regrets playing it safe and sticking with spaghetti and meatballs. However, we'd like to advocate for a slightly different move: let olive oil steal the show.
There are plenty of pastas that already do this in different ways, and you've probably tried at least some of them. For instance, pasta aglio e olio is very full-flavored despite containing only olive oil, garlic, and a hearty helping of Pecorino (and for a slightly spicier version, toss in some peperoncino chiles). There's also cacio e pepe, another super simple sauce where your Carapelli olive oil can shine.
If you have reservations about how much heat extra virgin olive oil can handle, we've got good news. Test kitchen manager Kat Craddock explains that the idea that EVOO should not be used for sautéeing or even frying is actually pretty extreme; good quality olive oil can be heated as high as 375° without smoking, which is plenty of heat for most types of cooking. To avoid overheating, use heavy-bottomed pots and pans and heat slowly, over a medium flame, while occasionally swirling the pan in the oil, to maintain an even temperature.
You probably already know some of our favorite ways to flavor our pastas without relying on too much saucy magic. Oil and herb sauces like pestos are a classic and popular style of extra virgin olive oil-based sauce. According to Craddock, you can swap out the classic basil and pine nuts for other herbs or nuts (try pistachios or even macadamias); these sauces are uncooked and will retain the most raw olive oil flavor, so they are an excellent application for robust and peppery Tuscan oils. They can also be made at the end of the growing season to preserve your garden's summer herbs; Craddock suggests keeping them in ice trays for easy, single-serve portions to last the winter.
More acidic herb and oil sauces (like Sicilian salmoriglio) can be prepped partly in advance, but they are best when the herbs are added just before serving; the acidity in the lemon juice will blacken fresh green herbs if mixed in advanced.
But one of our favorite ways to incorporate olive oil into your pasta routine is using it along with vegetables. We're particularly partial to mushroom trifolata, a sauce made from searing mushrooms, deglazing with a splash of wine, then slowly simmering in extra virgin olive oil until they are tender and silky and the oil is infused with their rich umami flavor.