Recipes
Cardamom-Rose Cake Donuts
Serves

makes 10 Donuts and 16 Donut Holes

Cook

2 hours 45 minutes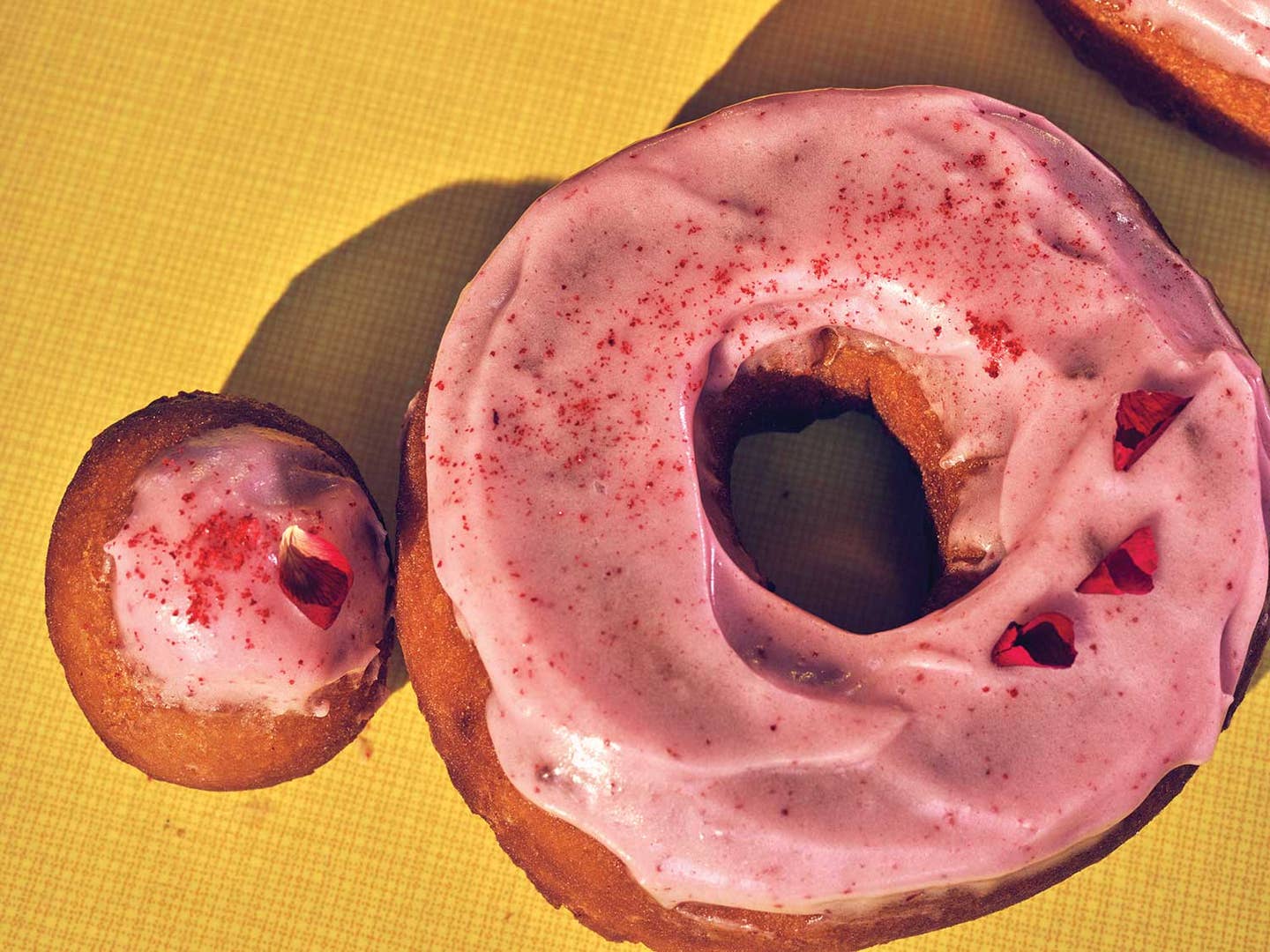 The flavoring in these donuts is inspired by Persian desserts, which often combine flower waters and herbaceous cardamom. For the most fragrant donuts, crack open whole cardamom pods, crumble the seeds into a mortar and pestle, and grind to a powder just before making the dough.
Ingredients
For the donuts:
2 cups (9½ oz.) all-purpose flour, plus more for dusting
2 tsp. ground cardamom
1 1⁄2 tsp. baking powder
1⁄2 tsp. baking soda
1 tsp. kosher salt
2 large eggs, beaten
1⁄2 cup sugar
1⁄2 cup sour cream
1 tbsp. rosewater (optional)
Canola or vegetable oil for frying
For the frosting:
2 cups powdered sugar
3⁄4 cup heavy cream
3-5 drops rosewater (optional)
2 tsp. finely ground freeze-dried raspberries (or use food coloring)
Dried edible rose petals (optional)
Instructions
Step 1
In a medium bowl, sift the flour, cardamom, baking powder, and baking soda, then stir in the kosher salt.
Step 2
In a large bowl, whisk the eggs and sugar, then whisk in the sour cream and 1 tablespoon rosewater (if using). Switch to a wooden spoon or stiff rubber spatula, and stir the flour mixture into the wet ingredients until a homogenous, wet dough forms.
Step 3
Lay a large sheet of plastic wrap out on a work surface and scrape the dough onto it. Pull the sides of the plastic up over the dough to enclose, and press the dough out into an even disk, about 1 inch thick. Refrigerate until slightly firm, at least 2 hours, or overnight.
Step 4
Meanwhile, make the frosting: In a medium bowl, whisk the powdered sugar, heavy cream, 3–5 drops of rosewater (if using), and the raspberries until very smooth. Cover with plastic wrap and refrigerate until you are ready to frost the donuts.
Step 5
To fry the donuts, fill a deep-fryer or heavy-bottomed pot with 2½ inches of oil. Set on low heat to preheat while you roll and cut the donuts.
Step 6
Lightly flour a clean work surface. Unwrap and lightly flour the chilled dough, then use a rolling pin to roll it out to an even ½-inch-thick layer. Dip a 2¾-inch round donut or biscuit cutter in flour and punch circles out of the dough, wiping off and dipping the cutter in flour again whenever it begins to stick. When all 10 donuts are cut, use a 1-inch cutter to punch a hole in the center of each. (You can reroll the scraps once, then punch extra holes from whatever dough remains.)
Step 7
When the donuts are cut, raise the heat under the fryer or pot to medium-high. Line a baking sheet with paper towels and set it by the stove. When the oil reaches 370°F, fry the donuts in batches of 3 or 4, turning as needed, until golden, about 1½ minutes per side. Transfer the cooked donuts to the lined baking sheet as you finish cooking the rest. When all of the donuts are cooked, fry the holes in batches of 7 or 8, about 2 minutes per batch. Set aside to cool completely.
Step 8
Once they're fully cooled, spread a thin layer of frosting on one side of each donut. Sprinkle with dried rose petals, if using, and serve fresh for best consistency.