Recipes
Cheese and Herb-Stuffed Georgian Dumplings (Khinkali Qvelit)
Serves

makes 25

Cook

2 hours 15 minutes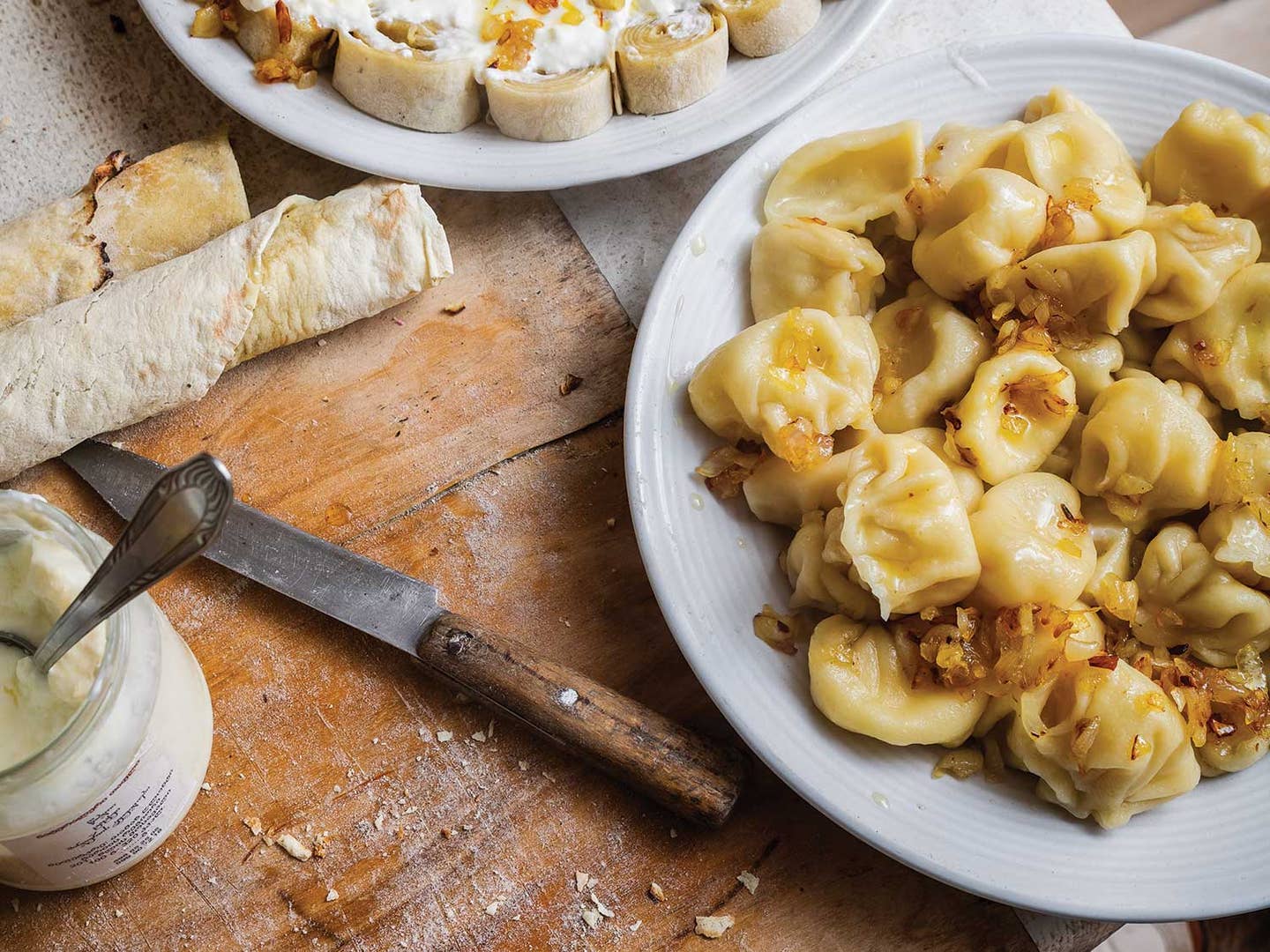 Made of twisted knobs of dough and stuffed with either seasoned meat, fresh curds, or prepared cheeses, these boiled dumplings originated in the mountains but are now widespread across much of Georgia. Locals sometimes serve the dumplings with a side of ground black pepper for dipping.
Ingredients
4 cups (11/4 lb.) all-purpose flour, divided, plus more for dusting
1 1⁄4 tsp. kosher salt, plus more as needed
2 cups (1 lb.) ricotta, excess moisture strained and discarded
1⁄2 cup (4 oz.) sour cream
1⁄4 cup finely chopped cilantro
1⁄4 cup finely chopped fresh mint
3 large eggs, beaten
Freshly ground black pepper
Instructions
Step 1
In a large bowl, use a wooden spoon to stir 3⅔ cups flour, the salt, and 1¼ cups of warm water until a dough begins to form.
Step 2
Lightly flour a clean work surface, then turn the dough out onto it. Knead until firm and smooth, about 6 minutes, adding the remaining flour 1 tablespoon at a time as needed if the dough feels sticky. Wrap in plastic wrap and refrigerate for 40 minutes.
Step 3
Meanwhile, make the filling: In a medium bowl, stir the ricotta, sour cream, cilantro, mint, eggs, and a pinch each of salt and pepper until combined. Set aside.
Step 4
Retrieve the dough and form it into 25 equal balls (1 ounce each, or about the size of a ping-pong ball). Use a rolling pin to flatten one piece into a 5½-inch disk. Hold the disk in the palm of one hand and spoon 2 tablespoons of filling into the center. Fold the edges of the dough up and around the filling, pressing out any air pockets and creating pleats as you go, until sealed. Grasp the top of the dumpling where the pleats meet, and pinch and twist to seal and form a top knot. Set the dumpling on a floured work surface or a baking sheet lined with lightly floured parchment paper, then repeat with the remaining dough and filling.
Step 5
Bring a large pot of salted water to a rolling boil. Working in batches of 4 or 5, hold the dumplings by their knots and carefully drop them into the pot. Stir gently, then cook until the dumplings float to the top and the dough is tender, 7–8 minutes. Use a slotted spoon or spider strainer to remove the dumplings to a large serving platter as they finish cooking. Serve hot, sprinkled with more black pepper if desired.