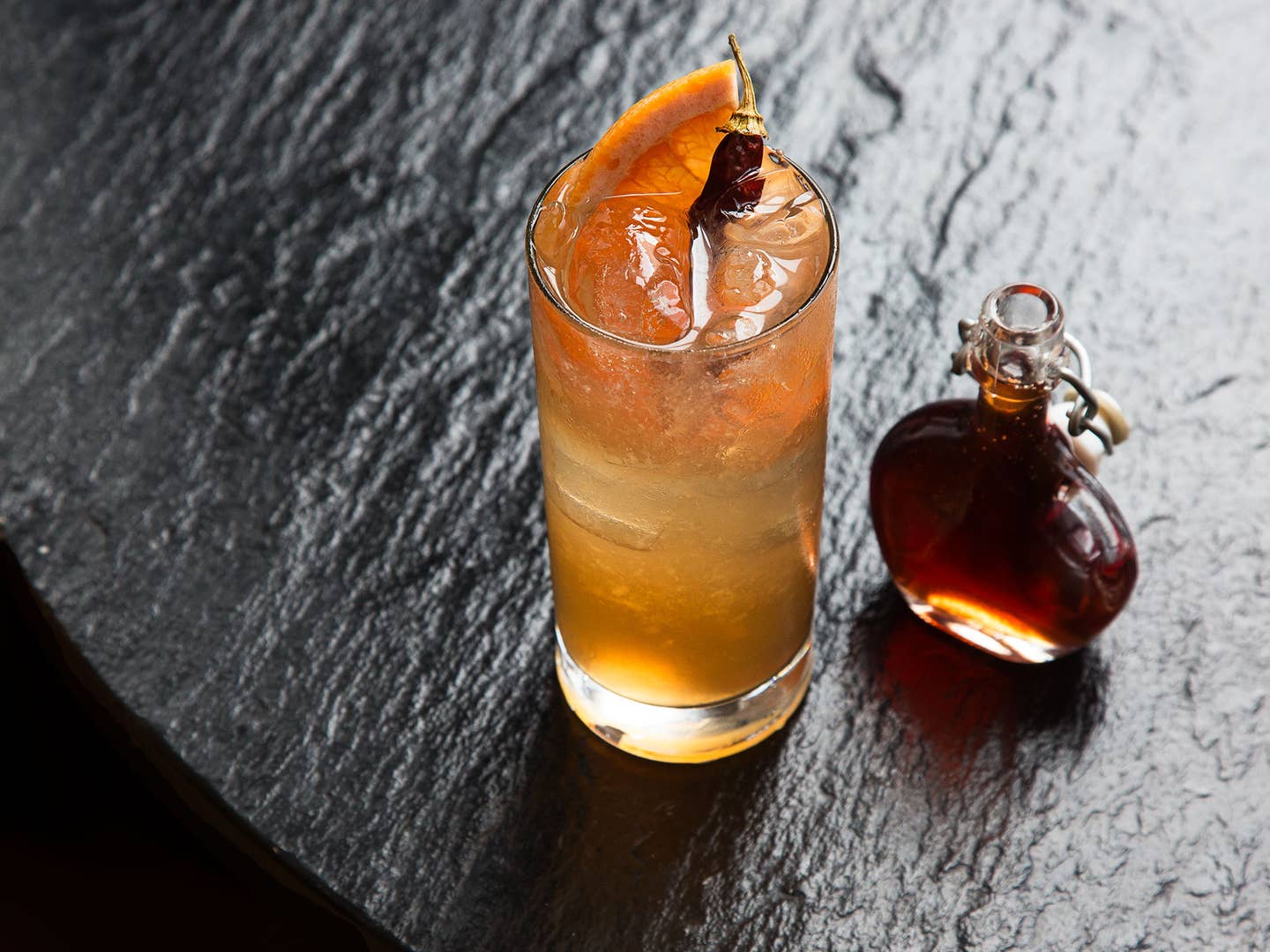 Drinks
Take Grenadine Beyond the Shirley Temple
Make your own from fresh pomegranate juice in 10 minutes—you'll never look back
Has ever a cocktail ingredient been so widely known, yet so misunderstood? In years past, grenadine was known almost exclusively as a neon-red syrup that starred in Shirley Temples. But in its true form, grenadine is simply a sweet-tart reduced pomegranate syrup, no artificial coloring necessary, that stars in a number of classic cocktails, including the Jack Rose, the Ward Eight, and more.
Virtually all cocktails, from the booziest on down, have some form of sweetener. (Even a martini; dry vermouth does have a touch of sweetness to it.) The intention isn't necessarily to make the cocktail sweet, per se; sugar does plenty of other things to a drink, such as can bind other ingredients together to make a cocktail taste seamless rather than rough around the edges. It also contributes body and texture—think of how sweeteners like honey and maple syrup have a real weight to them.
Simple syrup is the most basic of all sweeteners, just sugar and water, and it's easy to flavor them. Other syrups, on the other hand, can contribute more than just sugar; grenadine delivers complex pomegranate flavors and a balance of sweetness and acidity—and the vivid red hue doesn't hurt either.
Here's what you want from grenadine: a syrup that gives you sugar, acidity, body, and rich pomegranate flavor. Some recipes use pomegranate molasses to achieve those dark-fruit flavors and a thicker texture. We prefer using fresh pomegranate juice, boiling it with sugar until it reduces, the flavors concentrate, and it reaches the syrupy consistency that adds body and weight to your cocktails. The method is dead simple: Combine pomegranate juice and sugar in a saucepan, stir over heat until it dissolves, let boil for ten minutes, and you're done.
Grenadine isn't just a tasty syrup, but a template for other ingredients. Some recipes go the floral or citrus route, often with orange blossom water. We love adding a dried chile de arból, which contributes just a little spice, along with fresh orange peel. Add it to a tequila-grapefruit Paloma and you'll get the sweet-tart flavor of pomegranate with a faint echo of heat and a touch of bright citrus.