Drinks
Crab Apple Liqueur with Cinnamon
Serves

makes about 5 cups

Cook

20 minutes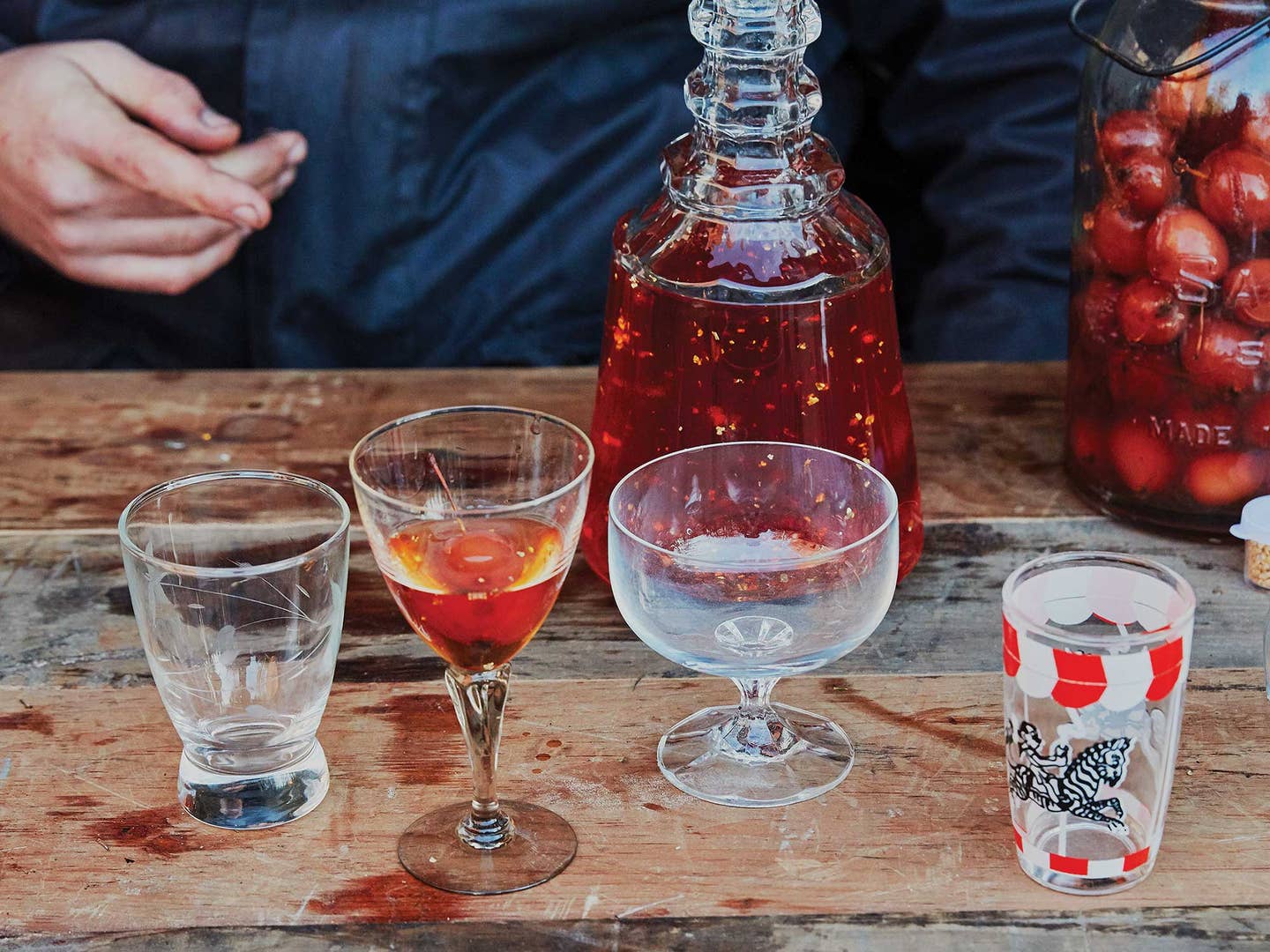 Goldschläger's far subtler (but still gold-flecked) relative, this after-dinner sipper has sweetness, a cinnamon aroma, and an apple finish. Crab apples, which can be dropped in whole to steep, are ideal due to their low water content. "If you're from somewhere warmer and your crab apples are not as tart," says Joe Beef's Red Morin, "add a splash of good cider vinegar at the end."
Red Morin and Dave McMillan make an effort to keep their work as relevant outside the kitchen—they have plans for a small apple orchard near their restaurants—as inside.
Ingredients
2 lb. hard, fragrant crab apples, scrubbed clean
1 cinnamon stick
4 cups Everclear, or substitute high-proof vodka or rye whiskey
1⁄3 cup maple syrup
1⁄3 cup sugar
Gold flake, crumbled (optional)
Instructions
Step 1
In a 4-quart jar or other tight-sealing container, add the apples and cinnamon. Cover with the alcohol and seal.
Step 2
Store in a cool dark place for at least 1 month and up to 2 months. Then strain and reserve the liquid, discarding the apples.
Step 3
In a small pot over medium heat, add the maple syrup, sugar, and 1⁄3 cup water; bring to a boil, stirring to dissolve the sugar. Remove and let cool completely. Add the syrup to the infused spirit, stirring to incorporate. Stir in some gold flake, if desired.
Step 4
Using a funnel, transfer the liqueur to a clean glass bottle. Shake to distribute the gold flake before serving. Serve chilled or at room temperature.