Cranberry–Orange Relish
The perfect accompaniment for turkey, in just ten minutes.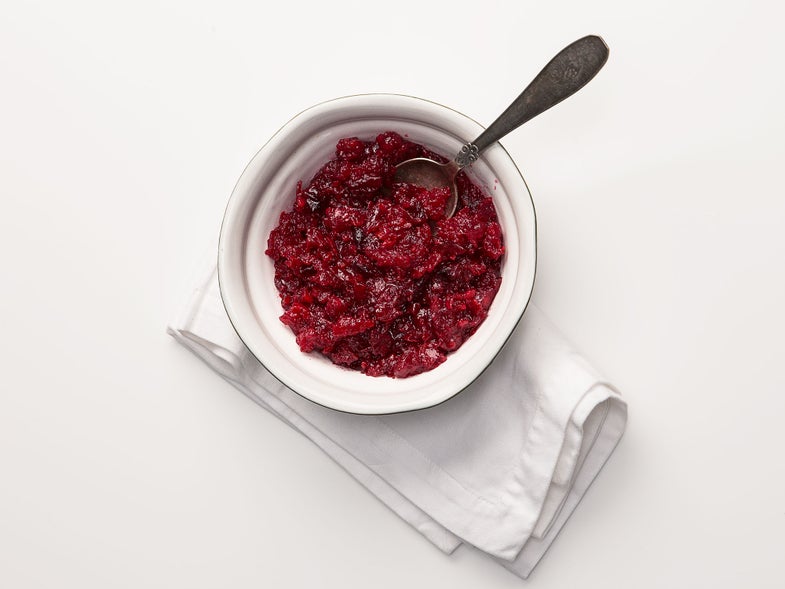 This bracingly tart relish, from Matthew Jennings of Townsman in Boston is the perfect foil for a rich Thanksgiving spread. Whole pieces or orange flesh and peel add texture to balance the creamy smoothness of mashed potatoes and cornbread dressing.
Featured in: Ditch Cranberry Sauce for Relish
Cranberry–Orange Relish
Bracingly tart, this barely cooked relish is a perfect foil to rich, creamy Thanksgiving side dishes.
Yield:
makes about 1 1/2 cups
Time: 10 minutes
Ingredients
1 orange (1/2 finely zested, remaining flesh and peel finely chopped)
2 cups fresh or frozen cranberries
1 cup sugar
1⁄4 cup freshly squeezed lime juice
2 tbsp. Grand Marnier, or other orange liqueur
1⁄2 tsp. kosher salt
Instructions
To a saucepan, add zested and chopped orange, cranberries, sugar, lime juice, liqueur, and salt. Bring to a simmer over medium heat and cook, stirring, until the cranberries burst and the sauce thickens, 8 minutes. Scrape into a bowl and let cool