Recipes
Tunisian Makroud (Date-Filled Semolina Cookies)
Crunchy, fried sweets, bathed in a fragrant honey syrup.
Serves

Makes About 2 dozen cookies

Cook

2 hours 30 minutes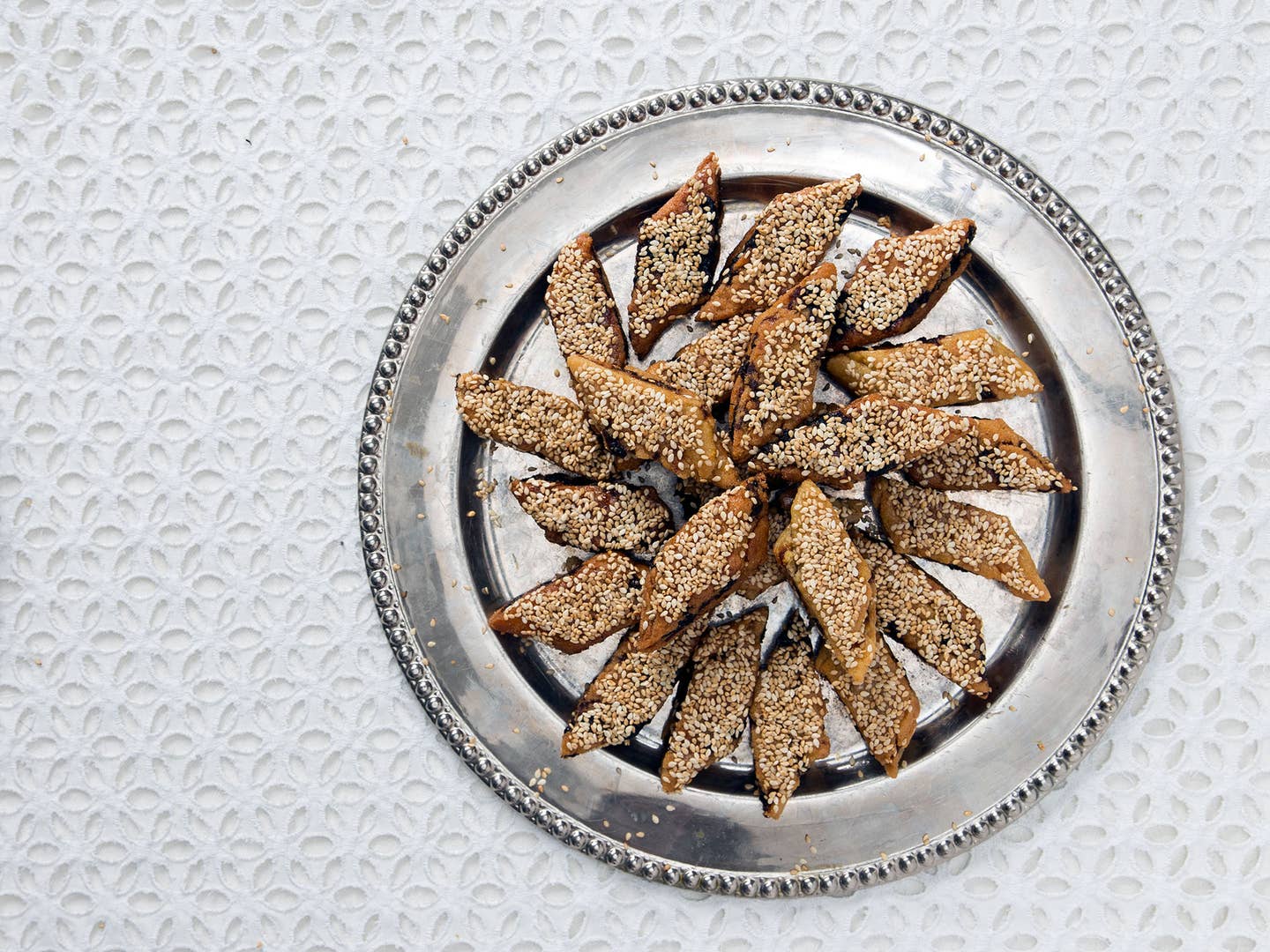 In our December 2015 issue, Ghaya Oliveira, the executive pastry chef at Daniel Boulud's Dinex restaurant group, described the holiday sweets of her native Tunisia as "the tiniest bit of indulgence, made with the best quality ingredients." For Oliveira's makroud recipe, that means using fresh deglet noor or medjool dates, not dried ones. Orange blossom water (and its cousin, rose water) is widely used throughout North Africa, southern France, and the Middle East, to perfume both sweet and savory dishes. Check out our best cookies to bake for the holidays here.
Ingredients
Pinch of saffron threads, crushed
1⁄4 tsp. kosher salt
1⁄4 cup vegetable oil
4 Tbsp. unsalted butter (½ stick), melted
2 1⁄2 cups fine semolina
4 oz. pitted fresh Deglet Noor or medjool dates (about ¾ cup)
2 Tbsp. olive oil
1⁄4 tsp. ground cinnamon
1⁄8 tsp. ground cloves
1⁄8 tsp. freshly ground black pepper
1 1⁄4 tsp. finely grated orange zest
1⁄4 tsp. kosher salt
3⁄4 cup sugar
1⁄2 cup honey
Juice of 1 medium lemon (about ¼ cup)
2 Tbsp. orange-blossom water
2 cups vegetable oil
3 Tbsp. toasted sesame seeds
Instructions
Step 1
In a large bowl, combine the saffron, salt, and ½ cup warm water. Allow to steep for 5 minutes, then add the vegetable oil, butter, and semolina, stirring until a smooth dough forms.
Step 2
Turn the dough out onto a clean work surface and knead briefly, then divide the dough in half. Shape each piece into a 2-inch-thick rectangle, then wrap tightly in plastic wrap. Let rest at room temperature for 1 hour.
Step 3
Meanwhile, make the filling and honey syrup. Using a food processor, purée all the filling ingredients with 2 tablespoons warm water, then divide between two small zip-lock plastic bags; set aside.
Step 4
In a small pot over medium heat, bring all the honey syrup ingredients plus 1 cup water to a boil; lower the heat to medium-low and cook until slightly reduced, about 20 minutes; set aside to cool.
Step 5
On a lightly floured work surface, unwrap 1 piece of dough and roll into a 12-inch-long rope. Using your thumb, press along the top of the rope to flatten the middle, creating a narrow trench. Snip a bottom corner off 1 of the plastic bags and pipe a thin stripe of filling into the trench, then bring the long sides up and over, pinching to seal. Roll the rope back and forth, elongating it to 18 inches, while also smoothing its seam. Flatten the rope slightly to make a ¾-inch-thick strip. Using a paring knife, trim and discard the strip's ends, then cut it on the diagonal at every inch to create twelve 1-by-3-inch diamonds. Repeat with the remaining dough and filling.
Step 6
In a large skillet over medium-high heat, heat the vegetable oil to 350°F. Working in batches, fry the diamonds, flipping once, until golden brown, 3-5 minutes, before immediately dunking them in the pot of honey syrup for 10 seconds. Transfer to a wire rack set over a large, rimmed baking sheet, sprinkle with sesame seeds, and let cool completely. Stored in an airtight container lined with parchment paper, the makrouds will keep for up to 7 days.