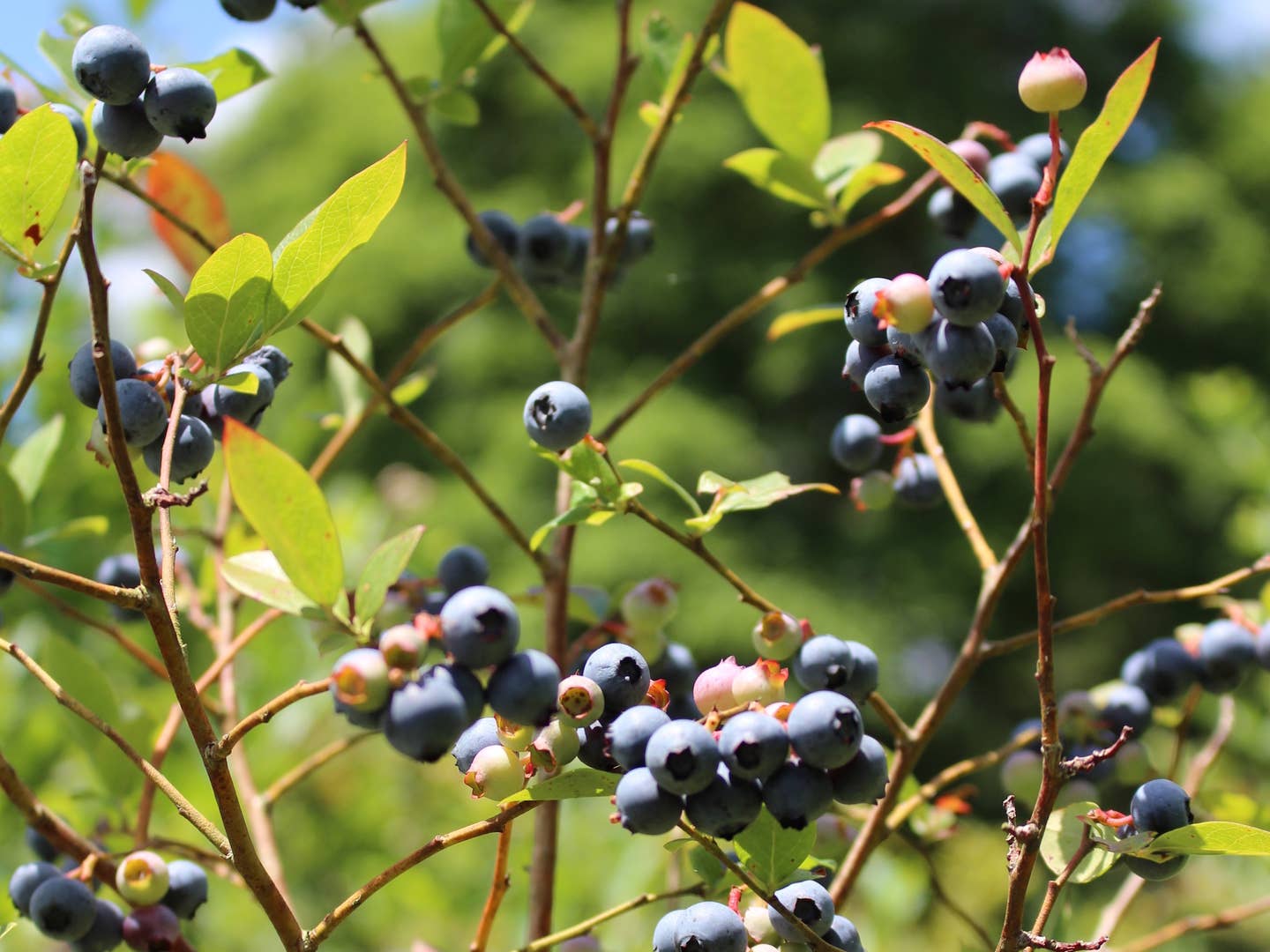 Recipes
A Different Wild Blueberry, a Different Upside-Down Cake
In South Carolina, rabbiteye berries flourish—on farms and in baked goods alike
If you venture into the humid South Carolina lowcountry, you'll come across live oaks dripping with Spanish moss, mustardy barbecue, and...blueberries. Maine may brag about its berries, and rightfully so—but the Southeast has a thriving population all its own.
Those who have done their research will know that blueberries are typically divided into two types, based on their growing style: highbush and lowbush. The wild ones you find in Maine are lowbush, but most farms in North America cultivate highbush (a hybrid between lowbush and wild) because they have a heftier output (though their flavor is not as consistent). Blue Pearl Farms, located about an hour east of Charleston in McClellanville, South Carolina, grows neither.
Blue Pearl is covered with neatly pruned patches of an heirloom variety of blueberries called rabbiteye, which evolved from a type of wild blueberry that only thrives in the acidic soil of the Southeast. These are more finicky than Southern highbush berries and take longer to ripen, slowly blushing pink before turning a dark purple-blue. But their farmers are rewarded for their patience and care with a crop of fruit that's complex and almost wine-y, reminiscent of a Malbec.
Before Robert and Cheri Ward took over Blue Pearl Farms in 2011, the property had been a blueberry farm for more than 25 years. When the Wards arrived in February 2011, they found that the blueberry plants had been allowed to grow completely unchecked: They were 17 to 20 feet tall and each sported two huge berry-bearing branches, typically called referred to as chains. To put that in perspective, the ideal plant is four to eight feet tall with eight to 10 chains shooting off of it; this maximizes the amount of fruit from each bush. The heirloom berries produced by the tall, unkempt trees were absolutely delicious—but impossible to pick.
The Wards quickly implemented a rigorous effort of "rejuvenation pruning," in which they cut out half of each plant, allowing sunlight to penetrate down to the plant's base so that it could grow more berry chains. The process took about three years; certain patches are still recovering.
Since they're the only blueberry farm in the area growing rabbiteyes, Blue Pearl's season differs from most. It begins at the end of May and lasts well into August, while Southern highbush berries ripen at the end of April and wrap up by July. Last year, each bush yielded about a gallon of berries. This year, the crop has more than doubled, which means it's a good year for Cheri and Robert—and an even better year for their customers at the Charleston and Mt. Pleasant farmers markets. The berries are ideal for snacking by the fistful or for baking into, say, a buttery blueberry upside-down cake.
Catherine Lamb is a baker, writer, and farming novice living in Charleston, SC. She hates wasting things and loves large dogs. See more of her work at catherine-lamb.com