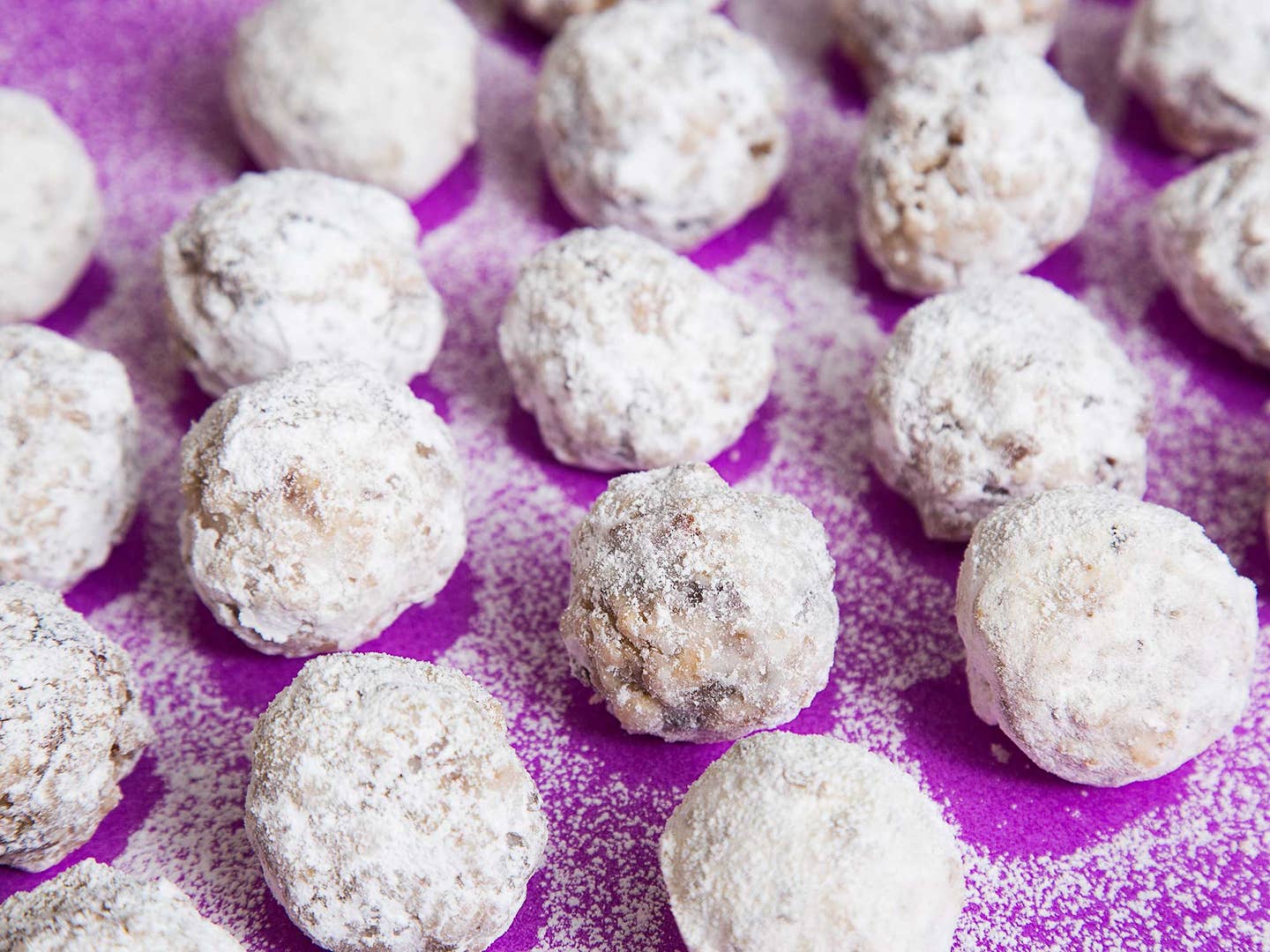 Recipes
The 30-Minute Cookie that Took our Holiday Party by Storm
Date balls: our new favorite thing
When you work at a place like SAVEUR, there's pressure on potluck night to bring something impressive, like a towering cinnamon cake, sandwiched with homemade orange marmalade, and a crackly praline icing. But then it's Monday night and the office party is the next day and "do you really want to make a cake right now" reality sets in. So you make date balls.
Don't get me wrong—they're unequivocally my favorite Christmas "cookie." But, having made them for Christmases as far back as I can remember, to me, they're just date balls, no big deal: a paste of butter, sugar, and dates, mixed with Rice Krispies and pecans, formed into balls, and rolled in powdered sugar.
Then the party hits and everyone's having fun and slowly, one-by-one, every single one of your coworkers comes up to you asking, "What are these magical things!?" Even the associate art director, who's allergic to nuts, enjoyed their sweet, earthy chewiness before spitting them out to spare herself the anaphylactic shock.
So: date balls. They're supremely simple to make and require little embellishment. The Rice Krispies give them lightness and crunch, but nutty pecans and sweet dates keep them firmly out of Rice Krispie treat territory. Vanilla, and an optional touch of cardamom, adds floral spice. And the best part: they don't need to be baked. These are cookies you can make in less than half an hour.
Dusted with powdered sugar and piled high on a crystal platter, they look like little snowballs waiting to be devoured. For me, it's simply not Christmas without them. And, apparently, if you bring them to your office holiday party, you'll be the one divulging all of your cookery secrets, instead of that guy that just made the bûche de Noël or whatever.