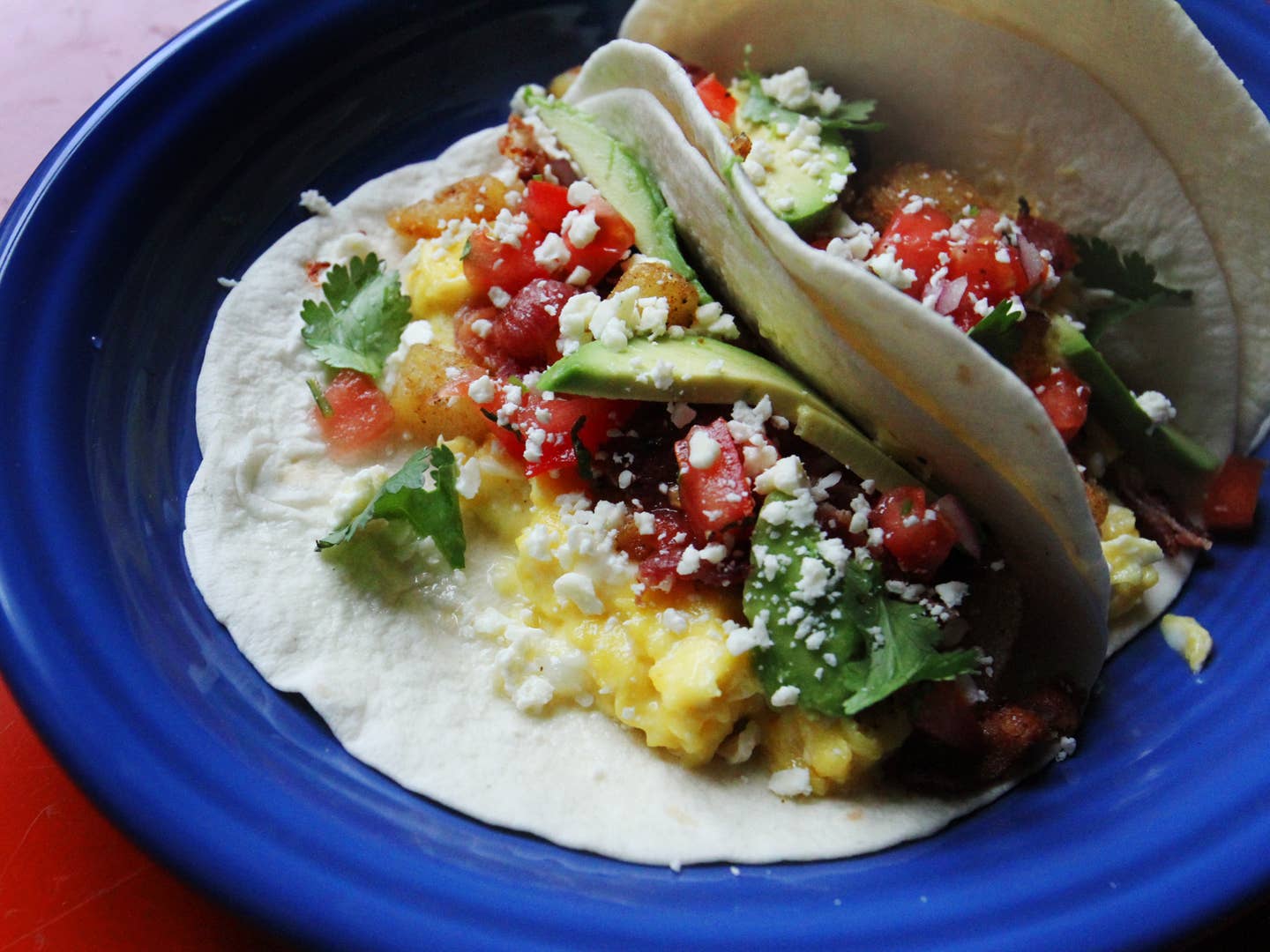 Techniques
How to Make Your Own Breakfast Tacos
Test kitchen director Farideh Sadeghin gets converted to the Texan breakfast taco cult
When I get stuck on what to develop for my weekly Simple Weeknight Meals, I usually prowl the office for ideas from my colleagues. Jessica Glavin, our digital director (who we all call Glavs) isn't exactly the best cook in the bunch—she eats out more than she cooks at home—but the girl does like to eat, as do most of us at SAVEUR. She hails from Austin and has been talking my ear off recently about the "beauty of the breakfast taco," as she puts it. We don't have those where I'm from in Maryland, so out of curiosity, I gave into her pleas and developed this recipe. Thank goodness I did—It's now my new favorite new meal for breakfast, lunch, or dinner. Glavs and I got to talking during the development process, and here's what went down.
Farideh: So why breakfast tacos? What's the allure?
Glavs: It has all the good stuff that your favorite breakfast sandwich has—bacon, egg, cheese, and avocado—but a chewy flour tortilla is really the ultimate vessel. It's portable, so you can walk with it if you need to. Tortillas are lighter than bread and bagels, and you don't have to worry about getting bread crumbs all over your hands like you do with toasted sandwiches (am I the only person that hates that?). With tacos, the focus really is on the ingredients—and the tortilla knows it! It hugs the fillings but doesn't smoosh them—it cradles them so that they don't fall out while you take bites, like with a lot of sandwiches.
Farideh: Your favorite place for breakfast tacos?
Glavs: Taco Deli in Austin, Texas. They are like the Shake Shack of tacos down there: a popular chain with great service that uses top ingredients and makes a supremely tasty—and consistent—taco. One thing that sets them apart is that they offer mashed potatoes as a topping on their breakfast tacos. Sounds nuts, tastes out of this world. I gotta say though, that last little spritz of lime you put on these really blew me away. I usually don't put lime on my breakfast tacos, so Chez Farideh is making a case for the Top 3.
Farideh: Yeah, the acid really helps with the potatoes and avocados. We do it for other tacos, so why not these? So Glavs, you don't cook often. And breakfast tacos mean making bacon, par-cooking and then frying potatoes, slowly scrambling eggs, and warming tortillas, all at the same time. Do you think you can manage to make these?
Glavs: Yes, but probably not as good as you, so how about you just keep makin' them for me here?
Watch: Breakfast Tacos in 60 Seconds