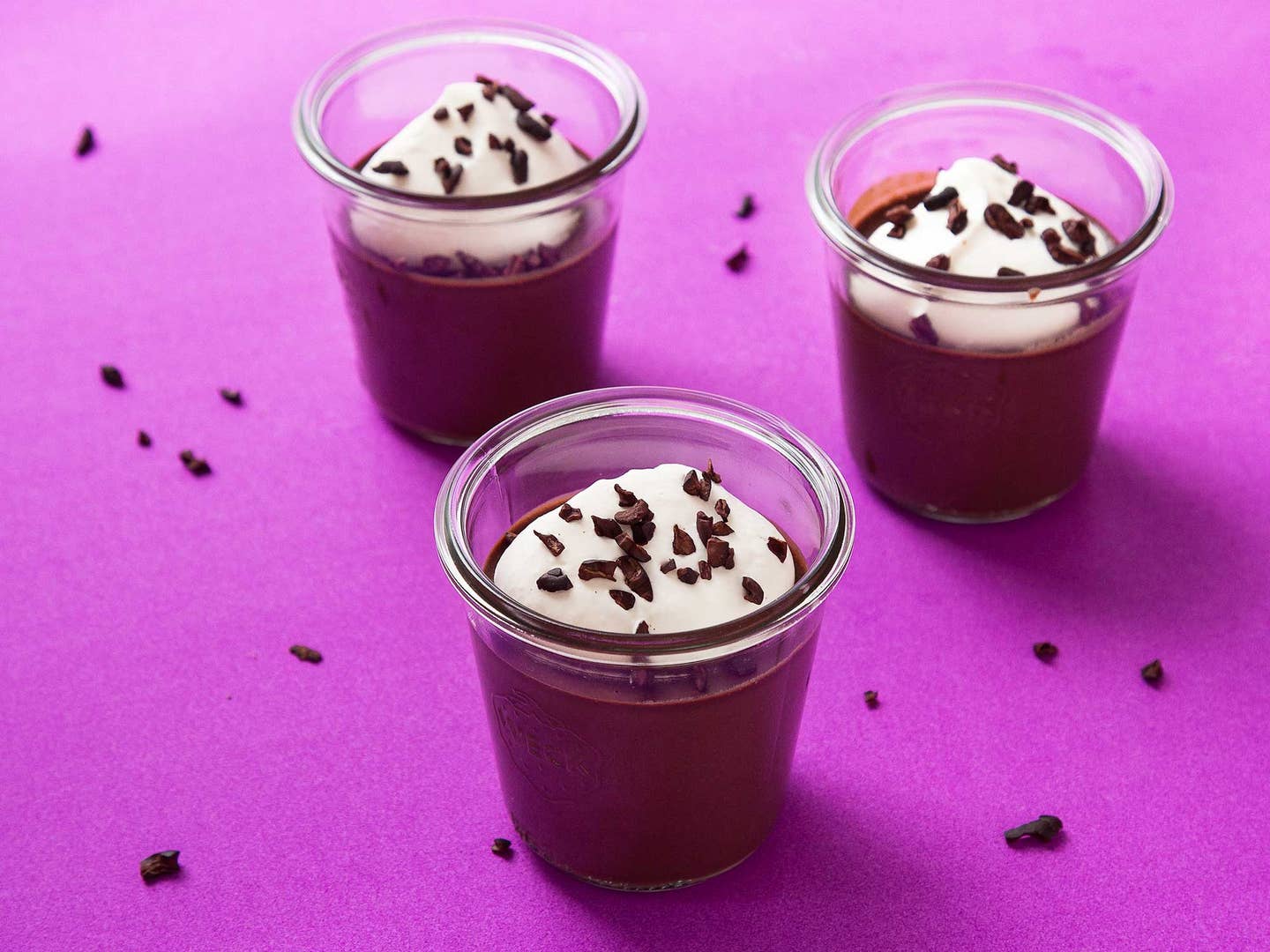 Techniques
The Best Thing to Do With Old Bananas: Make Chocolate Pudding
This dark, complex dessert gets better the longer you forget about your fruit
I hate to admit it, but I'm a forgetful person. I always mean to do a lot of things but then I get distracted and, wait, what am I talking about? Usually this talent gets me into a lot of trouble, but every once in a while, it works in my favor. Exhibit A: This pudding.
Years ago, I begged the chef I worked for to buy me a box of bananas to get through the winter months when the farms we bought fruit from were out of, well, everything. After much arguing about where to get fair-trade and organically-grown bananas (as soul-sucking as it sounds), I finally got a crate. But on the day they came in, I was so busy and distracted, I threw them in the walk-in refrigerator and forgot about them…until a month later.
My chef came to me and lovingly said that I had to do something with the now-past-their-prime bananas. Strapped for time, I just peeled and pureed them. I noticed a curious fizzy bubbling come from the puree that smelled pleasantly sour. I thought to myself, "hmm," looked around to make sure no one was looking, and just poured all the dark brown puree into plastic quart containers (all 27 of them) and froze them for a rainy day.
Since I had all this tangy-sweet banana puree, and my chef was begging me for a chocolate pudding to go with an upcoming Valentine's Day menu, I decided to mix the bubbling nectar into chocolate and half-and-half. I then set the pudding with gelatin instead of eggs, so the funky banana flavor would shine through instead of get mired down by fatty yolks. I topped each pudding with a dollop of whipped cream and a sprinkling of cocoa nibs for crunch, then served them with simple vanilla shortbread cookies.
The result: The restaurant's best-selling dessert. The sour banana flavor plays off the bitterness of the chocolate with just enough dairy to cut the assertiveness of both. And the longer you forget about your bananas, the better it tastes.