Recipes
Finnish Whipped Porridge with Yogurt Cream (Vispipuuro)
Serves

serves 10-12

Cook

8 hours 45 minutes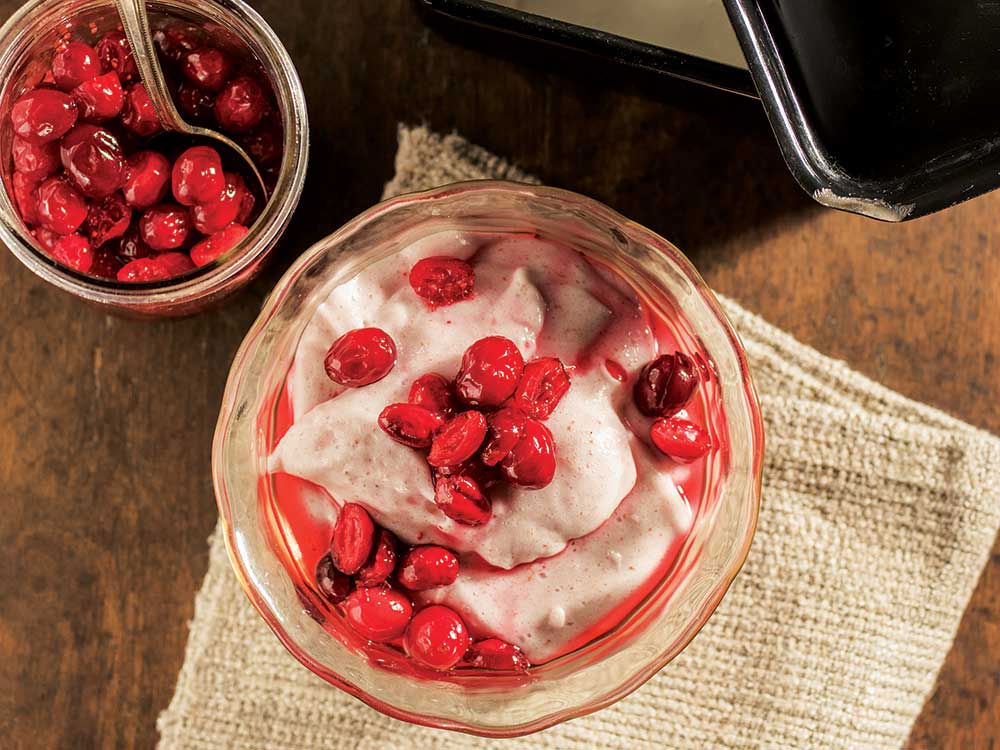 In Minnesota's "Finnish Triangle," vispipuuro, a sweet, whipped, pudding-like porridge, is sometimes made with a tart wild fruit called the highbush cranberry. Classic versions also use lingonberries, red currants, or conventional cranberries. Cranberries contain natural pectin that helps to thicken the fruit juice; the addition of starchy farina allows the syrupy juices to be whipped to a tangy mousse that holds soft meringue-like peaks. The author advises that you use frozen berries rather than fresh, as they break down much more quickly into juice.
Ingredients
For the Cranberry Topping:
2 cups (8 oz.) frozen cranberries, thawed slightly and sliced in half
3 tbsp. sugar
1 tbsp. maple syrup
1 tbsp. fresh lemon juice
For the Pudding and Yogurt Cream:
Pudding:
6 cups (24 oz.) frozen cranberries
2 tbsp. finely grated fresh ginger
1⁄2 cup sugar
1⁄2 cup farina (cream of wheat)
1⁄4 tsp. kosher salt
3 tbsp. fresh lemon juice
Yogurt Cream:
1 cup heavy cream
1 tbsp. plus 1½ tsp. sugar
3⁄4 cup viili (Finnish yogurt), or substitute whole-milk yogurt
Instructions
Step 1
Prepare the cranberry topping: Put the halved cranberries in a medium bowl. Add the sugar, maple syrup, and lemon juice, and toss well. Set aside to macerate for 2 hours. (Mixture can also sit covered overnight.)
Step 2
Meanwhile, make the pudding: In a large saucepan over medium-high heat, combine the cranberries, ginger, and 3 cups of water and bring to a low simmer. Cook, crushing the cranberries once or twice with a potato masher to expel their juice, until the skins have popped, about 10 minutes.
Step 3
Set a fine sieve over a large liquid measuring cup. Add the cooked cranberries and drain, pressing with the back of a ladle to expel the juice, until you have 3 cups.
Step 4
Rinse out the saucepan and return the juice to the pan. Add the sugar, farina, and salt and cook, whisking, until the farina is swollen, about 3 minutes. Stir in the lemon juice.
Step 5
Transfer the mixture to a wide bowl to cool slightly. Once no longer steaming, cover with plastic wrap, pressing it down against the surface of the mixture. Refrigerate at least 4 hours or up to 1 day.
Step 6
Meanwhile, make the yogurt cream: In the bowl of a stand mixer fitted with the whisk attachment, combine the cream and sugar. Whisk on medium-high speed until stiff peaks form. Remove the bowl and stir in the yogurt, then refrigerate until well chilled.
Step 7
Transfer the cranberry pudding mixture to the mixer and whip until the mixture holds stiff peaks and looks about three shades lighter, similar to the texture of meringue.
Step 8
To serve, divide the pudding between 8 bowls and top each with a dollop of yogurt cream and some macerated cranberries.