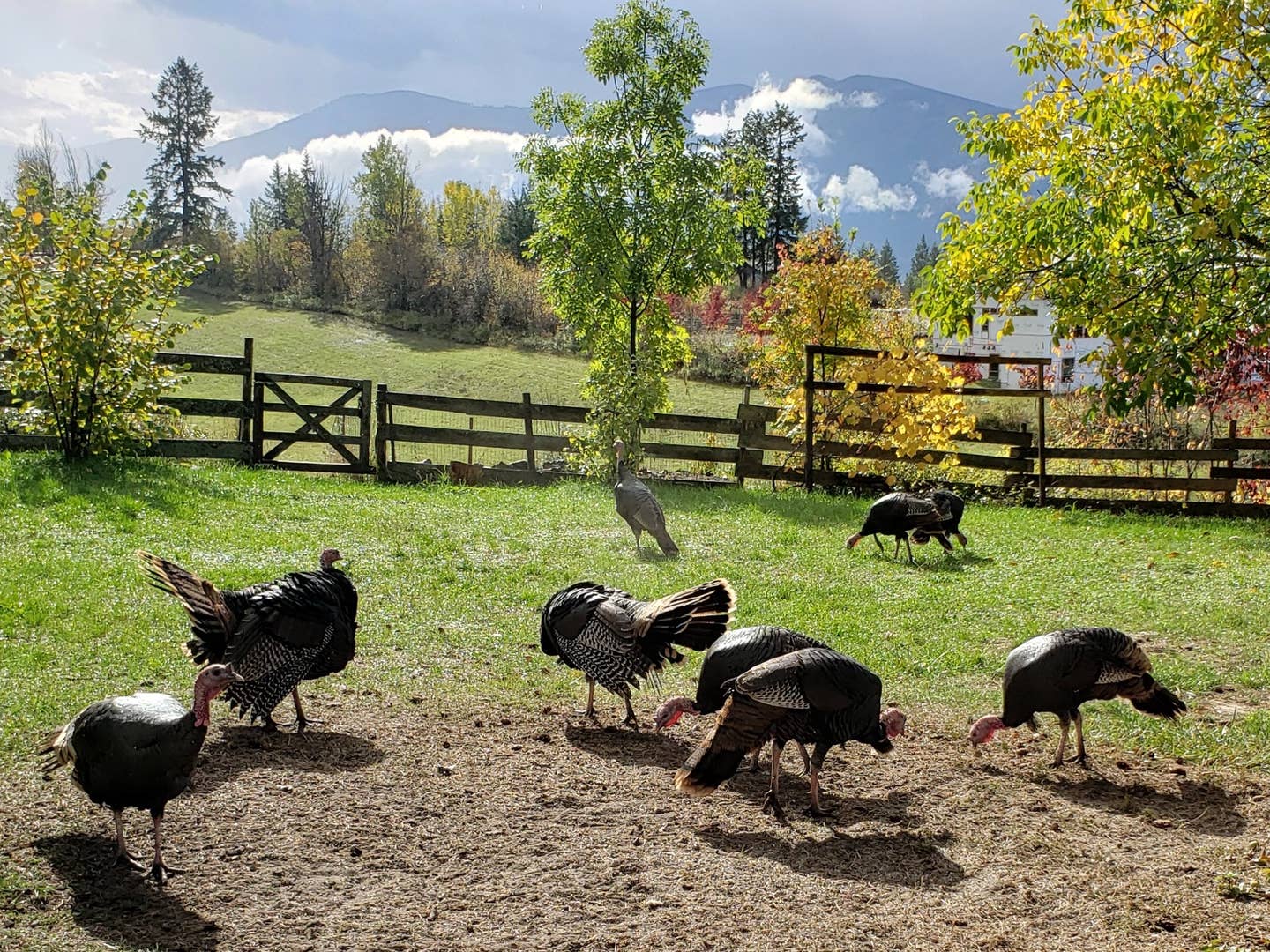 Drinks
A Canadian Wine Pro on What To Drink With The Turkey, Inspired By Her Own From-The-Land Feast
Hint: dark meat actually calls for subtler flavors.
As with many family Thanksgiving holiday stories, mine begins with a road trip. Packed with husband, kids, three dogs, produce from my garden and several bottles of wine, our station wagon drives six hours south-east across the glacial Kootenay Mountain range in British Columbia. We are spending the Thanksgiving long weekend at my parents' farm in the remote, verdant Creston Valley, a welcome break from the busier pace of life at our home, across the mountains in the Okanagan Valley.

We arrive in Creston to find two fellow urban refugees, friends from the Okanagan, setting up a hunting camp in my parents' farm field. As per their sense of country hospitality, my parents are delighted to erect an old canvas wall tent for the men to sleep in, and immediately add two more place mats to the farmhouse dinner table. We unpack the station wagon while my dad, the avid outdoorsman, volunteers to guide the men in the surrounding mountainside, in search of elk, deer, bear, and the region's most recognisable and seasonal bird—wild turkey.

For the benefit of international readers, let me explain that no North American autumn dish is as ubiquitous as roast turkey. For many families, the endemic bird is a symbol of bounty, the quintessential dish of the fall season. In fact, eating turkey is so strongly associated with the harvest that Canadians purchased 2.5 million whole turkeys for Thanksgiving celebrations in 2020—that's one big bird for every 15 people in Canada.

Most Canadians find their birds in the freezer aisle. Not so with this crew. My dad and our two friends quickly deck themselves out in camouflage, from cap to boots. I dress in a less visually evasive outfit of a white Irish wool sweater, corduroys and binoculars. We are ready to search for wild turkey, and the mountains are calling.

The four of us hop in a pickup truck, and I lay a wool blanket across my lap. The windows are open to the frosty mountain air as we drive out of the valley, up into the surrounding craggy cliffs, a far cry from the safety of the shopping centre.

Trembling yellow aspen leaves twinkle among the deep green pines on either side of the muddy road. The track ahead of the truck is just wide enough, barely, for one vehicle to crawl up the granite hillside. Our eyes scan the steep mountain clearings on the left side of the vehicle, looking for game at the edges of the woods. We ignore the drop off on the right side of the truck, the cliffs plummeting towards the creek bed so far below.

I grew up hunting with my father, who is happily driving and chatting with the other experienced hunter in the front seat, but now I just like to go along for the ride. Our friend sitting beside me in the back seat tells me he had an epiphany about food security last year during the pandemic. This spring, he and his wife planted a garden and fruit trees in the yard, and he started listening to podcasts about hunting in the summer. This autumn trip to Creston is his first attempt at hunting, and he's hoping to bring home some wild game for his family.

Around a bend, the road crumbles down the hillside, and we decide we can't drive any further. The two men bound out of the car. They swing their rifles over their shoulders and traipse off into the woods, hoping to see something—turkey, elk or even a grouse. My dad and I sit in the now-warm truck, swapping tales of Thanksgiving weekends long ago.

Canadian Thanksgiving is always on the second Monday of October, coinciding with our end of harvest. Although late-ripening varieties such as Riesling and Cabernet Sauvignon are still on the vine through much of British Columbia at that time, most grapes, beans, squashes, corn and other produce have been brought into markets and cold storage. Grape-growers are some of the few Canadian farmers with work still to do, receiving loads of grapes, destemming, crushing, pressing and filling vats, often into November. But even important harvesting and vinification work pauses for a day of family and feasting.

Many Canadians have a complicated, evolving relationship with Thanksgiving, and our multicultural, multiracial family is no exception. An orange T-shirt hangs off my parent's property signpost at the end of the drive, reminding drivers-by of the National Day of Truth and Reconciliation on September 30. That Canadian statutory holiday's purpose is to reflect, as a nation, on the colonisation and genocide of Indigenous people. Canadian Thanksgiving, two weeks later, is rooted in celebrating colonial successes, such as Europeans surviving trips to invade North America. The two days feel uncomfortably close, prompting us to reflect on what we are actually grateful for, and what still needs to change in our country.

My own family celebrations focus on harvest and bounty, as we are all gardeners, farmers and/or hunters. Our tradition is to share produce from our gardens, eat wild meat someone has hunted or fished, drink local wines and, of course, spend time together.

Back to the turkey hunting: Dusk has settled, and the men return to the truck with no game to show for their pains. My dad steers the pickup carefully down the mountainside, and we return empty-handed, but full-hearted, to the warm farmhouse for dinner. No matter—a big-boned, glistening bird is waiting on the table, shot by my dad with a bow and arrow as it flew across the farmyard a few days before. Also ready to serve are root vegetables from my dad's generous garden, dug out, scrubbed and chopped by my children earlier in the afternoon. A large bowl of summer squash is steaming. I fry up a large pot of collard greens, brought over the mountain passes from my Okanagan Valley garden, while my mother pulls trays of stuffing, a savoury bread pudding, out of the oven. My dad takes his camouflaged coat off, rolls up his sleeves, and slices up the bird. Apple and pumpkin pies sit waiting on the counter for dessert. With the exception of the flour in the pie crust, every bit of the meal was grown within a few kilometres of our respective kitchens, a stellar example of a 100-mile diet.

Tonight, of course, the wines are also all from British Columbia and, fittingly, all the bottles were gifts. So to answer a slightly modified version of the most popular Canadian wine-pairing question, "Which wines go with wild turkey?" Firstly, realise that wild meat is all dark meat, so a wild turkey is several shades of brown darker than a bird from the freezer aisle. Even the breast meat is brown. It has been running and flying its whole life, so it is lean and fit, with strongly flavored, chewier flesh reflecting its wholesome diet of bugs and wild greens. The almost neutral flavor of a supermarket turkey calls for a juicy, bold California Zinfandel, or a wine with enough personality to carry the pairing all by itself. Flavorful wild turkey, on the other hand, requires something more savory, more delicate. Restraint is key—an older Chianti Classico would be lovely, with the red-fruit and black-tea character complementing the soft umami of the meat. I tasted a delightful Australian Clare Valley 2020 Sciaccarello from Koerner recently, whose bright red strawberry fruit and crunchy minerality would be an excellent pairing. I expect any well-made Sciaccarello from Corsica would also be a good choice.

Our local turkey wine for the night is a gift from my friends Cynthia and David Enns, who now farm Pinot Noir on the Naramata Bench in the Okanagan Valley. After establishing, then selling, the successful LGNG Stock winery, they decided to focus exclusively on their favorite grape. The 2018 vintage of 1 Mill Road (their address and their wine label) is earthy yet delicate, with clear red-cherry fruit and satin tannins. We serve the Pinot in thin crystal sherry glasses from the china cabinet, as all the other farmhouse glassware seems too clunky for the finesse of the wine. My dad, not a connoisseur but a man who knows what he likes, comments, "This is the best wine I've ever tasted. Say thanks to Cynthia and David for me."
Although turkey is the flagship of a Thanksgiving supper, it isn't the majority of our meal. The roasted squash on my parents' table is flavored with butter and berbere, a nod to my children's Ethiopian heritage. The root vegetables—carrots, onions and rutabaga—are pungently fresh and scattered with chopped rosemary leaves. For the vegetarians, we also serve heavily smoked tofu, fermented at a local Kootenay brewery. These are all deeply sweet and savory dishes that need wines with either aromatic weight or substantive mouthfeel to balance them. Alsatian Gewurztraminer is a classic choice as its heady perfume adds to the sumptuous aromas. An older Hunter Valley Semillon, with a smoky aroma and high acid to cut through the buttery vegetables, would also be lovely.
At our dinner, a British Columbia sparkling Riesling rises to the occasion. Winemaker Stephanie Stanley spent hours with my business partner and me on an August afternoon field trip to Lake Country this past summer, walking us through Peak Cellars' entire portfolio. Her traditional-method bubbles project is an ode to her German heritage, and you can taste the love in the glass. Still young, the Riesling's lime-peel aromas are powerful, with a supportive chorus of honeysuckle, honeydew, and just a hint of brioche carried on lively acidity. I almost feel guilty opening it this young, but it's a perfect pairing with the ripe, spiced vegetables.
True to the nature of any harvest supper, we sit at the table for a long time. Eventually, we get to the magnum of Poplar Grove Benchmark 2013, a bordeaux-like blend of merlot, malbec and cabernet franc, also from the Naramata Bench. I've pre-poured the sturdy, unbreakable glasses, letting the wine open up as we enjoy the Riesling and Pinot Noir. Now as I dish myself a second (or is it a third?) helping of dark brown turkey thigh, the sweet dried-cherry and milk-chocolate flavors bring out the sweetness in the game-bird's meat. For the life of me, I can't remember who gave us this gorgeous bottle, so I send a silent thank you out into the cosmos, hoping it reaches the generous donor.
The chairs groan with their added weight as we push them back from the table and wait for the kids to clean the dishes, and to serve the pies. Somehow, I've plum forgotten a dessert wine. Any of the Tokaji 5 Puttonyos or the Canadian icewines in the fridge at home would have done the trick, but alas, they didn't make it into the station wagon.
My father, ever resourceful, comes to the rescue. He pulls three bottles out of the cupboard: two Scotch whiskies (a single malt from Islay and an inexpensive regional blend) and a completely random bottle of tawny port. I can't believe our luck as my dad slams the bottles down in his characteristically rough fashion. Tawny port is a fantastic accompaniment to pumpkin pie, with the nutty sweetness complementing the fresh squash and baking spices. Much to my surprise, though, I see it's labelled Kirkland, Costco's white-label brand. After an open-minded, but tentative set of sips, I choose the single malt instead. Thankfully, my mother's artisan pies more than make up for any wine deficiency in the dessert course.
We stay up late, playing board games and lowering the meniscus lines in the bottles of Scotch (in my family, Trivial Pursuit is a blood sport). Finally, we head off to bed and our friends trundle off to their sleeping bags in the canvas tent in the yard.
Sometime early in the morning, I feel a nudge as my wolfhound wakes me to let her outside. Our daughters' dachshunds also join us at the door, ready to meet the day. Before opening the farmhouse door to let them out, I glance outside, and what do I see grazing out on the grass? A flock of wild turkeys, squawking and waving their feathers in the early morning breeze.
Quickly, I quiet the dogs and call the men in the tent on my mobile phone. "If you want to take a turkey home, guys, grab your guns."
Wine consultant and educator Arnica Rowan lives among the vines in Western Canada's breathtaking Okanagan Valley, and tells thoughtful wine stories for JancisRobinson.com.