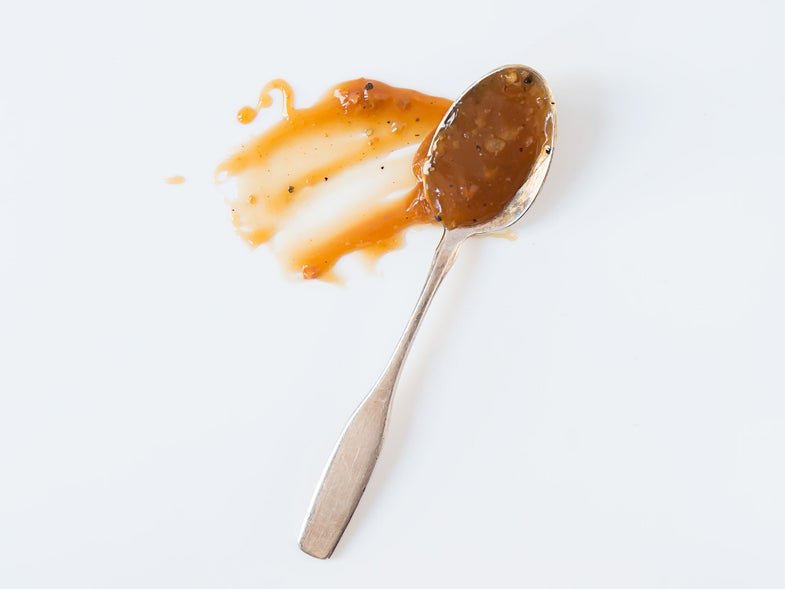 Schmaltz and storebought caramel sauce combine in this wild ice cream topping from Coolhaus in Brooklyn that somehow works just as well over plain-jane vanilla as it does over fiery, chile-infused dark chocolate.
Fried Chicken Caramel
Think of it as the more refined version of bacon popping up in your dessert: In this creative caramel adapted from Coolhaus, an ice cream sandwich maker with a national fleet of ice cream trucks, schmaltz and salty chicken bouillon add a subtle thrum of savory to store-bought caramel sauce, while crispy chicken skin lends the perfect crunch. Your guests will never guess the secret ingredient.
Time: 1 hour
Ingredients
3 oz. chicken skin (from 3 thigh pieces), chopped
1 tsp. kosher salt
1⁄4 tsp. dried sage
2 pinches cayenne pepper
1 cup chicken stock
1⁄2 cube chicken bouillon or 1/2 tsp. jarred bouillon concentrate
2 cups store-bought caramel sauce, preferably Hershey's
1⁄2 tsp. freshly ground black pepper
Instructions
Heat a 10" cast-iron skillet over medium. Add chicken skin, 1⁄2 tsp. salt, and half each the sage and cayenne; cook, stirring occasionally, until skin is crisp and deep golden, about 10 minutes. Remove skin with a slotted spoon and transfer to a paper towel–lined bowl to drain. Let cool completely and finely chop; set caramel sauce aside.
Add remaining sage, the stock, and bouillon to skillet, scraping up any browned bits in pan. Bring to a simmer and cook until liquid is almost completely evaporated, 20–25 minutes. Add caramel sauce to skillet and bring to a simmer; cook until slightly thickened and several shades darker, about 30 minutes. Stir in remaining salt and cayenne, plus the black pepper. Transfer mixture to a bowl and let cool completely. Stir in reserved crispy skin; serve over ice cream immediately or refrigerate in an airtight container for up to one month.