Recipes
Fried Eggplant with Tahini and Pomegranate Seeds
Serves

serves 6

Cook

9 hours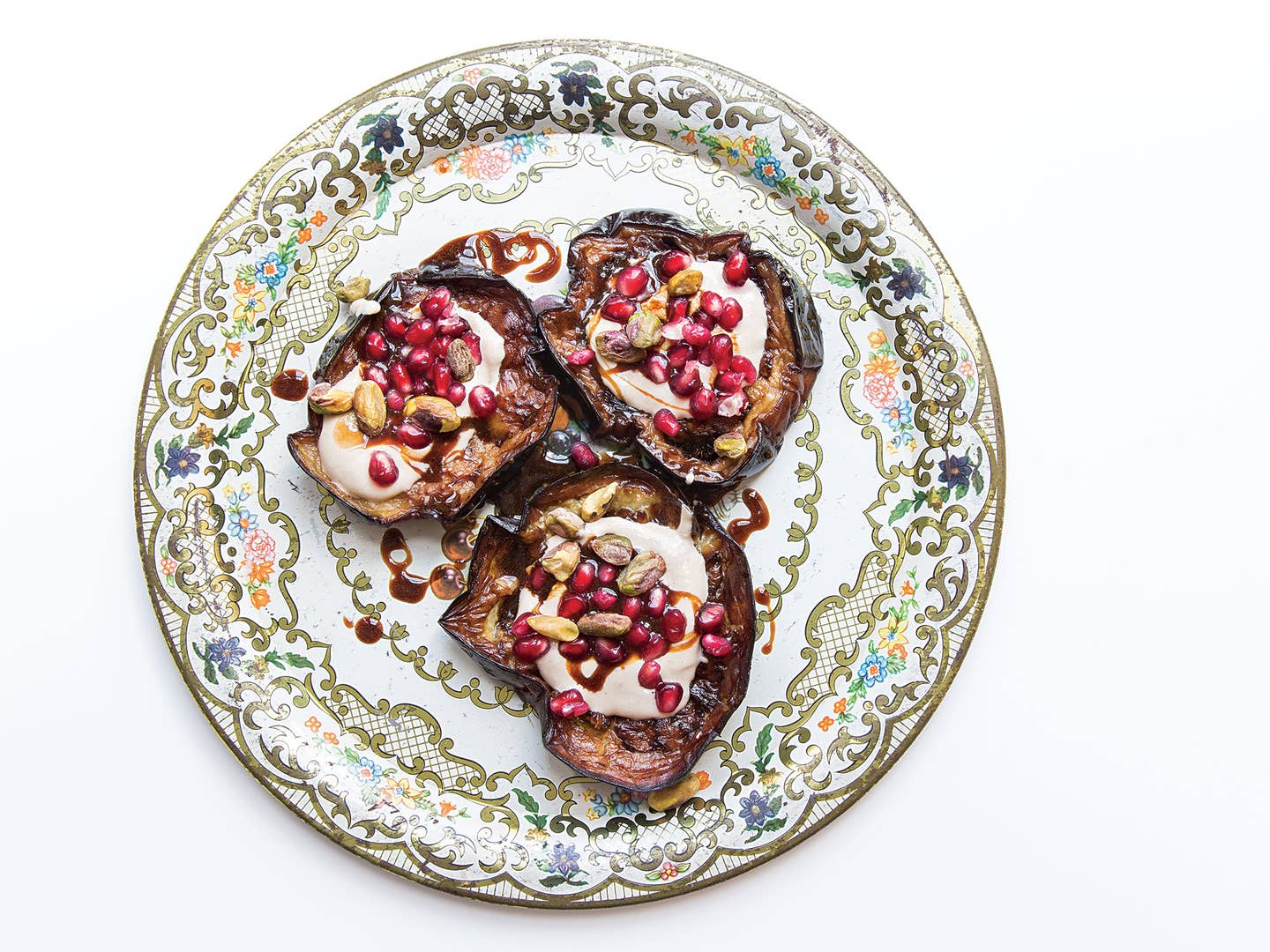 This eggplant dish from Michael Solomonov's Zahav restaurant in Philadelphia highlights classic Middle Eastern ingredients: carob molasses, tahini, and pomegranate.
Ingredients
2 large eggplants (2 1/2 lbs.)
3⁄4 tsp. kosher salt, plus more
3 tbsp. fresh lemon juice
3 cloves garlic, unpeeled
1⁄2 cup plus 2 tbsp. tahini
1⁄8 tsp. ground cumin
Vegetable oil, for frying
3 tbsp. carob molasses
1⁄2 cup pomegranate seeds
1⁄4 cup halved pistachios
Instructions
Step 1
Using a vegetable peeler, peel 4 evenly spaced, 1-inch wide lengthwise strips of skin from the eggplants. Cut the eggplants crosswise into 3⁄4-inch-thick slices and then arrange on 2 racks, each set over a rimmed baking sheet. Season the eggplant slices generously on both sides with salt and then refrigerate for at least 8 hours.
Step 2
Meanwhile, make the tahini sauce: In a blender, combine the lemon juice, 3⁄4 teaspoons salt, and the garlic, and purée until smooth. Let stand for 10 minutes to allow the garlic to mellow. Pour the garlic and lemon juice through a fine sieve into a medium bowl, discarding the solids, and then whisk in the tahini and cumin. While whisking, slowly pour in 6 tablespoons ice-cold water, and continue whisking until the tahini sauce is smooth. Set aside 1⁄3 cup of the tahini sauce for the eggplant and reserve the remaining for another use.
Step 3
Pour enough oil to come 1⁄2 inch up the side of a 12-inch skillet and heat over medium-high. Using paper towels, wipe away the excess moisture and salt from the eggplant slices. When the oil is shimmering, add enough eggplant to fit in a single layer and fry, turning once, until very dark on the outside, about 10 minutes. Using tongs, transfer the eggplant to paper towels to drain briefly, and then fry the remaining eggplant slices.
Step 4
Arrange the eggplant slices on a large serving platter and drizzle with the reserved tahini sauce and carob molasses. Sprinkle with the pomegranate seeds and then the pistachios and serve while hot.