Recipes
Fried Calamari with Saffron Aioli and Agrodolce
Serves

serves 6-8

Cook

50 minutes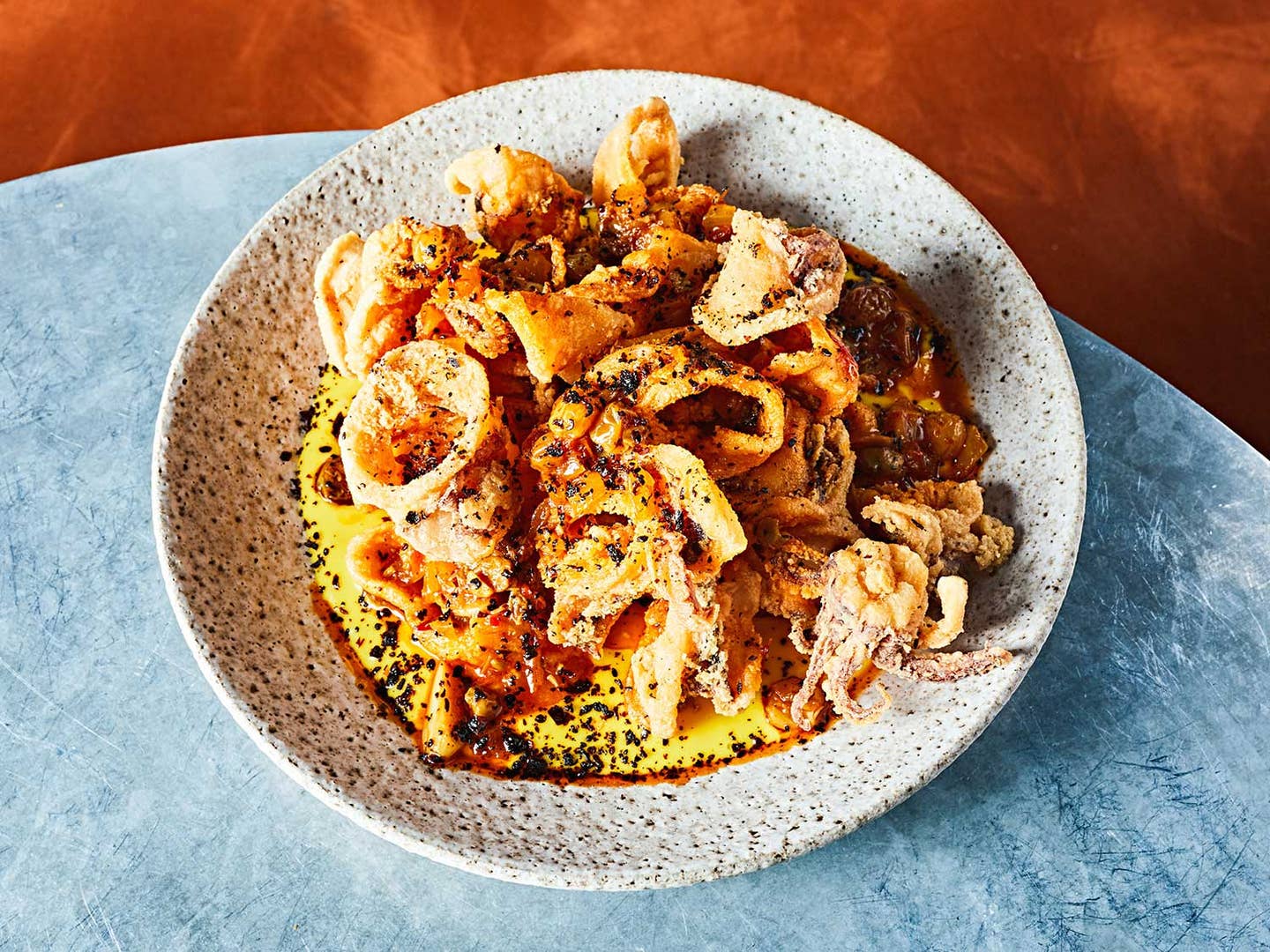 "Everybody fries squid, and it's something we all adore," says Nick Perkins of Hart's restaurant. He and chef Katie Jackson took this version in a southern Italian direction with the addition of a saffron garlic aioli and agrodolce, a sweet-and-sour vinegar sauce in this case packed with capers, raisins, fennel, and mint. "We also sprinkle urfa biber (a burgundy-colored Turkish chile) on it, which is a fun, piquant thing and a curveball with the Italian flavors of the dish." You can make the aioli and agrodolce in advance—in fact, it's preferable—but be sure to fry the squid just before serving.
Ingredients
For the aioli and agrodolce:
3 large egg yolks
2 tbsp. Dijon mustard
Kosher salt
2 cups canola oil (or any neutral oil)
1 pinch saffron submerged in 1 Tbsp. warm water
4 tbsp. extra-virgin olive oil
10 cloves garlic thinly sliced
1 medium yellow onion, finely diced
1 small fennel bulb, finely diced
1 tbsp. tomato paste
1 handful mint leaves
2 cups dry white wine
1⁄4 cup capers, chopped
1⁄4 cup golden raisins, currants, or other dried fruit
2 tbsp. honey
Urfa biber, aleppo chile pepper, or crushed red pepper flakes, for serving (optional)
For the calamari:
1 lb. cleaned baby squid or calamari, tentacles left whole and bodies sliced into ½-inch-thick rings
1⁄2 cup all-purpose flour
1⁄2 cup rice flour
Canola oil, for frying
Salt
Lemon wedge, for squeezing
Instructions
Step 1
Make the saffron aioli: Stabilize a medium bowl by nesting its base in a kitchen towel so it won't move. Add the egg yolks, mustard, and a pinch of salt and whisk well to combine. Slowly stream in the canola oil, whisking constantly and rapidly, until all of the oil has been added and the mixture is thickened and emulsified. Stir in the saffron and its soaking water, and the lemon juice. Taste and add more salt as needed. Aioli can be made up to 2 days ahead; cover the surface with plastic wrap and refrigerate.
Step 2
Make the agrodolce: In a medium pot, add the olive oil and heat over medium heat. Once hot, add the garlic and let sizzle for 30 seconds or so, until fragrant but not yet browned. Add the onion and fennel and season with about 1 teaspoon kosher salt; cook, stirring constantly, over medium-high heat until softened, about 5 minutes. Stir in the tomato paste and cook until darkened slightly, 1–2 minutes more. Add the mint, wine, capers, and raisins and let cook on high heat until the wine is almost completely evaporated. Stir in 1⁄4 cup water, then the honey. Remove and let cool. (Agrodolce can be made ahead; it gets better if it sits for a couple of hours.)
Step 3
When ready to serve, fry the squid: In a medium pot or high-sided pan, add enough canola oil so it reaches at least 3 inches up the sides of the pan. Heat over medium-high heat until a the oil registers 350°F on a deep-fat thermometer.
Step 4
Meanwhile, set a large plate next to the stove and line with multiple layers of paper towels. Combine the all-purpose and rice flours. Dredge the squid in the flour mixture, shaking off as much excess flour as possible. When the oil is ready, add the squid, working in batches as needed to not overcrowd the pan. Cook, turning as needed, until golden brown, 3–4 minutes. Transfer the fried squid to the prepared plate, and season with salt and a little lemon juice right when it comes out of the oil. Continue cooking the remainder of the squid.
Step 5
Working quickly so the squid stays hot, line a medium serving bowl with some of the aioli, and drizzle it with some of the agrodolce. (Save any remainders for another use.) Top with the squid and a sprinkling of urfa biber, and serve immediately with lemon for squeezing.