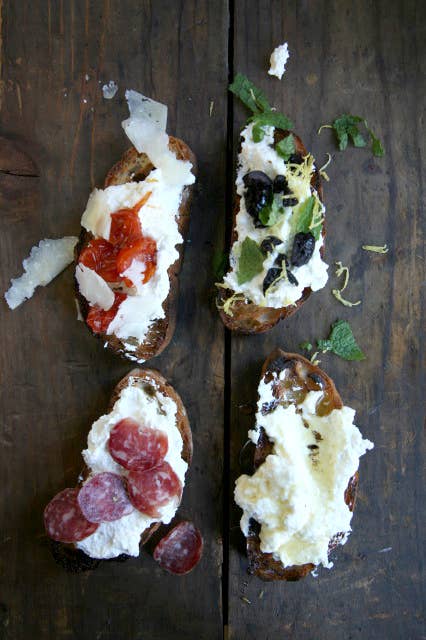 Recipes
Easy Crostini Recipes
Italian for "little toasts", crostini make versatile appetizers
Italian for "little toasts", crostini make versatile appetizers. Just about anything will taste delicious on a little piece of good bread. We've rounded up our favorite crostini recipes.
Seafood makes a lovely crostini topping. Try pairing marinated fresh sardines with a chive salsa verde and a zesty lemon and fennel salad on ciabatta or garlicky shrimp with rosemary cooked in bacon drippings and served on multigrain bread.
For something meatier, try our chicken liver spread made with anchovies, vin santo, and sautéed vegetables. Or try pairing salty prosciutto with cavolo nero, a hearty kale.
Many of our favorite crostini are vegetarian. In one, goat cheese is paired with a tangy-sweet tapenade made with dried figs, kalamata olives, and capers. For a light, simple Spanish-style crostini, top your bread with grated tomato and sea salt. Or top garlic-rubbed toast with creamy ricotta, rosemary-accented beans, and spicy sautéed broccoli rabe.
Ricotta is a wonderful topping for crostini. It's great spread onto good bread, but even better in a few simple pairings. Lemon zest, olives, and mint make for a briny and refreshing crostini. Soppressata and cherry tomatoes each pair wonderfully with ricotta, as well.
Find all of these crostini and more in our collection of great crostini recipes!