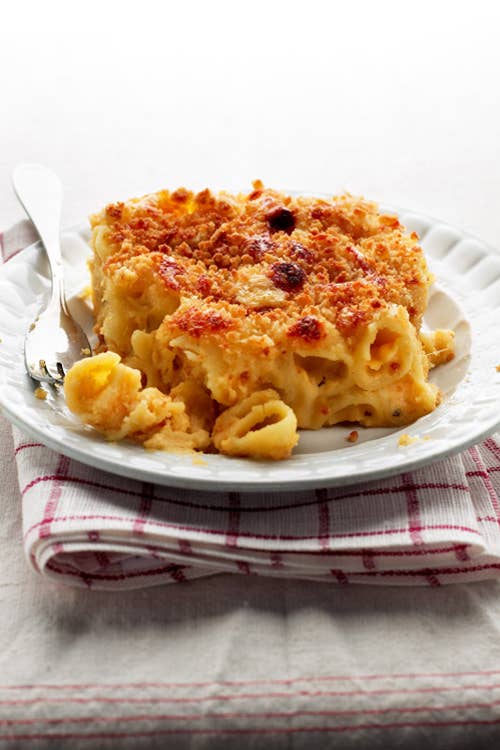 Recipes
Comforting Macaroni and Cheese Recipes
Macaroni and cheese—whether loaded with bacon, topped with bread crumbs, or studded with lobster—is the ultimate comfort food. Try any of these 12 recipes for a warm, crowd-pleasing dish on a chilly night.
Fresh goat cheese makes a creamy, velvety sauce for pasta baked with spinach and topped with sliced tomatoes that is bright with festive colors, and deeply comforting. And as it takes only slightly longer than an hour to cook, this can be a main player in a delicious and casual last-minute Christmas dinner.
The standard American dish is transformed into an elegant entree with lobster and a splash of brandy.
The addition of truffle and truffle-infused oil heightens an already indulgent dish.
Bacon, ham, caramelized onions, and sun-dried tomatoes make this version of the classic casserole rich and luscious.
Southern-Style Mac and Cheese
Grated onion and Worcestershire sauce are the secret ingredients that set this mac and cheese apart. Southern-Style Mac and Cheese »
The all-important mac and cheese crust is improved by using a combination of both white and orange cheddar.
Blue cheese is a sharp, unexpected touch to the traditional cheese blend.
Panko and parmesan make for an extra crispy crust.
Fresh apples plus hard cider give this easy mac and cheese a double dose of fall flavors.
This mac and cheese is the epitome of "country" with its day-old biscuit crust.