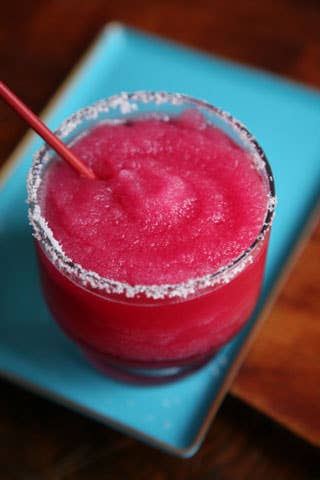 Drinks
14 Margarita Variations
Nothing cuts through summer heat like a refreshing margarita
On warm summer nights, nothing cuts through the heat like a refreshing margarita. While the classic is always a crowd-pleaser, the basic recipe can serve as a canvas for playful and unexpected variations on the drink. We've rounded up some of our favorite reinterpretations of the margarita.
There are really two classic margaritas. The original, which dates back to sometime in the early 20th century, was a shaken cocktail of tequila, triple sec, lime juice, and sugar. The second classic margarita came later. In 1971, Dallas restaurateur Mariano Martinez modified a soft-serve ice cream machine to dish out a slushie version of the drink and the frozen margarita was born.
Those two versions, shaken and frozen, yield all sorts of variations. To make a party-friendly frozen margarita, simply blend a can of frozen limeade with tequila, triple sec, agave nectar, and ice. For a beautiful pink frozen margarita, try infusing your tequila with prickly pears and muddling the fruit into the drink.
Another vibrantly pink margarita variation is the Moradita, colored with beet purée and kicked up with a jalapeño-infused tequila. Jalapeño is also featured in our mezcalita de piña, a smoky, sweet, and spicy drink made with mezcal, cilantro, and grilled pineapple. For something cooler, blueberries and basil make for a fresh, lively combination. Or try using ginger-kale juice to make a boozy-but-refreshing green juice margarita.
Find all of these drinks and more in our collection of 14 margarita variation recipes.