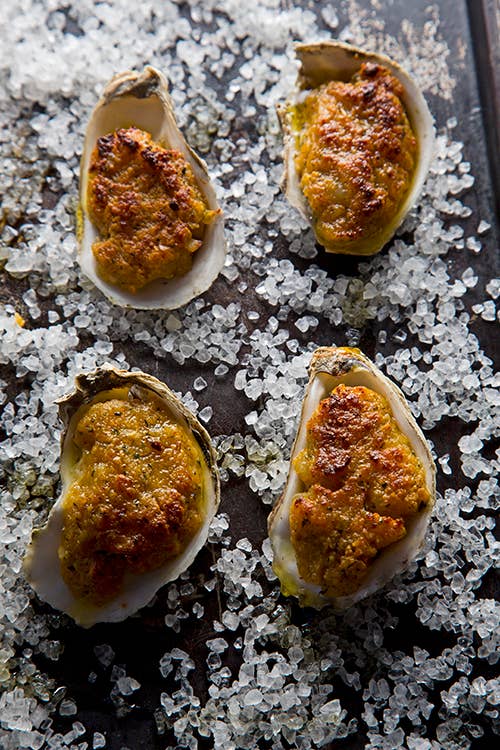 Recipes
New Orleans Oyster Recipes
New Orleans is an oyster lover's town
New Orleans is an oyster lover's town: They're emblematic, hungrily sought after, and seemingly everywhere. Institutions like Acme Oyster House and Felix's Restaurant and Oyster Bar are famous for serving the bivalves raw on the half shell, but New Orleans has also produced some classic cooked oyster dishes. We've rounded up our favorite New Orleans oyster recipes.
The most iconic cooked oyster dish is of course oysters Rockefeller. This dish, invented at Antoine's in 1889, is virtually synonymous with New Orleans. The restaurant's recipe is a closely guarded secret, but we think we come pretty close. To make it, we top oysters with a puréed mixture of bread crumbs, butter, spinach, scallions, celery, garlic, onions, Pernod, vinegar, thyme, anise, salt, and pepper and broil until browned.
Oysters Rockefeller isn't the only classic broiled oyster dish in New Orleans. Oysters Bienville has some of of the same aromatics as oysters Rockefeller, but in enriched with shrimp, bacon, ham, mushrooms, and sherry. Oysters LeRuth adds sweet crabmeat and shrimp to the basic aromatics, along with heavy cream and grated Parmesan cheese. Both dishes make for a rich, decadent appetizer.
Fried oysters are a crunchy, bite-sized treat. At New Orleans restaurant Upperline you'll find oysters St. Claude. This dish starts with oysters fried in a simple coating of flour, salt, and cayenne. What really makes it is the dipping sauce, a super garlicky mixture of parsley, paprika, sugar, hot sauce, Worcestershire, lemon juice and zest, and parsley.
For an idea of how they cook up oysters down in the Big Easy, check out our collection of New Orleans oyster recipes.