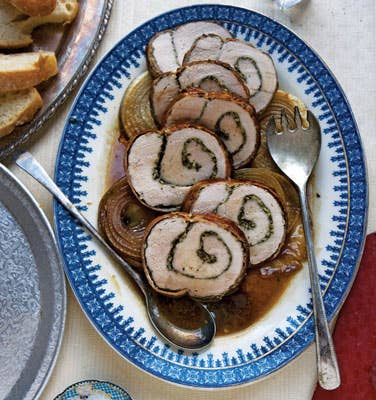 Techniques
How to Make Prosciutto-Wrapped Pork Loin
Stuffing a butterflied pork loin with herbs and wrapping it with prosciutto keeps the meat juicy and flavorful. Here are step-by-step instructions to make sure your loin is as beautiful as it is delicious. See the recipe for Prosciutto-Wrapped Pork Loin »
STEP 1
Start by placing a 4-lb. pork loin perpendicular to you on a work surface. Using a long knife, start cutting into the meat along its long edge, keeping knife roughly ½" above the work surface. Continue slicing inward so that the meat unrolls and splays open.
STEP 2
Set pork to the side and arrange ten 16″-long pieces of kitchen twine perpendicular to you, each one spaced ½" from the next; lay one 36″-long piece of twine perpendicular across the shorter lengths. Lay 6 slices of prosciutto side by side atop and parallel to the short lengths of twine.
STEP 5
Fold prosciutto slices up and around pork, and lay 6 more prosciutto slices over the top, tucking edges of the bottom slices under the top ones.
STEP 6
Bring together the ends of the long piece of twine, wrapping it up over the ends of pork loin lengthwise. Pull the twine taut, and tie the ends together.
STEP 7
Bring the ends of each short piece of twine together, pull taut, and tie each piece in a firm knot. Trim excess twine.