Recipes
Meskhetian Khachapuri (Meskhetian-Style Georgian Cheese Bread)
Serves

serves 4

Cook

45 minutes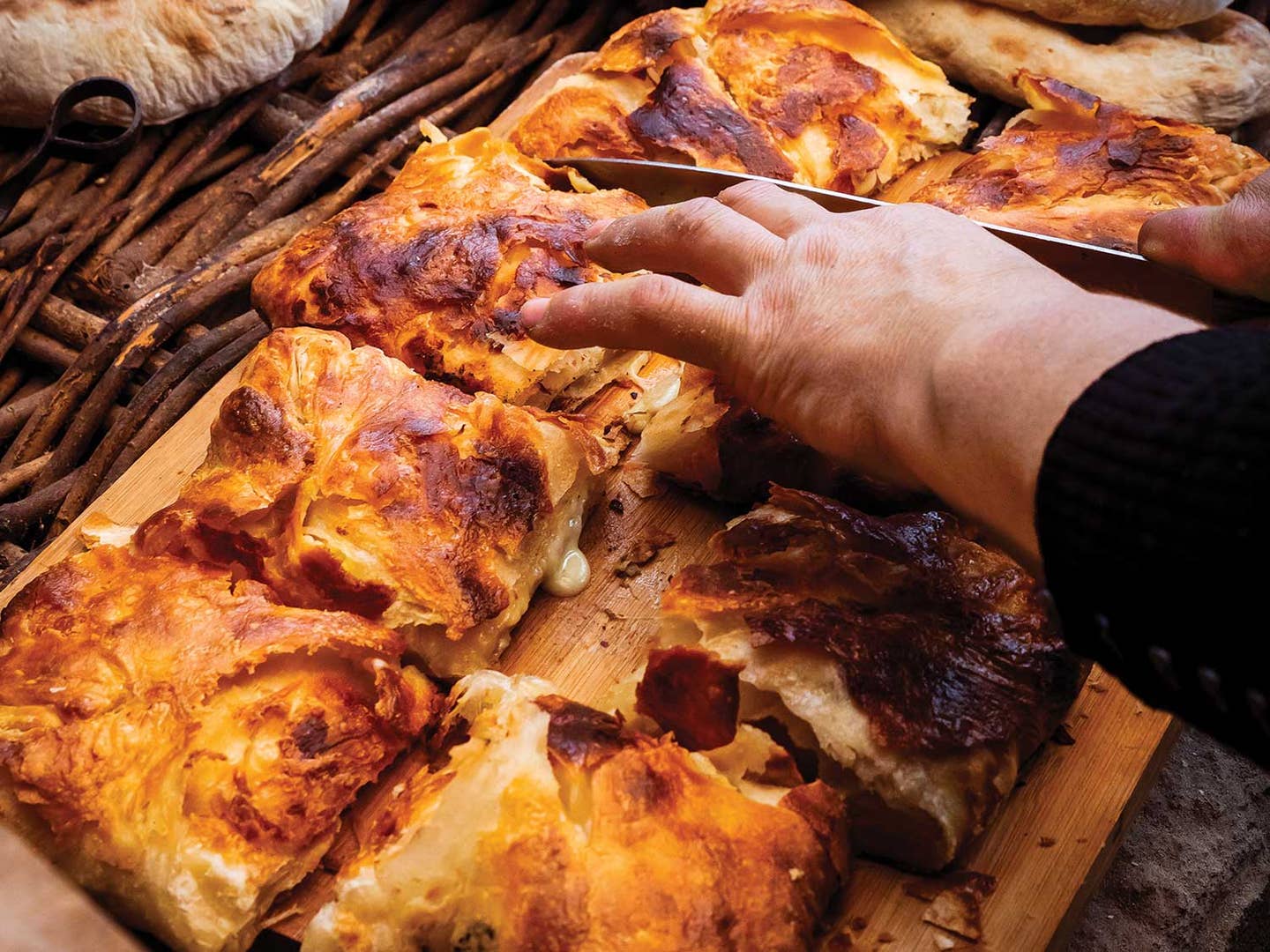 Georgian bakers typically achieve this cheese-filled flatbread's light and airy texture using a simple, unleavened dough that is stretched paper-thin, then layered with melted butter like strudel or phyllo. But according to Carla Capalbo, from whose book, Tasting Georgia: A Food and Wine Journey in the Caucasus, this recipe was adapted, a ready-made, all-butter puff pastry is a quick and toothsome substitute. To approximate the texture and flavor of the local Georgian cheese, a mixture of mozzarella, feta, and Emmental or Jarlsberg is used.
Ingredients
All-purpose flour, for dusting
One 14-oz. box frozen all-butter puff pastry, thawed in the fridge
3 oz. low-moisture mozzarella, coarsely grated (¾ cup)
1 3⁄4 oz. feta cheese, coarsely crumbled (⅔ cup)
1 1⁄2 oz. Emmental cheese, coarsely grated (⅓ cup)
1 large egg yolk, beaten with 1 tsp. water
Instructions
Step 1
Place a heavy, flat or overturned baking sheet or a baking steel or stone in the center of the oven and preheat to 425°F.
Step 2
In a medium bowl, stir the mozzarella, feta, and Emmental to combine. Set aside.
Step 3
Lightly flour a rolling pin and a clean work surface, then unfold the puff pastry. Give the dough a few gentle rolls just to smooth out the folds, then use a sharp paring knife to trim the dough into a 9-inch square. (Re-freeze or refrigerate the remaining dough and reserve it for another use.) Spread the cheese in an even layer atop the square, then pick up two opposing corners of the dough and bring them into the center, pinching the tips together to seal. Repeat with the remaining corners. Press the dough down to expel any pockets of air in the parcel, then pinch the seams firmly together so they don't come apart during baking.
Step 4
Gently flip the pastry over onto a sheet of parchment paper. Brush the surface with the egg yolk mixture, then immediately slide the bread and parchment onto the preheated baking sheet in the oven. Bake until the top is a deep golden brown and the dough is cooked through, 25–30 minutes.
Step 5
Remove and let cool slightly before cutting the khachapuri into wedges. Serve hot.