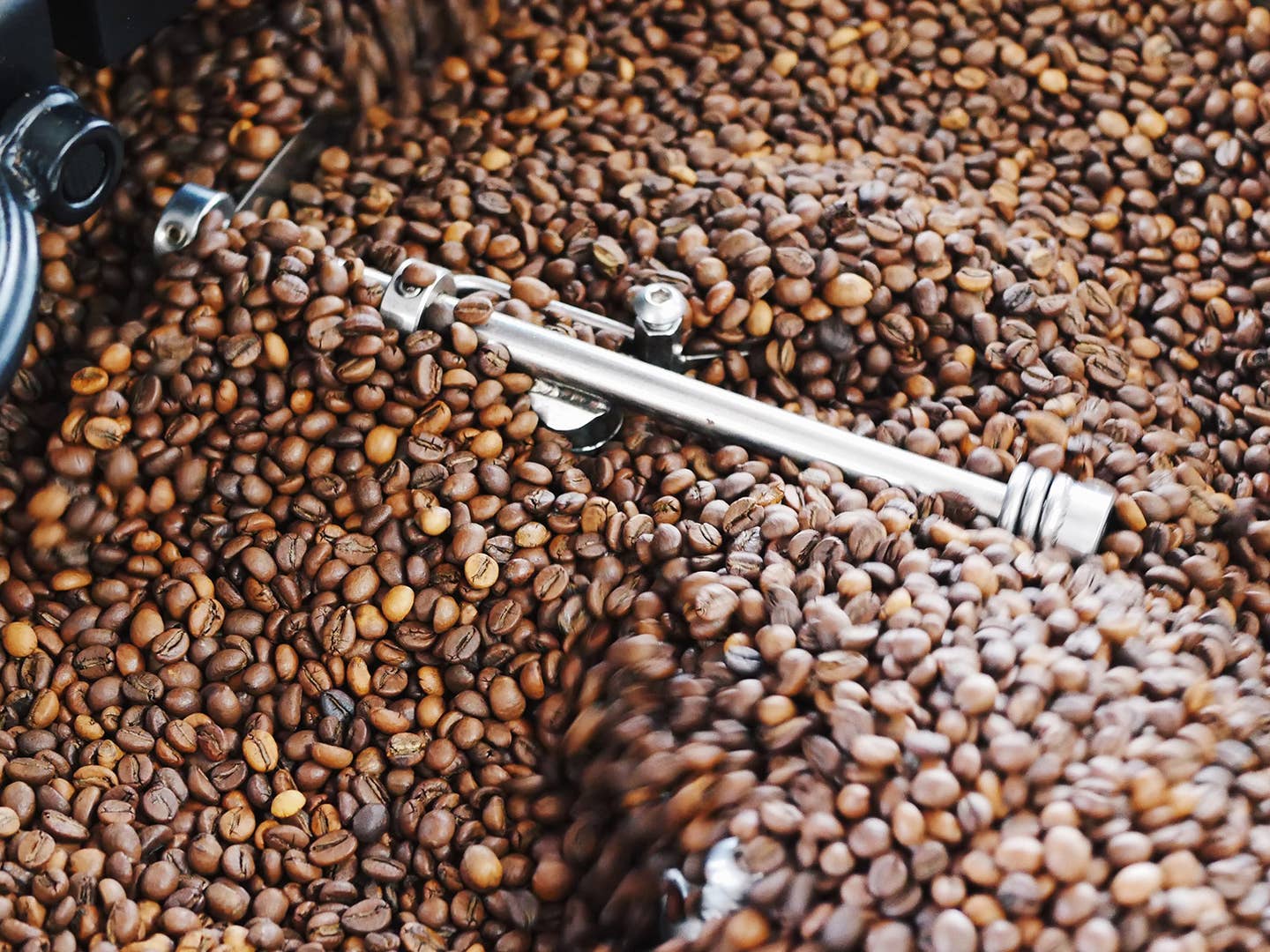 Drinks
Giving Vietnamese Coffee Its Due in America
A new wave of Vietnamese-American entrepreneurs have made it their mission to redefine Vietnamese-grown beans as a serious contender in the specialty coffee industry
In late 2016, after a stint in Cambodia wrapping up her latest documentary, Deported, filmmaker and entrepreneur Sahra Vang Nguyen stopped in Vietnam to visit family—and to meet with a coffee producer. The daughter of Vietnamese refugees who fled their country by boat after the Vietnam War, Nguyen was disappointed by how the American specialty coffee industry consistently snubbed beans grown in Vietnam. Even at fancy "third-wave" cafes in the U.S., if Nguyen ordered cà phê sữa đá, an iced coffee and condensed milk drink more popularly known as "Vietnamese iced coffee," she felt that any cultural representation had been washed away.
For one, if these coffee shops serve so-called "Vietnamese" iced coffee, it's made with non-Vietnamese beans. Not only are the beans from another country, but they typically aren't even the proper variety for cà phê sữa đá. Most upscale American cafes exclusively use arabica beans, which brands like Starbucks have long championed for its relatively light, fruity flavor profile, regardless of the roast. In Vietnam, the drink is traditionally made with the robusta bean, a bold, dark bean that makes up more than 90% of the coffee grown there. It generally has a higher caffeine content and a nutty, cocoa-like flavor profile.
"There's an attitude within the coffee community in the U.S., like 'ugh, get that robusta bean away from me,'" says Nguyen, who moved to New York City after growing up in Boston. "People will call arabica the 'superior' bean and robusta the 'inferior' bean, but it raises these questions like: Who is labeling these beans? Who is controlling this narrative? Who gets to decide superiority versus inferiority?"
Today, Vietnam has emerged as the second largest producer and exporter of coffee in the world (after Brazil). From 2017 to 2018, Vietnam exported 170,000 tons of coffee, or $315 million worth, to the United States, making it one of their main export destinations, according to the International Coffee Organization. Yet, the National Coffee Association found that a mere 16% of Americans associate Vietnam with coffee production at all. So if the U.S. is the number-one importer of coffee from Vietnam, why aren't we seeing any products that feature Vietnamese coffee?
In most international coffee markets, coffee exported from Vietnam gets amassed into generic commercial "blenders" purchased by big brands such as Sara Lee, Procter and Gamble, and Kraft Foods, says Will Frith, an educator and consultant on Vietnam's growing specialty coffee industry. There's a lack of transparency about how and where the coffee is grown, which creates a "vicious cycle," Frith says, in which Vietnamese coffee is deemed cheap, and farmers are thus paid low wages for their product. This in turn prevents them from improving their practices and developing new farming techniques that are sustainable for the land and healthier for consumers. It's a cycle that might stand to be broken with the right entrepreneurial vision.
Enter Nguyen, who has made it her mission to empower Vietnamese farmers and showcase the country's distinct coffee varieties. Thanks to her aunt in Hanoi, she was introduced to Thien Ton, a former co-worker of her aunt's who left his job to take over his family farm in Da Lat, also known as the "City of Eternal Spring," for its temperate climate—ideal for growing coffee beans. "It was amazing to learn about Ton's passion for clean, organic coffee—he truly is changing the culture within his own industry," says Nguyen.
In November 2018, two years after Ton and Nguyen first met, she created Nguyen Coffee Supply, which became the first American company to source, import, and supply exclusively Vietnamese coffee beans. Their inaugural offerings—which include both robusta and arabica beans roasted fresh in Brooklyn, New York—are sold online, and earlier this month, Nguyen teamed up with restaurateur Tuan Bui to launch Cafe Phin​, a daytime Vietnamese coffee speakeasy at An Choi, a street eats joint in New York City's Lower East Side neighborhood.
"On the social justice side of things, [Nguyen] is also promoting the coffee with a proudly Vietnamese face, instead of the usual U.S. narrative of bearded Caucasian dudes with a collection of 'exotic' coffees," says Frith. "Not to be disparaging, because I usually love those dudes' coffees too! But she's bucking trends and making her own way, and I have mad respect for that."
As popular as it is now, coffee wasn't really prevalent in Vietnam before the days of French colonialism. Colonizers brought coffee to the country in the 19th century, but in the spirit of resourcefulness, the Vietnamese people took the crop and made it their own. The Vietnam War dramatically disrupted coffee production, however, until the Đổi Mới, or Renovation, in 1986, when the Government of Vietnam hedged its bets on coffee as a cash crop and permitted privately-owned enterprises to produce and grow it.
At the end of the Vietnam War, an estimated 125,000 Vietnamese refugees evacuated the country and immigrated to the United States. Vietnamese coffee culture in the U.S.—usually in the one-dimensional form of Vietnamese iced coffee—mainly existed in diaspora communities, and gained very little attention until Vietnamese food became "hip" a few years ago, says Frith. Still, for many Vietnamese families, preparing coffee at home remained a significant ritual after coming to the States.
Thu Pham, the owner and co-founder of Cà Phê Roasters, a specialty Vietnamese coffee company in Philadelphia, recalls how, as a child, she would watch intently as her older sister prepared Vietnamese coffee at their small ranch home in California. She says her sister would pour thick condensed milk right from the can into a glass cup. Then, using a phở spoon, she would scoop coffee grounds into a phin, a Vietnamese coffee filter, and pour piping hot water from a kettle over the grounds. While the dark, syrupy coffee dripped over the velvety condensed milk, her sister would add ice to the glass, and allow Pham to taste just one tiny spoonful. With four siblings to babysit while their parents worked long hours at a sewing factory, Pham says her sister probably relied on that strong dose of caffeine to get her through the day.
Through Cà Phê Roasters pop-up shops, Pham is honoring the process of preparing Vietnamese coffee, one she describes as "candid, humanistic, and memorable." During her childhood, Pham says her family would primarily use Cafe du Monde, a New Orleans–based coffee brand that adds chicory to its beans. Only on special occasions would they use Vietnamese beans, which relatives brought over when immigrating to the U.S., or returning from a trip to Vietnam. Like Nguyen, Pham is also roasting and serving beans from Vietnam as a means to help give the product the credit it deserves. "We're trying to decolonize ourselves by actually roasting Vietnamese coffee," says Pham.
In the San Francisco Bay Area, a pop-up called Kasama Cà Phê is also serving coffee from Vietnam's highlands. Owners Erik Quiocho and Kevin Ho Nguyen said that growing up, Vietnamese iced coffee was something they would really only find at bánh mì shops or phở restaurants. And even then, it'd be hidden on the back of the menu and made with pre-ground beans. "We wanted to pay homage by making the best cup of cà phê sữa đá possible, using high-quality, Vietnam-grown beans [that are] freshly ground and thoughtfully brewed," they explain.
With this new wave of Vietnamese-American coffee enthusiasts, the general palate for coffee is becoming less monolithic and is beginning to diversify, says Frith, adding that when there's transparency in the supply chain, as with Nguyen Coffee Supply, Vietnamese coffee and products are showcased in an honest way, a win-win for both consumers and farmers.
"If you're treating someone as a perpetual foreigner, I don't believe that deepens your connection as a consumer," says Nguyen. "That's why I want to increase visibility not just of the folks abroad, but of the people drinking and making coffee here."