Recipes
Grilled Greens and Leek Tops with Chile-Garlic Sauce
Serves

serves 6-8

Cook

1 hour 30 minutes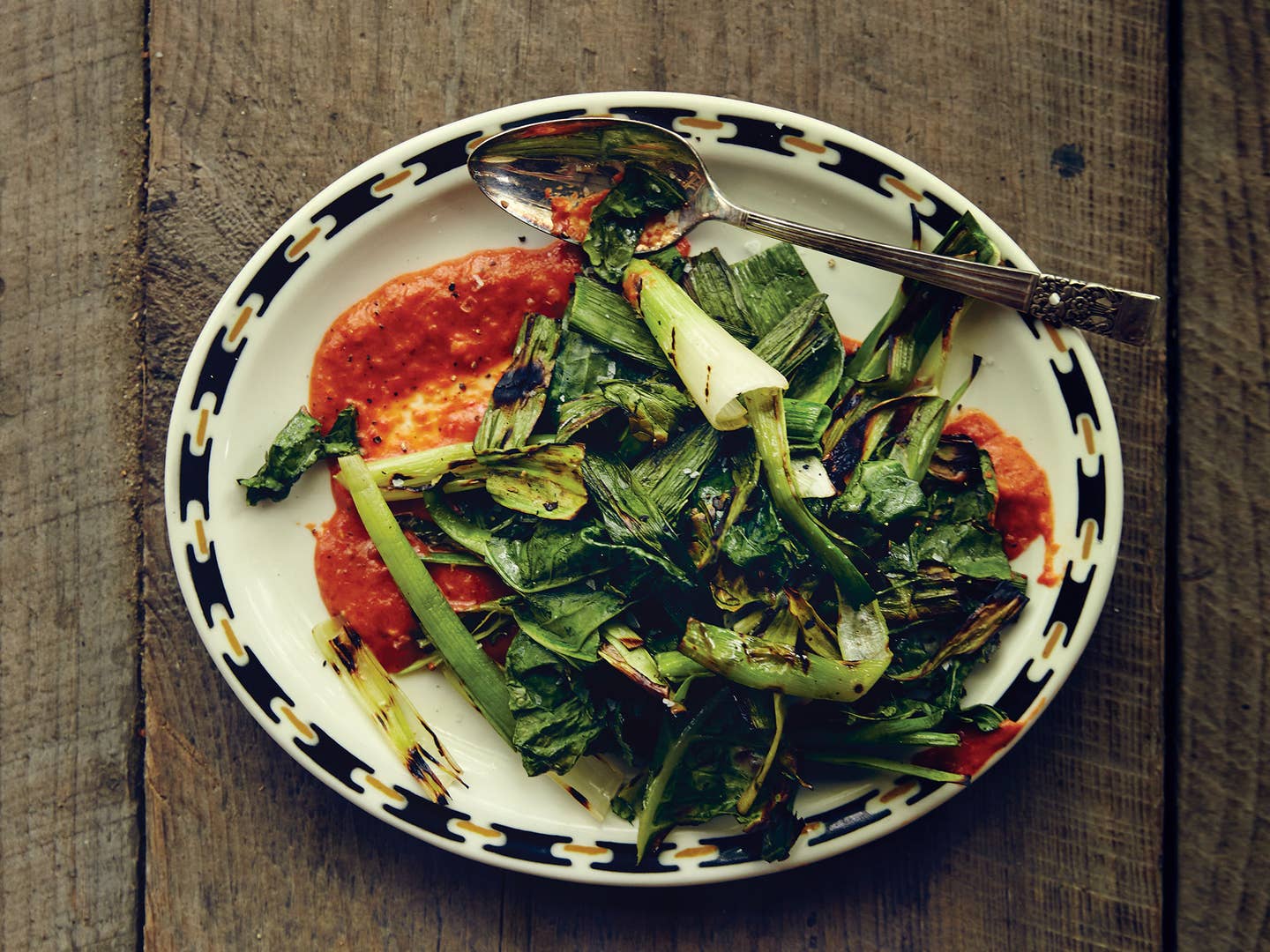 When buying leeks for this dish, cookbook author Amy Thielen says to look for ones that have all or most of their dark green tops still attached. If trimmed leeks are all you can find, use the dark and light green parts only.
Ingredients
1 red bell pepper, halved lengthwise
1 Fresno chile, halved lengthwise
6 garlic cloves, unpeeled
1⁄4 cup olive oil
Kosher salt and freshly ground black pepper
1 tsp. honey
6 large leeks
1 bunch collard greens (12 oz.), stems removed and leaves torn into large pieces
Instructions
Step 1
Heat the oven to 400°. On a foil-lined baking sheet, toss the bell pepper and chile halves the garlic and 2 tablespoons of the olive oil. Season with salt and pepper, and bake until the chile and garlic are tender, 15 to 20 minutes. Using tongs, transfer the chile halves and garlic to a work surface. Flip the pepper halves and continue baking until tender, about 20 minutes. Transfer the peppers to a work surface and reserve the cooking oil; you should have about 1 tablespoon. Peel the peppers, chiles, and garlic, and purée in a blender with the reserved cooking oil, 1 tablespoon olive oil, and the honey. Scrape the chile-garlic sauce into a bowl and season with salt and pepper.
Step 2
Light a grill. Trim the leeks, reserving only the dark green tops and light green outer leaves. In a large bowl, toss the leeks with the collard greens and remaining 1 tablespoon olive oil, and season with salt and pepper. Arrange the leeks and collard greens on the grill and cook, turning once, until lightly charred, 8 to 10 minutes.
Step 3
Turn the heat off on half the grill or remove the grill grate and rake the coals to one side. Pile the leeks and collard greens on the indirect side of the grill and close the lid. Let the greens steam until very tender, about 15 minutes. Spread the chile-garlic sauce on a large platter and then pile the greens on top.