Recipes
Braised Pork With Sesame and Pumpkin Seed Sauce (Choc'a)
Serves

serves 6

Cook

2 hours 50 minutes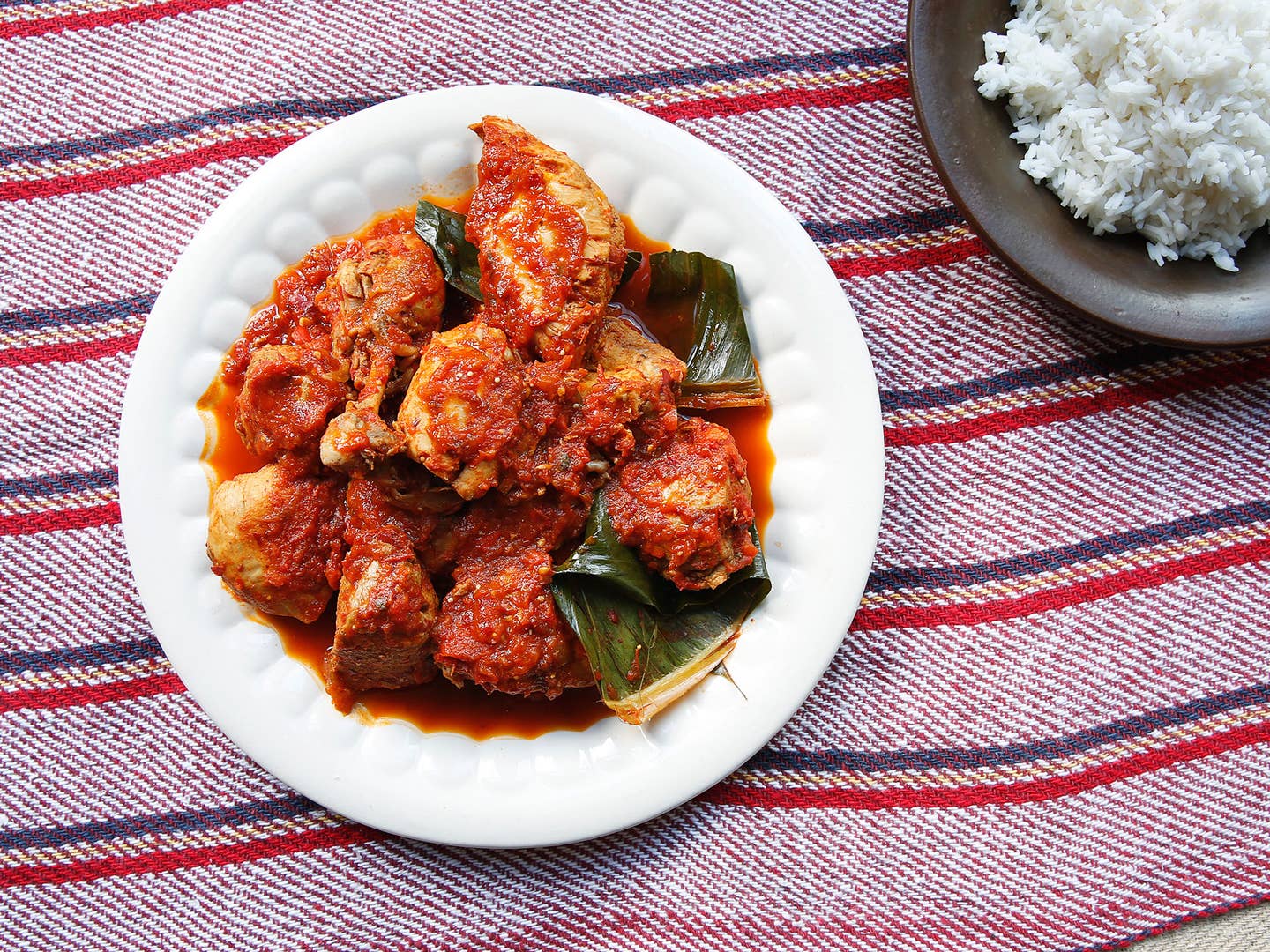 This obscure regional dish can be tracked down only in the agricultural valley town of Almolonga in Guatemala. Adapted from a village native, Francisca Siquaná de Cotoc (who insists that a food processor could never achieve the same texture as grinding seeds by hand), this recipe is meat-focused, but its creamy, nutty sauce would pair well with any cooked vegetable. The level of spice will vary depending on the type of dried chiles used.
On the wood-fired griddles, Maya home cooks keep ancient traditions alive with recipes even their neighbors wouldn't recognize
Ingredients
4 lb. trimmed boneless pork shoulder, cut into 3-inch chunks
10 medium tomatoes (2 1/2 lb.)
1 medium white onion, quartered
1 tbsp. plus 1/4 tsp. kosher salt, or more to taste
3⁄4 cup plus 2 Tbsp. sesame seeds (4 oz.)
3⁄4 cup pumpkin seeds (4 oz.)
7 black peppercorns
5 cloves garlic
2 dried guajillo chiles, or another dried red mild to medium-heat chile, stemmed and seeded
Cooked rice or corn tamales, for serving
Instructions
Step 1
In a large pot, add the pork, tomatoes, and onion and just enough water to cover (about 10 cups); stir in 1 tablespoon salt. Bring to a simmer over medium-high heat and cook until the tomatoes are soft and the skins are peeling off, 20 minutes. Using a slotted spoon, remove the tomatoes to a large bowl; discard the skins. Continue cooking the meat uncovered at a low simmer until tender, about 1 hour and 40 minutes more.
Step 2
Meanwhile, in a large skillet or griddle, add the sesame and pumpkin seeds, peppercorns, garlic, and chiles; cook, stirring occasionally, over medium-high heat until toasted, 10–12 minutes. Remove to a medium bowl.
Step 3
Using a metate (stone grinder), stone mortar and pestle, or food processor, grind the seed mixture into a thick, powdery paste with a few small chunks remaining. Add the cooked tomatoes, working in batches as needed, and 1⁄4 teaspoon salt; process well until the mixture has the texture of a thick, creamy sauce. (Sauce can be made up to 2 days ahead. Cover and refrigerate.)
Step 4
When ready to serve, add the sauce and meat to a large pot over medium heat. Cook until the meat is heated through, adding a few tablespoons of water as needed to thin the sauce. Taste and adjust the seasoning as desired. Serve with rice or corn tamales, with the extra sauce ladled on top.