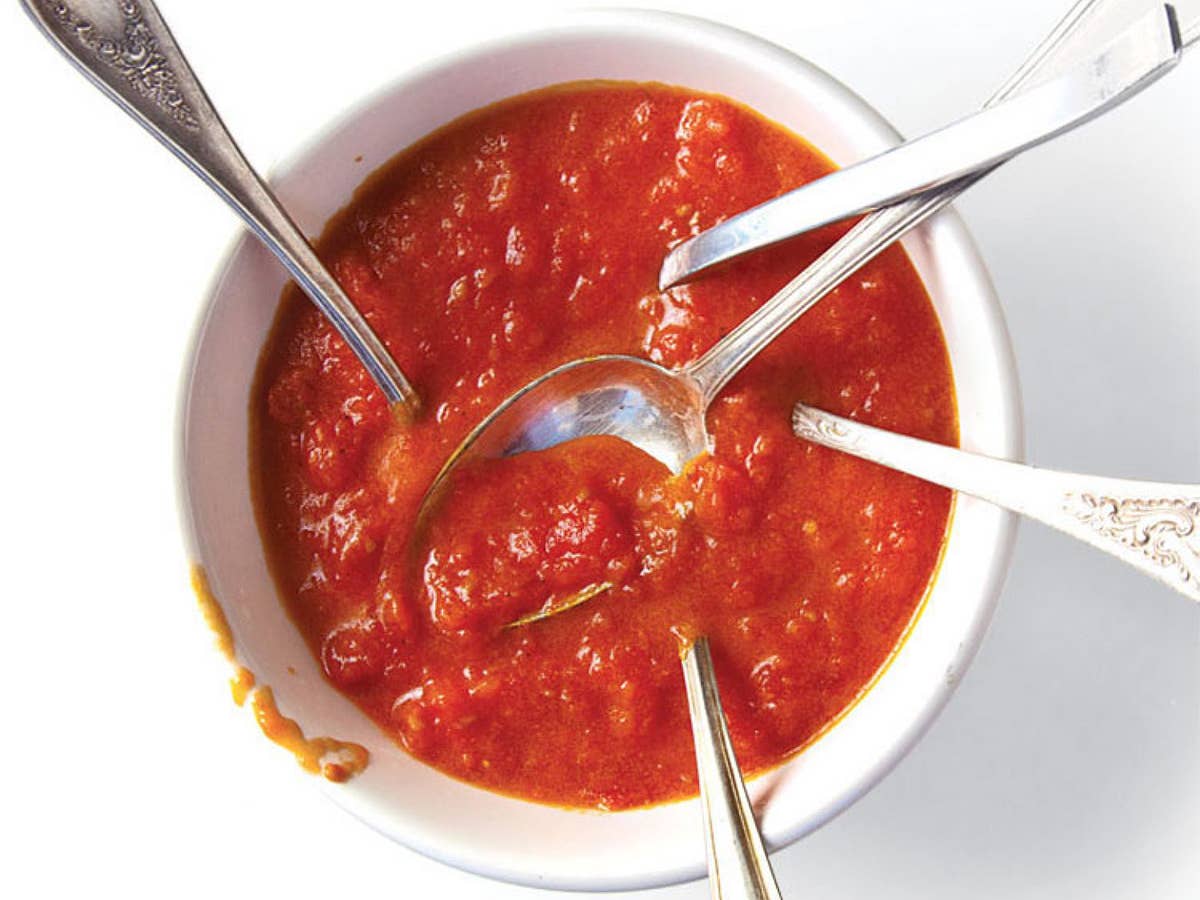 Techniques
Winter Recipes for Summer Tomatoes
Freeze fresh tomatoes now to take advantage of their peak ripeness when you're huddled indoors
Stop what you're doing. Do you see a farm stand? Go there and buy some tomatoes. All of them. Yes, all of them.
Right now, tomatoes are at their peak (i.e. most flavorful and least expensive) and when the cold weather starts to roll in, those bursting tomato plants will quickly fade away. But there is one way to savor the flavor in the dark, cold months ahead—by freezing, you preserve their sweet, aromatic hyper-tomatoness for future meals. There are a couple of ways to accomplish this task: A.) Core some tomatoes, chop them, put them in a zip-top bag or quart container, freeze. B.) Core and chop some tomatoes, cook them slightly (just until the tomato water has cooked out, the tomatoes have broken down and the sauce is slightly thickened.) A pinch of salt can help to break them down. Peel and seed them if you must, but I never do—I like the texture of the peel and the thickening power it provides; and the seeds are encased in that gelatinous center: the literal and figurative heart of a tomato's flavor.
You can cook the tomatoes longer if you'd like, to save freezer space and concentrate the flavor even more, but 15–20 minutes is more than enough time for the cooked method. Once frozen, your all-purpose red sauce will last at least 6 months—longer even if you don't devour it first. When the time comes, you can use them in any recipe calling for crushed or canned (and diced, if you went that route) tomatoes: soups, stews, pasta, shakshuka.
One more tip: ask your grocer for the bruised, blistered, or crushed fruit they've moved to the back. Since you're cooking them anyway, their appearance won't matter, and you might save a few bucks. Just make sure they don't smell sour, and plan on cooking them that afternoon.
Here's a collection of some our favorite cold weather tomato recipes. Now you've no reason to fear the coming frost; comfort is in the ice chest.