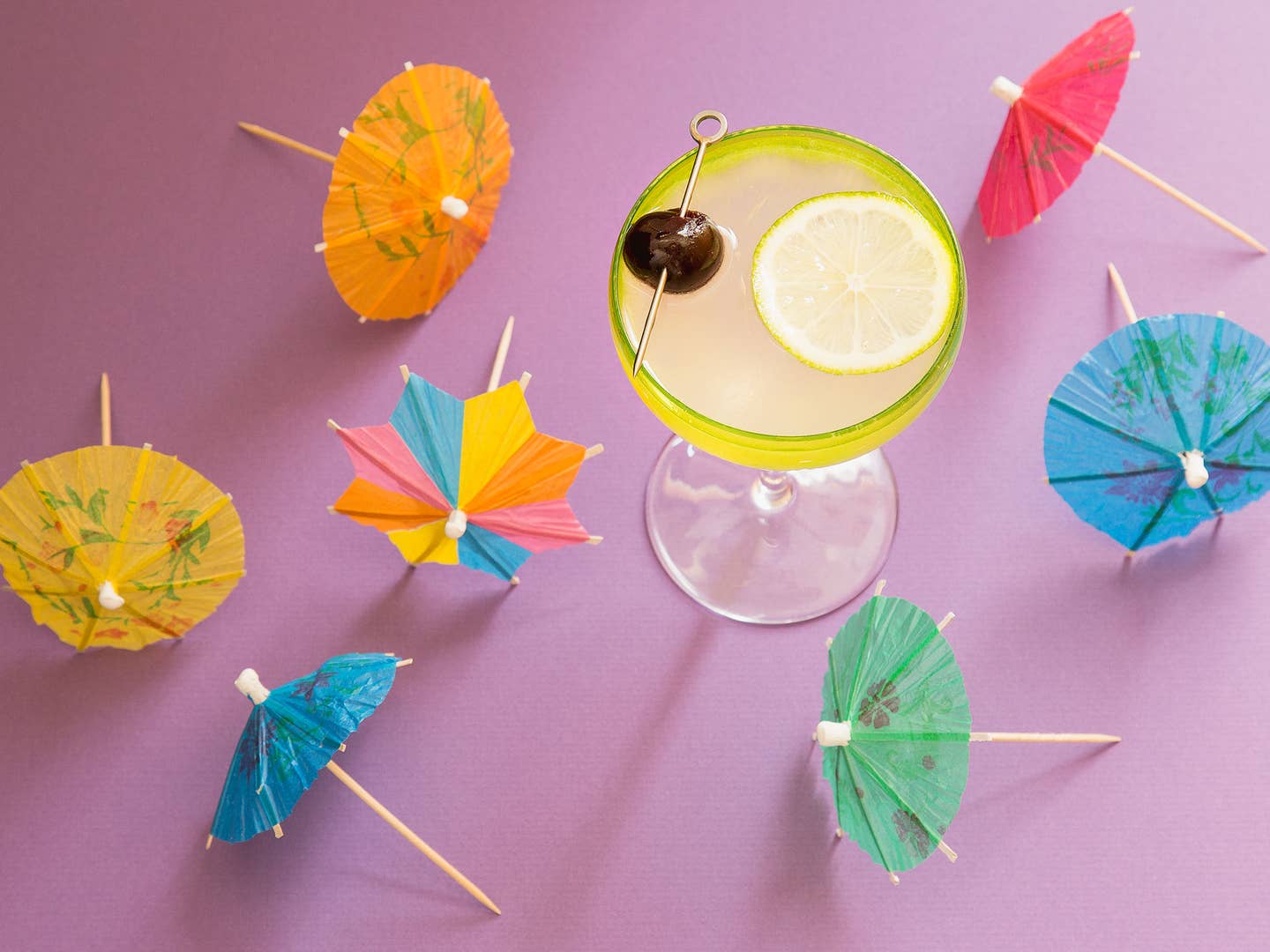 Drinks
The Perfect Daiquiri Has Nothing to Do With a Blender
Skip the appliances and reach for a bottle of cherry liqueur
Few classic cocktails have suffered such abuse as the daiquiri, which, to many drinkers, still suggests over-sugared beachside slushies. But a properly made daiquiri is a classic right up there with the martini and margarita—and just as simple. Shake up rum, lime, and sugar, and presto: a daiquiri. No blender or umbrella garnish required.
As with any simple cocktail, details are key: a high-quality white rum, a judicious hand with the sweetener, and fresh lime juice (you do always use fresh juice in cocktails, don't you?). A perfect daiquiri is tart and refreshing and perks you up instantly, elegant in its balance, slightly dangerous in its drinkability.
Since it's such a simple drink, the daiquiri is ripe for experimentation. Try adding some grapefruit along with the lime, or dropping a few basil leaves into the shaker, or adding a float of aged rum on top.
Juice your limes, and if you're a perfectionist about these things, pass the juice through a fine-mesh strainer to remove any bits of seed or pith. Shake rum, lime juice, and sugar together over ice—we're talking a vigorous, 15 to 20 second shake here—and strain into a glass. A chilled coupe is best, but not mandatory. And a thin, thin lime wheel is always an elegant garnish.
The daiquiri we know today traces back to Cuba circa 1898, and has stuck around the island as an extremely popular drink. Order a daiquiri in Havana today and you're likely to have a cocktail somewhere between what we know as the Hemingway (with the addition of grapefruit and maraschino liqueur) and a classic. In this version, we use a sparing measure of Luxardo Maraschino—a huge upgrade from what you'll find in Cuba proper—lending a hint of its complex, bittersweet cherry flavor.