Drinks
How to Make Cocktails with Eggs
Sours, fizzes, and flips, oh my! Here are three easy ways to shake classic cocktails using eggs.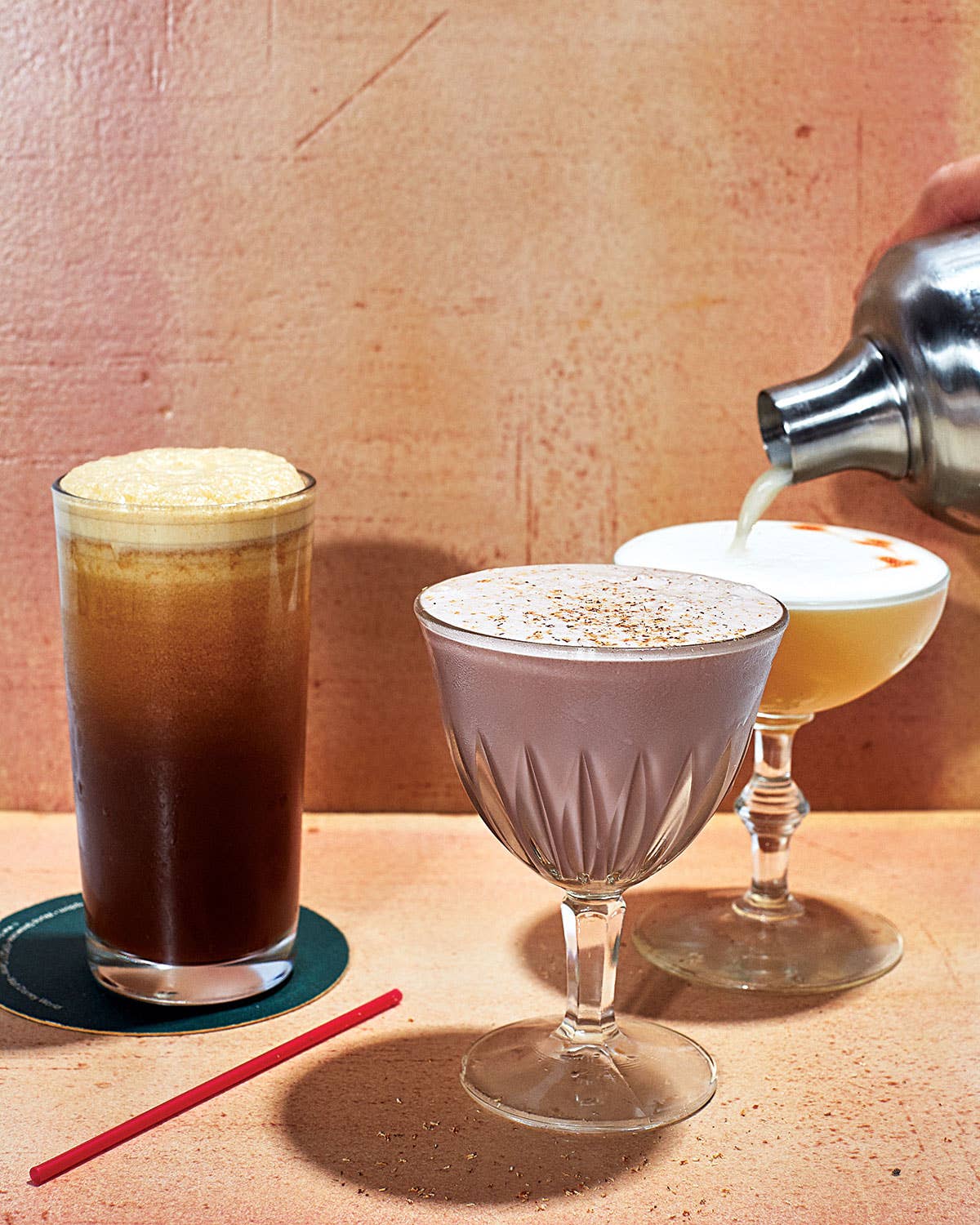 Eggs are some of the most powerful tools in a bartender's arsenal, and around the holidays, they offer an excuse to play around a little in the kitchen and shake up something new (or make eggnog). Vigorously shaking either the whites, yolks, or whole eggs into cocktails can give them a silky texture, creamy richness, and frothy head that is difficult to replicate.
The practice is one that dates back to the 19th century, and since then, three general categories that feature eggs prominently—sours, fizzes, and flips—have been born. The styles are differentiated by their use of the egg: sours generally contain only egg whites, which froth up in a foamy white head when protein is folded with air; fizzes are a variation of sours that use club soda; and flips, which are the thickest of the three, employ a whole yolk with cream, adding both an eggy flavor and creamier mouthfeel. The use of citrus varies among the styles, and there are plenty of misnomers and exceptions to these aforementioned rules.
Regardless, the process is always the same: First, shake the eggs and other ingredients "dry" (without ice) for about 10 seconds to help them emulsify. Then, add ice to the shaker and shake vigorously again, about 10 seconds more or until you feel the outside of the shaker grow cold. (Note: Though impossible to guarantee, practice of consuming raw eggs is considered generally safe. In any case, always exercise caution and common sense: keep your eggs refrigerated until ready for use, examine them for any cracks prior to using, and use the freshest eggs you can get your hands on.)
Ready to get started? Here are three ways to use eggs in your cocktails.
A sour refers simply to any cocktail with citrus, sugar, and a spirit, but the traditional sour is shaken with egg white and often served with a garnish of bitters. This modern classic riffs on that formula with a split base of rye whiskey and applejack.
Fizzes contain many of the same ingredients as traditional sours, usually either egg white or yolk, but are topped with topped with club soda. In the classic canon, a "silver" fizz calls for an egg white, and a "golden" fizz calls for egg yolk. This drink is adapted from the Bartender' Manual published in 1913 by the Bartenders' Association of America.
In the classic canon, flips contain egg yolk or whole egg, simple syrup, heavy cream, and a spirit. This light and fruit version adapted from Jerry Thomas's 1887 Bartender's Guide: How to Mix Drinks, or the Bon Vivant's Companion, forgoes the cream, getting its richness from a jammy fortified wine.