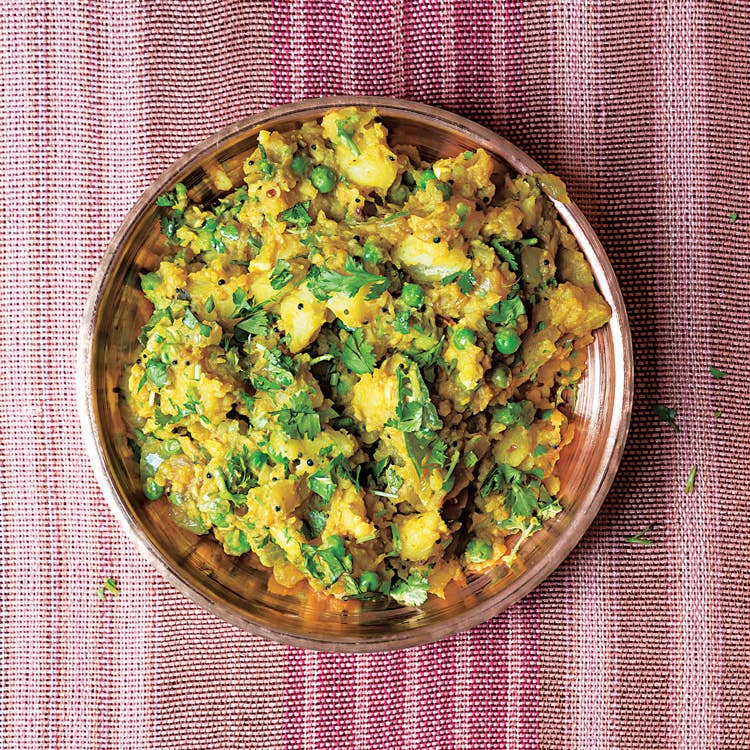 Recipes
The Spicy Mashed Potatoes You Should be Making Tonight
Aloo masala with peas to revive your weeknight dinner rut
This is one of those dishes that is easy to make on a weeknight when you don't have time to run to the grocery store and all that's left in your kitchen is potatoes. One cannot live on potatoes alone, some might say, but if all potatoes could be like these, we might not be opposed to the idea. Aloo Masala is often served alongside South Indian-style dosas, but they stand up so well on their own, there's no reason to limit their capabilities.
The flavorful mashed potatoes are spiced with mustard seeds, fresh curry leaves, turmeric, and ginger, and then mixed with peas. You probably already have everything you need in your cupboards, shortening the time between you deciding what to eat and actually eating it.
Start out by boiling potatoes until just tender, then cut them into 2-inch pieces. Heat oil in a pan and cook mustard seeds until they start to pop. Add asafoetida, fenugreek seeds, and curry leaves, and cook another minute before adding garlic, chiles, and onion. Once everything is golden, add the potatoes, peas, remaining spices, and some water and bring to a boil. Over low heat, continue to cook until potatoes are fully cooked and slightly dry. Serve with cilantro.